In a country with such a varied and complex orography as Ecuador, one cannot expect that even the houses are not on a slope. This is the case with this single-family home near Quito, set on a steep slope overlooking a mountainous landscape dotted with volcanoes and urban sprawl.
El Sindicato Arquitectura responded to the client's request to build a home for the whole family, consisting of a couple of parents and two daughters, each with their own specific needs for intimacy and privacy. The result is an architecture with a plan-volume layout of remarkable simplicity, clarity and functionality.

A common distributive pathway that follows the steep slope connects three architectural blocks on three different levels of the lot; a raised walkway on the central corridor connects the buildings' roofs.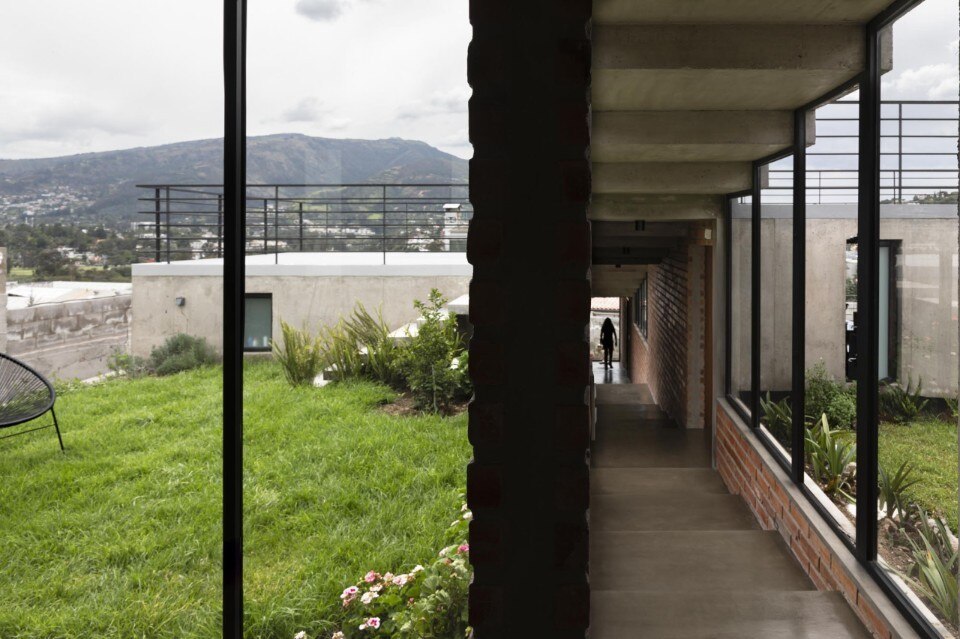 On the upper level, next to the car park and the access to the lot, there is the building with the dining room, living room and common services. On the intermediate level, the central block houses the kitchen – the largest space in the house and the main family gathering place – and, slightly lower than the kitchen, the parental bedroom. On the lower level, the building contains the daughters' two bedrooms, each of identical volume but "customised" to meet their different needs: one overlooking the valley, the other more introverted and with a large dressing room.
Between the buildings, there are small gardens and a vegetable garden – on the same level as the rooms on the various levels – conceived as living spaces for the family and pets, projecting the intimacy of the house to the outside, linking the rooms visually and functionally with their natural surroundings without interruption.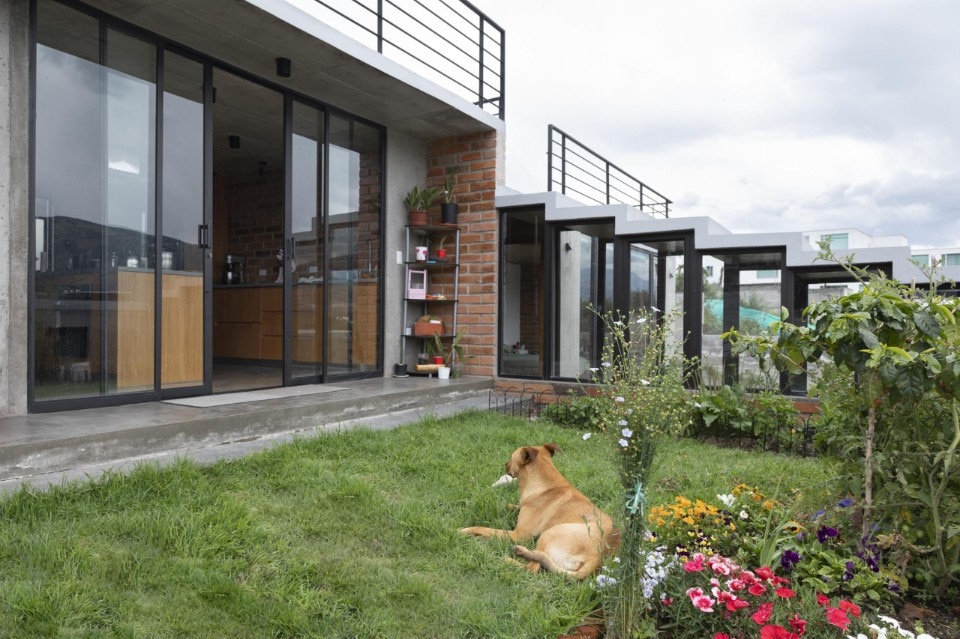 The external envelope is characterised by exposed concrete and brick walls with a cavity in between, which contribute to the thermal inertia of the rooms and give the construction a somewhat rough material aura without any formalism. The distribution path is entirely glassed-in to provide privileged views of the Ilaló volcano and the surrounding area, even in the passageways.
A living space conceived to bring together sociality and intimacy, in contact with the grandiose landscape of the Andes.

Project:

Casa en pendiente

Architectural project:

El Sindicato arquitectura

Project team:

Nicolás Viteri, María Mercedes Reinoso, Xavier Duque

Location:

Cumbayá, Quito, Ecuador

Illustrations and schemes:

El Sindicato Arquitectura, Laura Vaca