In the local language, "Duma Tau" means "the roar of the lion" and, in this unspoilt landscape, the aim for visitors is to have an immersive experience among the animals and wildlife of northern Botswana.
The existing complex, located on the Osprey Lagoon in the Linyanti region, has been renovated and extended by Luxury Frontiers, and now houses a safari camp with single and family suites in tents with canvas walls and thatched roofs, private bathrooms and outdoor showers. The same figurative character character defines the Little Duma Tau extension, which includes four additional suites.
Each tent has a view of the floodplains and the lagoon and other viewpoints open up from the decks of the common areas in a process of continuous interaction with the surrounding context. Raising the complex above ground further enhances the spectacular river views.
The existing main area with the gift shop has been largely preserved: the main additions are the new wine room and the outdoor deck; the lounge area, spa, gym and swimming pool complete the comfort of the structure.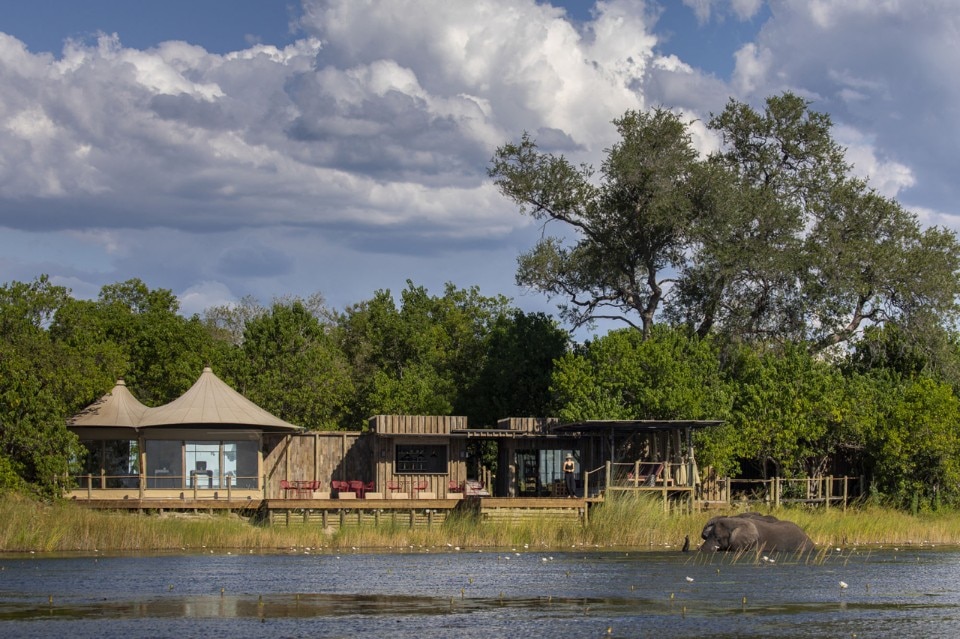 Intervening in a context where Nature reigns supreme required a particular sensitivity in terms of reducing the ecological footprint.
The project aimed to reduce waste as much as possible, reusing existing materials wherever possible: the wood from the decks of the original camp, no longer usable for flooring, was reused as cladding to match the tents in the living quarters, giving a warm, authentic character to the construction thanks to the vaguely worn aura of the recycled material.
To ensure microclimatic wellbeing, cross-ventilation was enhanced by the inclusion of strategic openings at the ends of each dwelling, buffered with netting to ensure privacy and prevent introspection, and ducts to blow fresh air specifically into the bedrooms.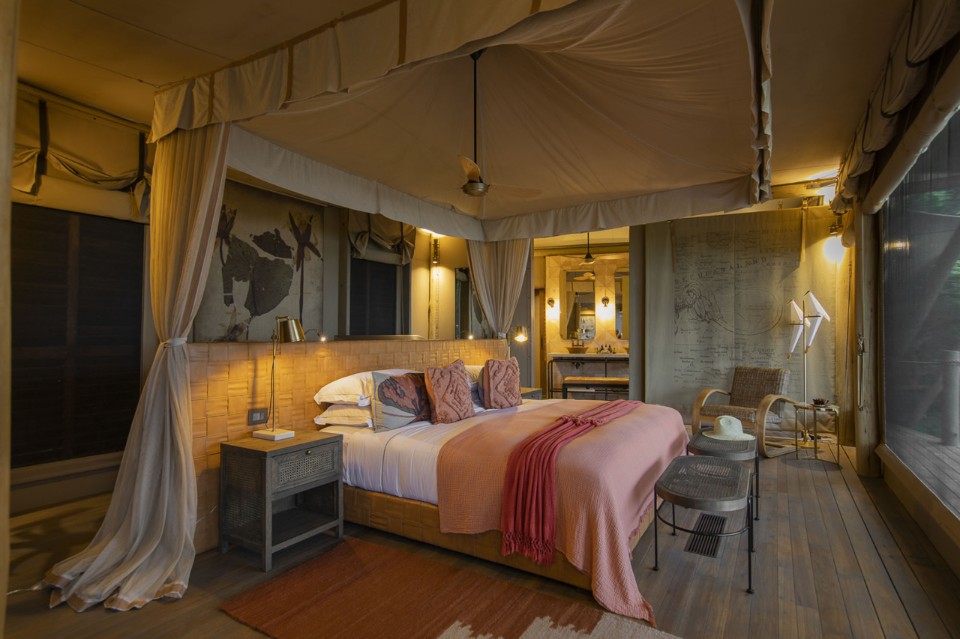 Solar-powered operation makes DumaTau a low-energy eco-lodge.
Amidst elephants, zebras and giraffes, it is both a luxurious and eco-friendly place to rediscover intimate contact with oneself and nature under the majestic African sky.
Project name:

DumaTau and Little DumaTau for Wilderness Safaris

Architectural project:

Luxury Frontiers

Location:

Linyanti, Botswana

Team leader:

Anomien Smith

Interiors and bespoke art:

Câline Williams-Wynn, Gina Waldman

Collaborators:

Tenthouse Structures, Wilderness Safaris' in-house design and development team

Client:

Wilderness Safaris