In the safari vernacular, some things come standard – earth tones, tribal motifs, a sense of space. It's a rare example though that manages to simultaneously stay within this universal lodge language, while inventing its own dialect. Singita Faru Faru's recent reinvention does just that – forging a specific identity on the safari landscape without feeling out of place.
Divided into different areas by virtue of clever zoning, the open-plan lodge building and freestanding suites feel intimate and hospitable despite their spaciousness and profusion of light and air.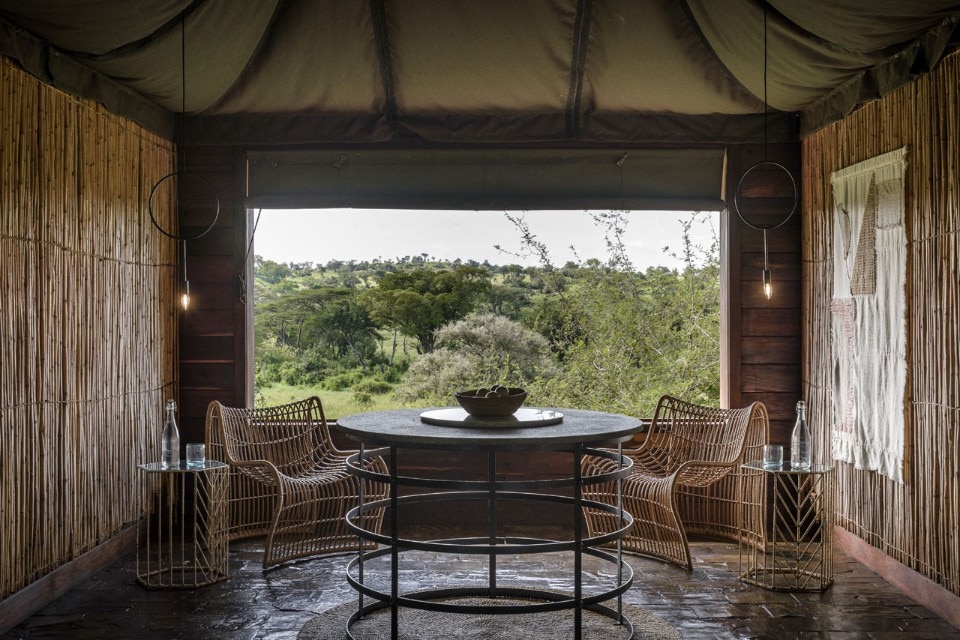 Within this architectural envelope, design firm Cécile & Boyd, the custodian of the creative direction of all of Singita's lodges, combined minimal lines with natural textures and colours to create a comfortable and easygoing series of spaces. A consistent thread of triangular and circular/rounded forms is woven throughout the communal areas and suites, giving the design a coherent feel. While inspired by the simplicity and understated nature of midcentury design, these motifs have been reimagined in a contemporary African context. "The shapes evoke a pared-back simple and casual atmosphere and also play homage to a new simply defined tribal African pattern," says designer Geordi de Sousa Costa from Cécile & Boyd. "The link between these forms and nature is in their asymmetrical geometry," she adds.
The colour scheme too, pays homage to the setting. A palette of neutrals – the pink clay of the watering hole below, the blonde grass of the iconic Serengeti savannah and cool grey of the scattered rocks – creates a comfortable symbiosis between the lodge and its surroundings and complements the open structures. "A strong neutral palette always works in nature – so we decided to be a bit playful with it. All in all it is fresh but calming," says De Sousa Costa.
Program:

glamping

Project:

Singita's Faru Faru lodge

Design:

Cécile & Boyd

Location:

Grumeti, Tanzania

Completion:

2019