The need to reconcile the values of domestic intimacy with those of sociability and interaction in a pulsating urban context guided AGi Architects in the design of Wafra Living, a residential complex located in a dense, busy area in the vast, predominantly residential area of Jabriya, east of Kuwait.
The building, characterised by an "L" layout that follows the edge of the road and from which a tower located in the centre of the lot stands out, includes 16 types of housing - from two to four duplex bedrooms - distributed in five nuclei to satisfy the broadest functional needs of the users.
A wide range of services, from shops to spaces for sports and recreation - gyms, swimming pools, squash courts, children's play areas - gives the project the dynamic and multifunctional character of an urban microcosm. Particular attention is paid to public spaces, including the raised square, gardens and terraces, intended as distribution nodes as well as focal points for aggregation and community life.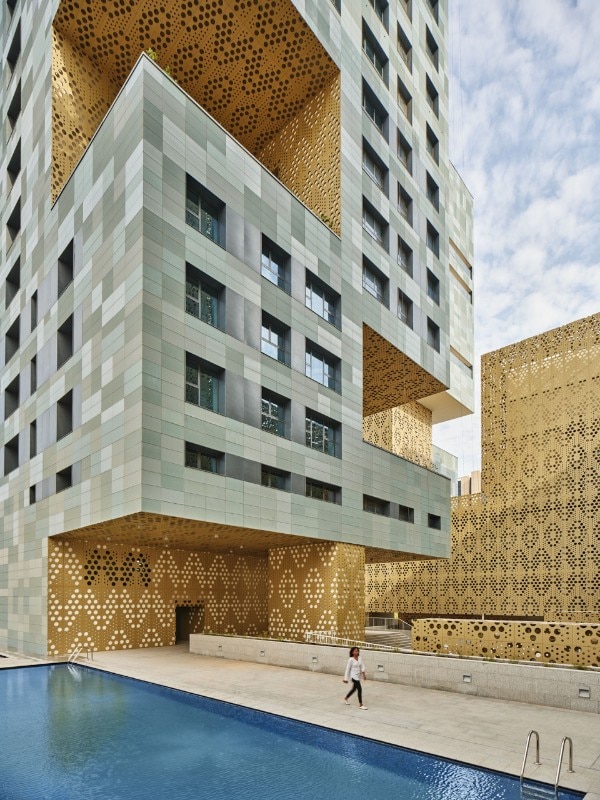 The adoption of passive design techniques, the study of orientation and natural cross-ventilation, the use of innovative materials to maximise thermal insulation and minimise energy consumption reveal a commitment to reducing ecological impact and optimising microclimatic wellbeing in the rooms.
The building's "skin" is characterised by an alternation of surfaces covered with opaque panels and perforated aluminium grids which evoke, in a contemporary, revisited form, the suggestion of the mashrabiya, a traditional building element of the Arab world designed to encourage natural cooling and shade in the home. As well as acting as an important technological element, the metal shutters create suggestive chiaroscuro effects depending on the time of day, giving the common spaces a vibrant, almost hypnotic image.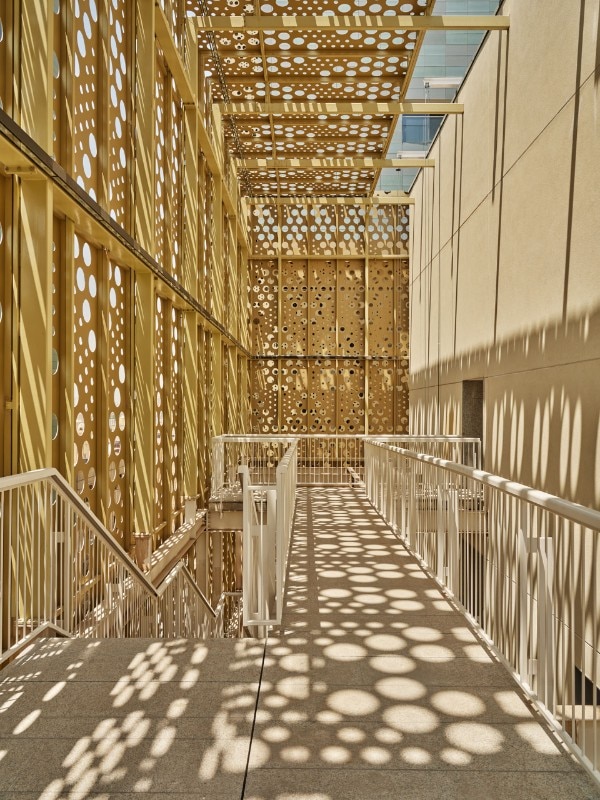 Project:

Wafra Living

Architectural project:

AGi Architects

Location:

Jabriya, Kuwait

Completion:

2021

Client:

Wafra Real Estate Co.

Project team:

Daniel Muñoz, Stefania Rendinelli, Bruno Gómez, Lucía Sánchez Salmón, José Ángel del Campo, Carmen Sagredo, Gwenola Kergall, Nicolás Martín, Ana López Cerrato, Xavier Espinós, Pablo López, Nima Haghighatpour, Aisha Alsager Jean Awkar, Luis García, Hanan Ghaith, Lulwa Al Fudalah, Aiysha Alsane, Ehsan Rahimi, Moyra Montoya, Robert Varghese, Hanan Alkouh, Sharifa Alshalfan, Ali Al Yousifi, Hessa Al Bader

Lighting project:

Rafael Gallego, Lara Elbaz

Structural project:

Eugene Torralba

Engineering:

Eugene Torralba, Babu Abraham, Ibrahim Abu Fayyad, Ahmed Elsaid Nor Eldein Elgebeily, Abdulhafiz Bahi El Din, Mohammad Naga, Zulfiqar Ahmad khan, Haroon Abdulaziz, Abhilash C. Thilakan, Naseeba C. Shaj, Gulf Consult, KEO International

Main contractor :

First United

Suppliers:

Alucoil, Faveton