In a wooded land in Vaucresson – located in a French department characterized initially by the Yveline Forest and now almost totally deforested – the Italian-German studio SKP Architecture has designed a private villa marked by low energy consumption.

The plan develops horizontally, with two linear and overlapping volumes slightly staggered between each other. The first, on the ground floor, houses the dining room and kitchen and the guest room, swimming pool, and sports room. The living room, located in the center of the house, corresponds to the space of articulation between the different parts. The second volume, on the second floor, overhangs the base and houses the sleeping area.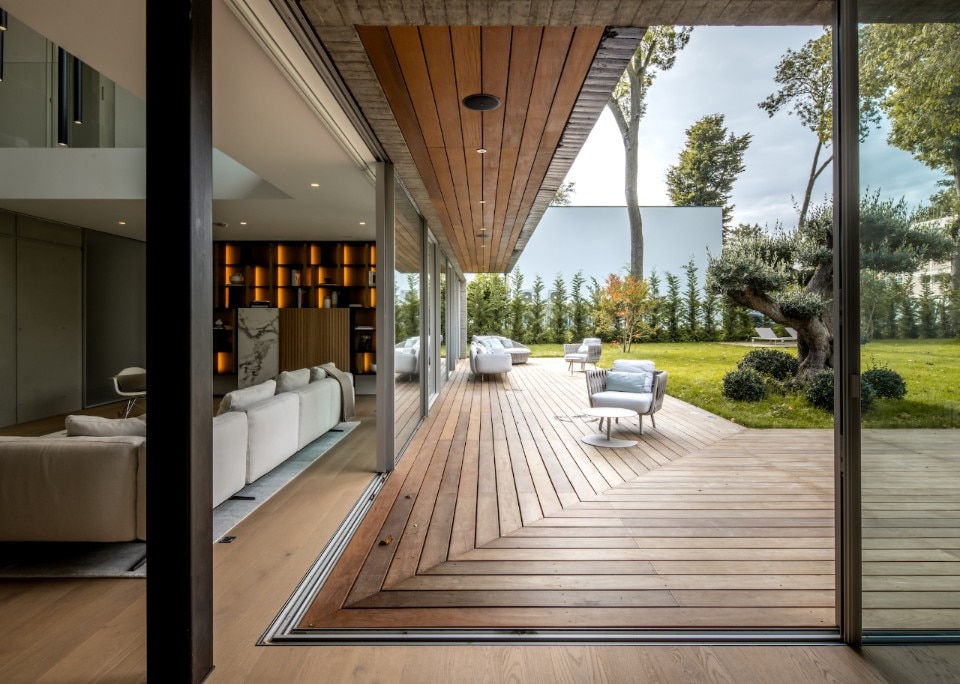 The client, moreover, had the specific request of a passive house. Internally, the sharing areas are therefore exposed to the southwest, where – thanks to large glass openings and the overhang of the second floor – the apartment benefits from maximum exposure in winter and a limited solar impact in summer. On the contrary, the elevations facing northeast, where the technical rooms are located, are compact and massive to avoid heat loss. This functional cavity acts as a buffer zone, where the concrete envelope slows down dispersion and protects thermal shocks.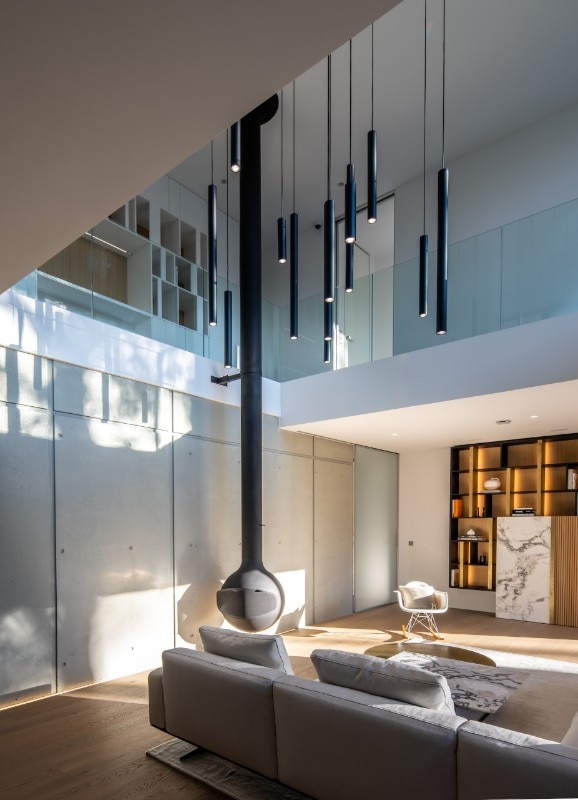 Following the external material choices, the interiors follow a design characterized by phobic geometries and raw materials, which enhance the simple lines of the spaces. All metal components such as pillars, taps, fireplace, and chandeliers are in steel and treated with hematite to naturally oxidize like gunmetal. Finally, gray natural face concrete covers the main circulation on the ground floor and the interior envelope of the pool.
Project:

Villa L

Architecture studio:

SKA Architecture

Structural Design:

Bucci & Partners

Landscape Architect:

Jardin Attitude

Ventilation studio:

Zodiac

Project Manager:

Jonny Sturari

Construction company:

Tatar Construction

Client:

Private

Site:

Vaucresson, Yvelines, France

Typology:

private residence

Net area:

299 smq

Project Start Date:

2019

Project End Date:

2021