In the Huangyan district of Taizhou, Shanghai-based studio Wutopia Lab has sewn up disused buildings on the banks of the Yongning River and converted them into the Duoyun bookstore.
The inspiration for the project came from a sensorial approach to the context: the relaxing flow of the river, along which the city comes alive with pleasant daily strolls, the breeze and the pleasure it brings as it carries away the diffuse droplets of water, led the architects to think that a cloud should rise there to symbolise a world - the world of culture - in which it is nice to be enveloped, even by leaving everything else behind: an inviting cloud which expands softly over the river in a horizontal movement which contrasts with the verticality of the buildings around it.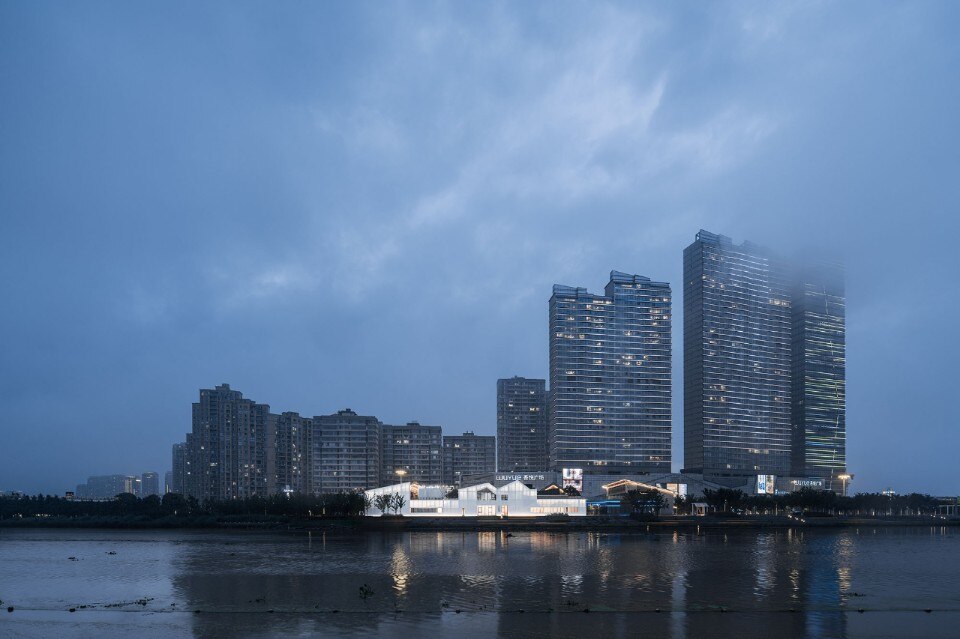 The existing buildings are entirely covered by curtain walls of white prefabricated perforated aluminium panels which reveal traces of the past below and unify the disjointed volumes.
The layout is inspired by the traditional "shuyan" typology, courtyards surrounded by volumes on all four sides, so that the fulcrum of the composition is the inner courtyard around which the buildings are distributed and which forms the entrance to the library. On the ground floor there are the reading room, café-restaurant and administrative spaces; on the upper floor there are an exhibition area, a room with reproductions of rare books, a reading room and terraces to interact and for children to play.
The interiors are characterised by vibrant colours marking the functional areas: the orange of the Huangyan oranges in the cafeteria area, the green of the Duoyun libraries in the cultural and creative area, cyan in the area dedicated to Taizhou, crimson in the relational space and pink and purple in the exhibition area.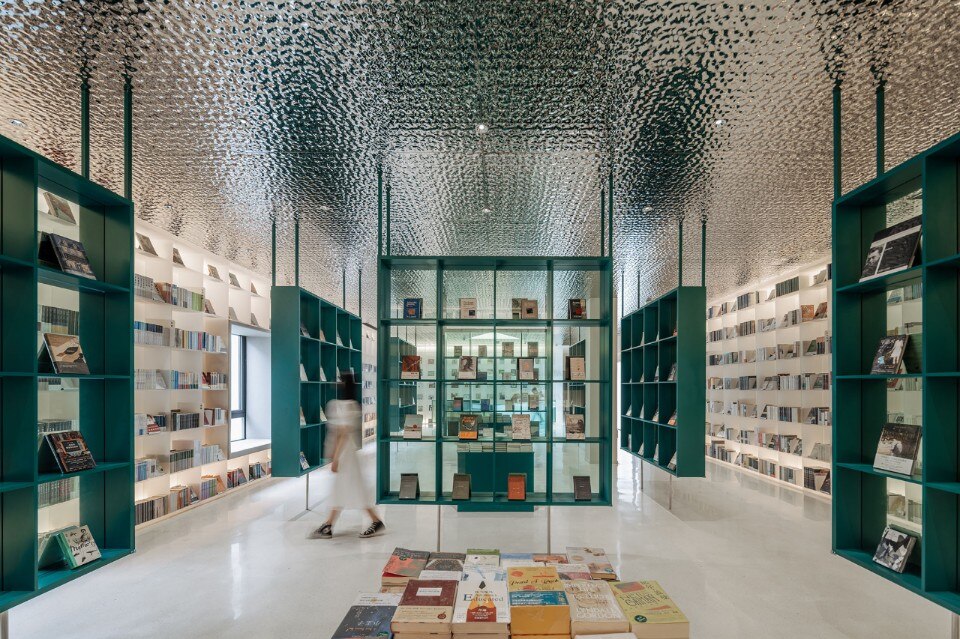 A place where you can find not only books but where you can discover the magic of an artistic language that builds identity where there was previously indifference and gives a decipherable form to the character of the work and consequently of the city.
Project:

Books in Clouds — Duoyun Bookstore in Huangyan

Architectural project:

Wutopia Lab

Chief Architect:

Yu Ting

Pre-project Architect:

Wang Zhuoer

Post-project Architect:

Pu Shengrui

Design Team:

Begoña Masia, Song Junzhu, Wu Yaping, Wang Jiajun, Wang Lei, Dai Yunfeng, Zhang Minmin, Guo Jianv, Wu Xiaoyan, Chang Xue'en, Lu Ye, Zhang Wensui, Meng Dong, Jing Yawei

Project Architect Assistant, Architect in Residence:

Mi Kejie

Design Consultant:

Office ZHU

Lighting Consultant:

Chloe Zhang, Cai Mingjie

Construction Plan Deepening team:

Shanghai c-yuspace Design Co., Ltd., Shanghai Zhiye Architectural Design Consulting Co., Ltd.

Construction team:

Taizhou Huangyan Municipal Garden Construction Development Co., Ltd., Xingwei International Home Furnishing Co., Ltd., Zhangjiagang Yujia Metal Decoration Co., Ltd.

Client:

Taizhou Huangyan Yongyun Cultural Development Co., Ltd., Shanghai Century Cloud Culture Development Co., Ltd

Design Manager:

Pu Shengrui