Scandinavian design culture is based on criteria of essentiality, functionality, aesthetic research and a preference for natural materials, and this single-family home by Trodahl Arkitekter near the centre of Sandnes on the southwest coast of Norway seems to interpret this conceptual approach well.
The building's rigorous design sums up the desire to come to terms with the dominant nature of the place, characterised by a harsh maritime climate with abundant rainfall: hence, the almost archetypal silhouette of a shelter protected by steeply sloping roofs, set into the plot of land which slopes steeply eastwards, dropping about 7 metres towards the city.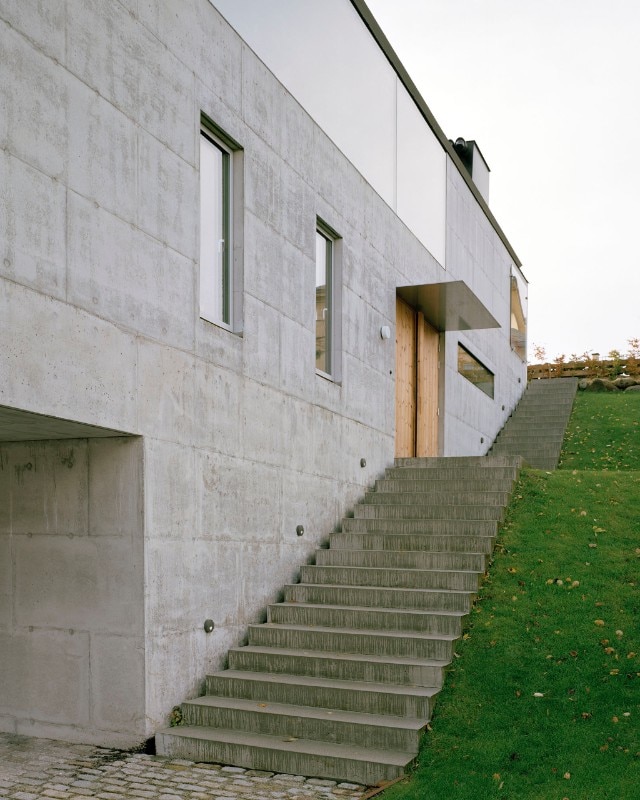 The strict, exposed concrete volume houses three levels: the top floor, at the highest elevation of the land to the west, accommodates daily activities in the living area and the kitchen with a loft for a study corner; the second floor, where the main access is located, includes three bedrooms and a living room; the first level includes the service and accessory spaces. To maximise the capture of northern light, large glazed openings interrupt the solid concrete envelope and project the view towards the external landscape.
A building with the same angular profile, smaller than the house, contains a storage area for materials and bicycles.
Inside, the exterior sobriety is not detracted from by the aura of measured composure which allows no unnecessary showiness and is found in the simple, straightforward materials and natural finishes: from the metal in the soffit of the roof and in the furnishings, to the exposed cement in the walls, to the polished cement and wooden floors and the interior partitions made of panels with matching pinewood doors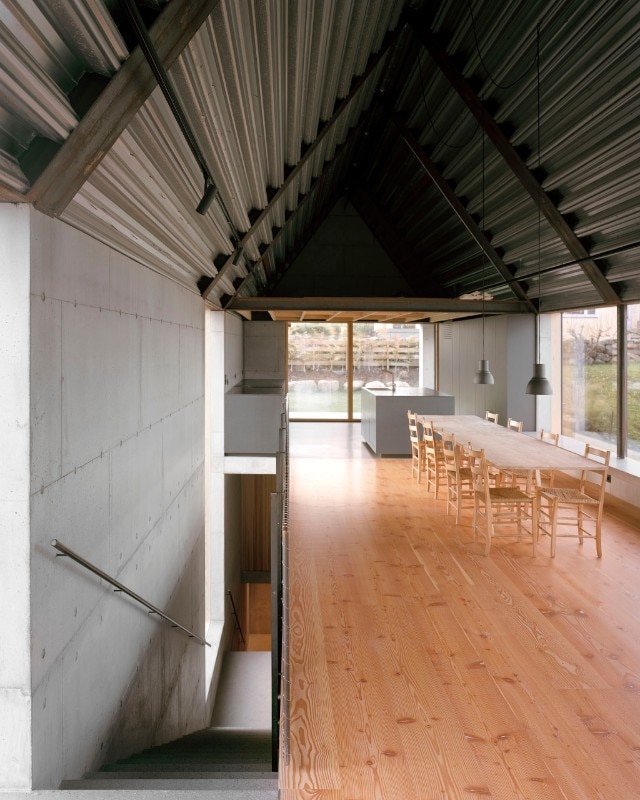 Adolf Loos used to say that ornamentation is a crime: and perhaps there is no need to add more, if architecture manages to delineate clearly legible forms, intimate and appropriate places, coherently inserted in the context to which they belong.
Project:

Alexander Kiellandsgate House

Location:

Sandnes, Norway

Architectural project:

Trodahl Arkitekter

Project team:

Ådne Trodahl, Ingrid Eide

Interiors:

Egersund Møbelsnekkeri

Concrete:

Sola Betong

Steel:

Bergs Metall

Glass:

Glassløsninger

Contractor:

Entreprenørfirma Frode Olsson AS, Bjerga Bygg

Manifacturers:

Pilkington, Bega, Hans Grohe