Salvagnini Campus is an industrial regeneration project. It's a set of new solar buildings transparent to the surrounding landscape, designed to maximize the quality of the experience of those who work and those who visit the company. Realized with a digital and "light" design and construction method, which combined with the use of traditional materials such as steel, wood, glass, link the intervention to the concepts of economy of resources, sustainability and future reversibility.
The Campus is part of a larger project of the company's management area, where new multi-storey buildings reorganize the company's lay-out with a decrease in covered areas in favor of more green spaces. The new workplaces, reorganized according to the solar orientation, are energetically self-sufficient and in direct contact with the external environment, in continuity with the Veneto landscape in which the complex is settled.

The construction has followed a process of regeneration. The previous industrial buildings have been replaced with new light and reversible buildings, interconnected through paths and visual axes within the large unfenced public park.

The visitor route begins in the green parking lot and then rises over the reception space. The reception area leads to the panoramic mezzanine over the activities of the showroom, a real prototype of an automated factory. Inside the showroom there is a large technological space, silent, clean and in full natural light, very far from the traditional image of the mechanical workshop. Its structure was designed according to museum principles: flexibility in exhibition layout, accent lighting systems and interchangeable textile backdrops. Construction methods are based on the philosophy of Industry 4.0.
The building is a prefabricated structure that focuses on the economy of resources in which each component, dry-assembled, comes from a digital production process: laser-cut sheet metal and tubular profiles, numerically controlled Xlam panels, textile architecture. A modular system designed to be reversible and recyclable at the end of its life.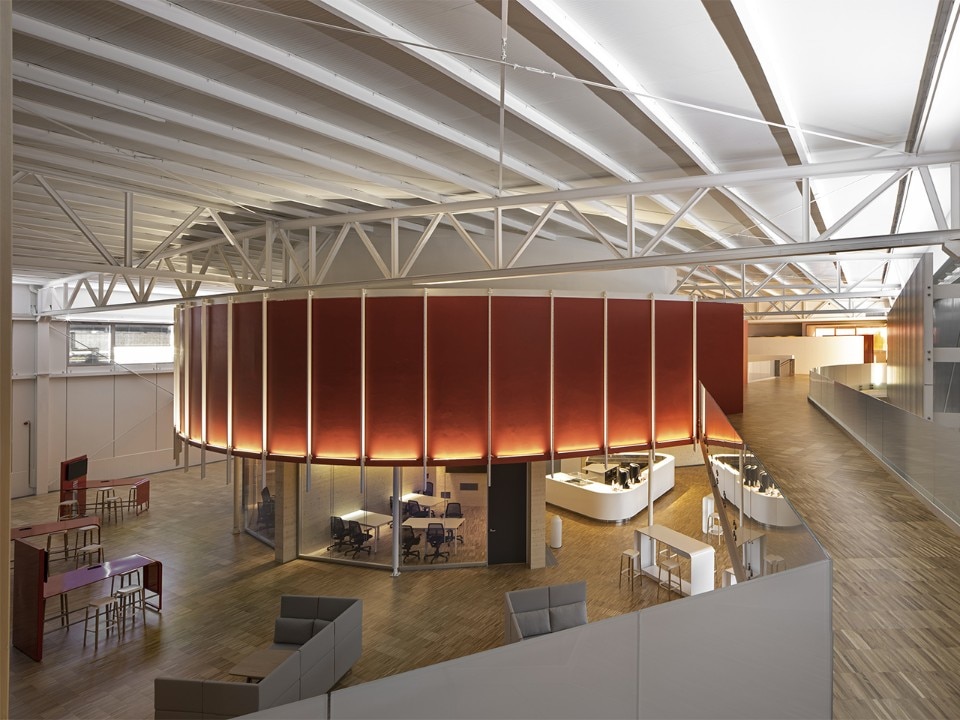 From the reception area the visitor can access the large "square" of the Academy building, a place for business meetings, training and culture related to the company's world. The existing building has been reorganized with the insertion of a new system of multi-storey light structures capable of generating new functions and new relationships: classrooms, offices, meeting rooms, a bar and restaurant, spaces dedicated to smart working. At the center there is a volume, connected by suspended walkways, with a central plan theater that can accommodate up to 150 people. A place for business meetings potentially open to the local community.
Academy is a point of exchange between the company and external visitors: inside, meeting rooms and workstations are organized to maximize privacy and individual work, while sharing views of the landscape and the common square. On the ground floor, a paved garden joins the Academy's "piazza" with the Showroom's exhibition floor, extending work and meeting spaces to the outdoors.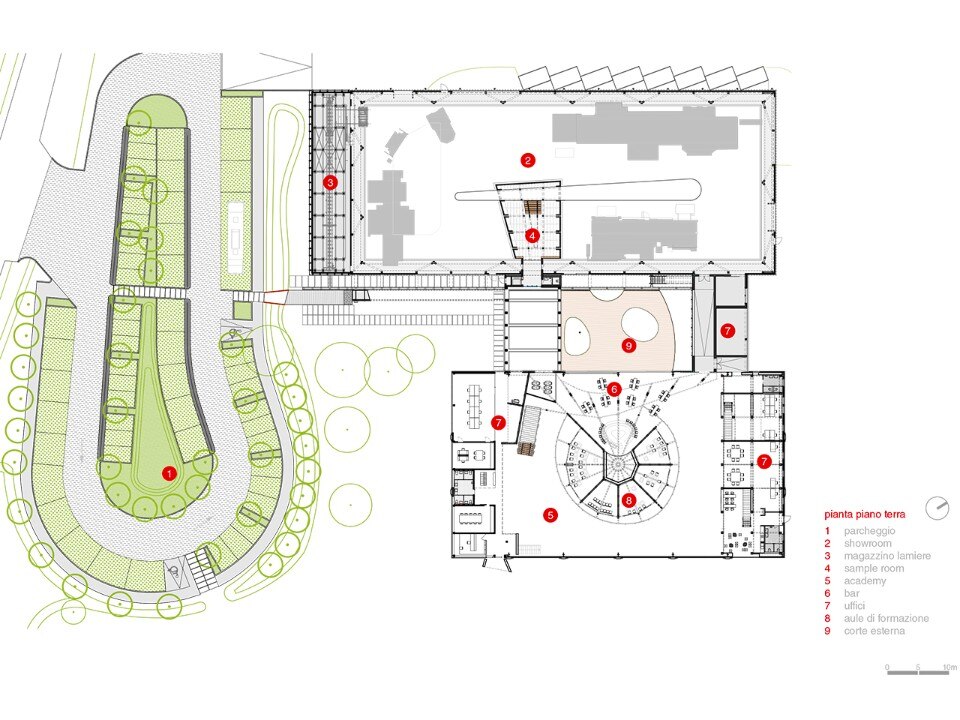 Traverso Vighy Architetti
Salvagnini Campus, ground floor plan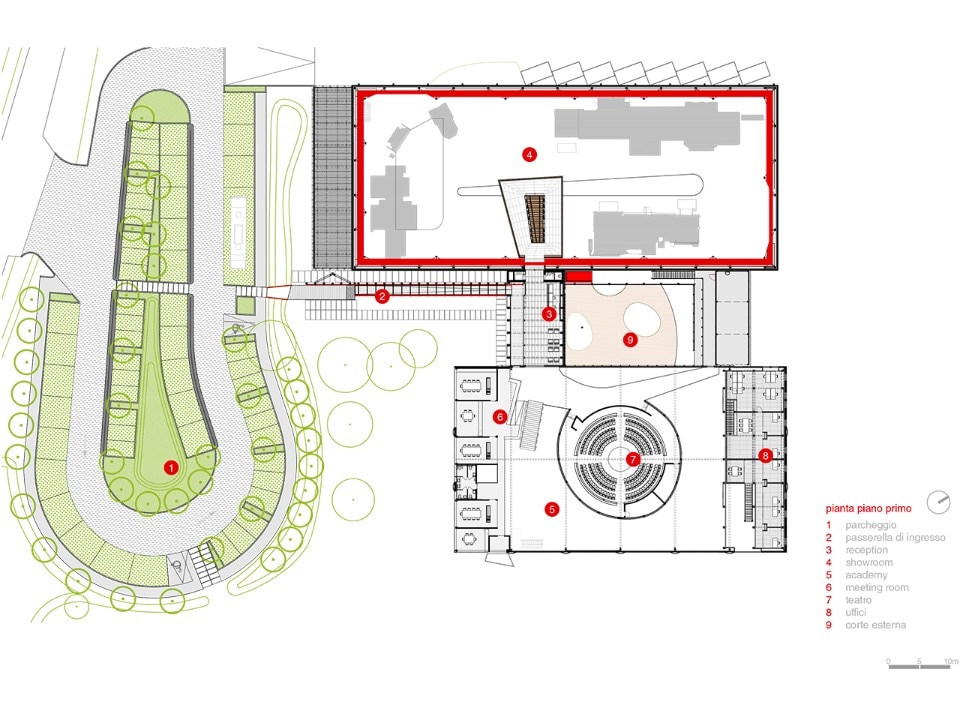 Traverso Vighy Architetti
Salvagnini Campus, first floor plan
Traverso Vighy Architetti
Salvagnini Campus, diagram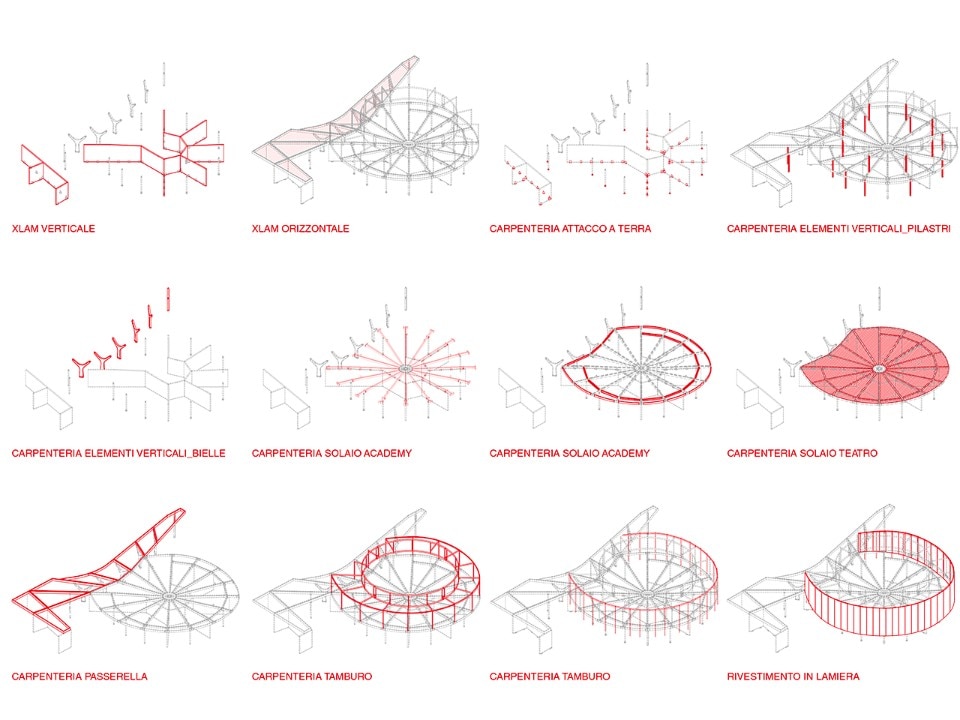 Traverso Vighy Architetti
Salvagnini Campus, carpentry drawings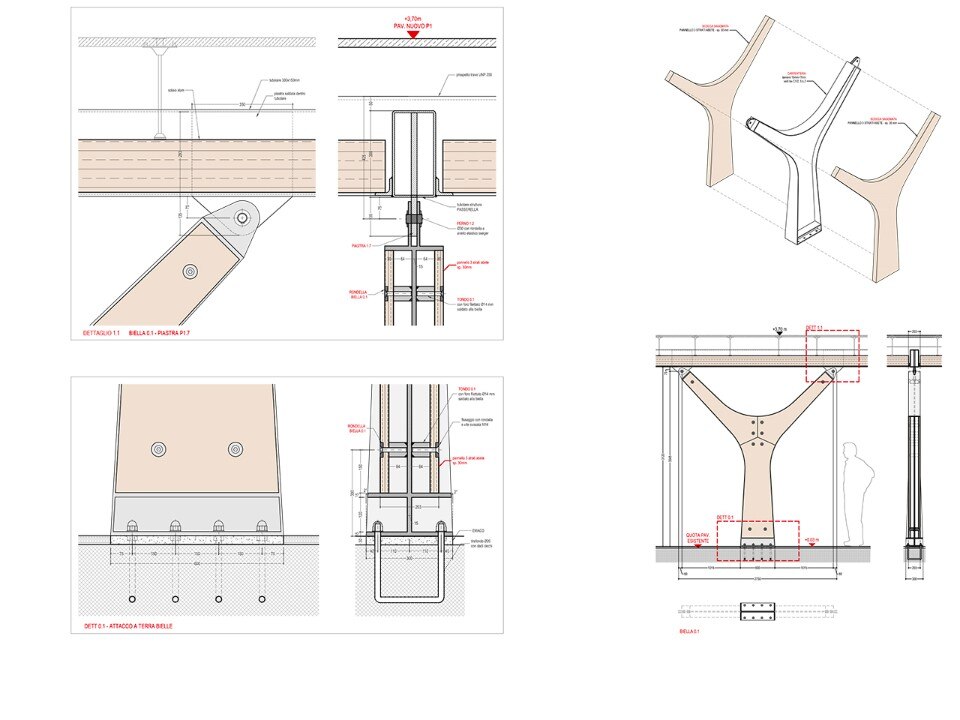 Traverso Vighy Architetti
Salvagnini Campus, construction details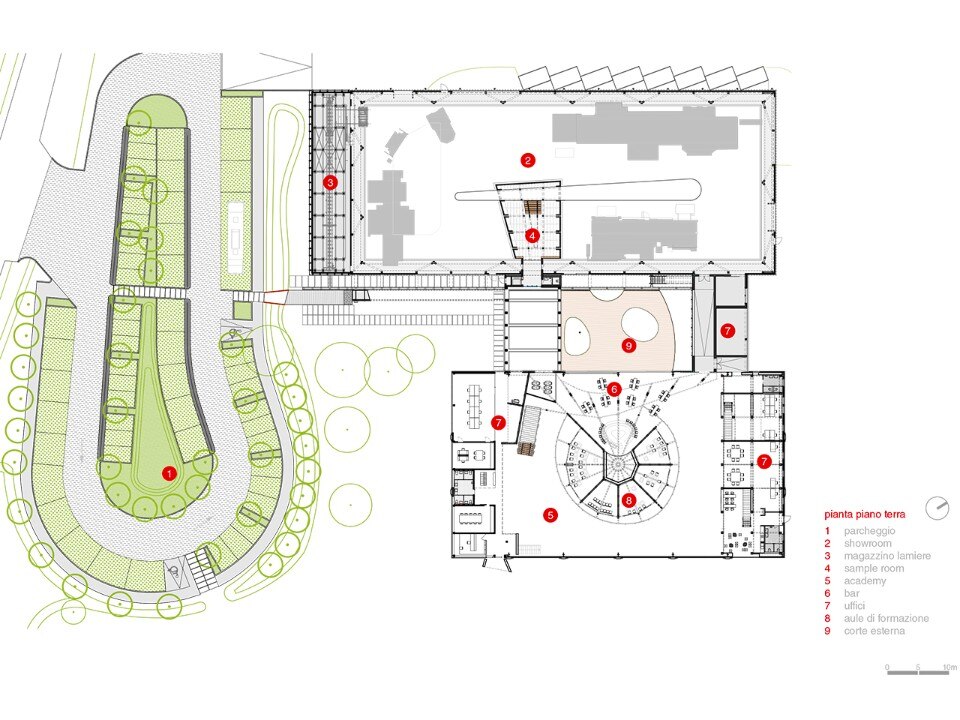 Traverso Vighy Architetti
Salvagnini Campus, ground floor plan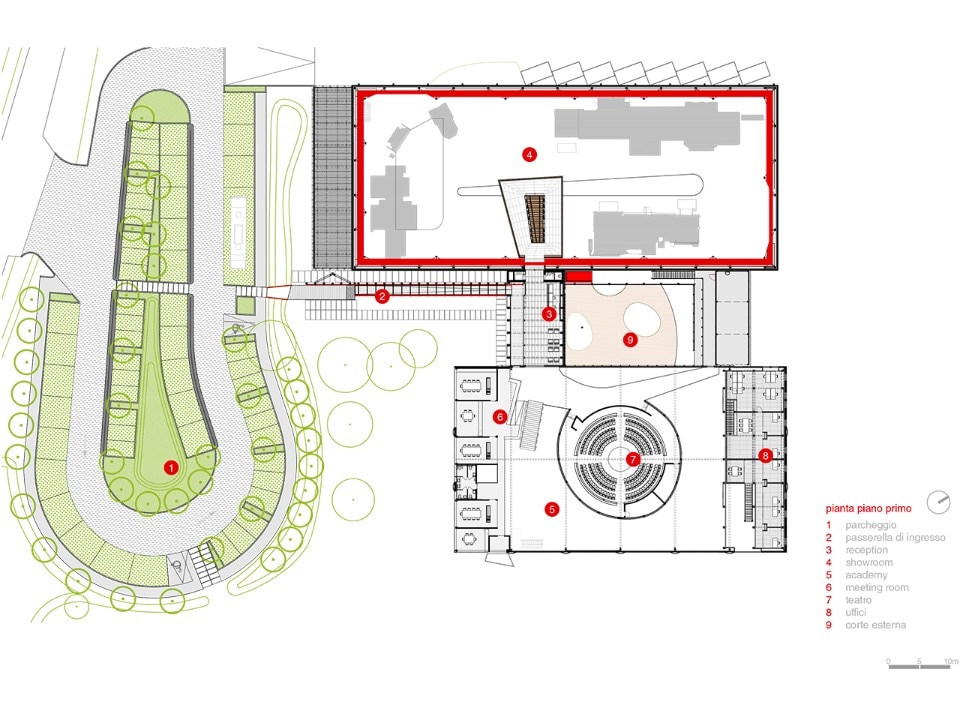 Traverso Vighy Architetti
Salvagnini Campus, first floor plan
Traverso Vighy Architetti
Salvagnini Campus, diagram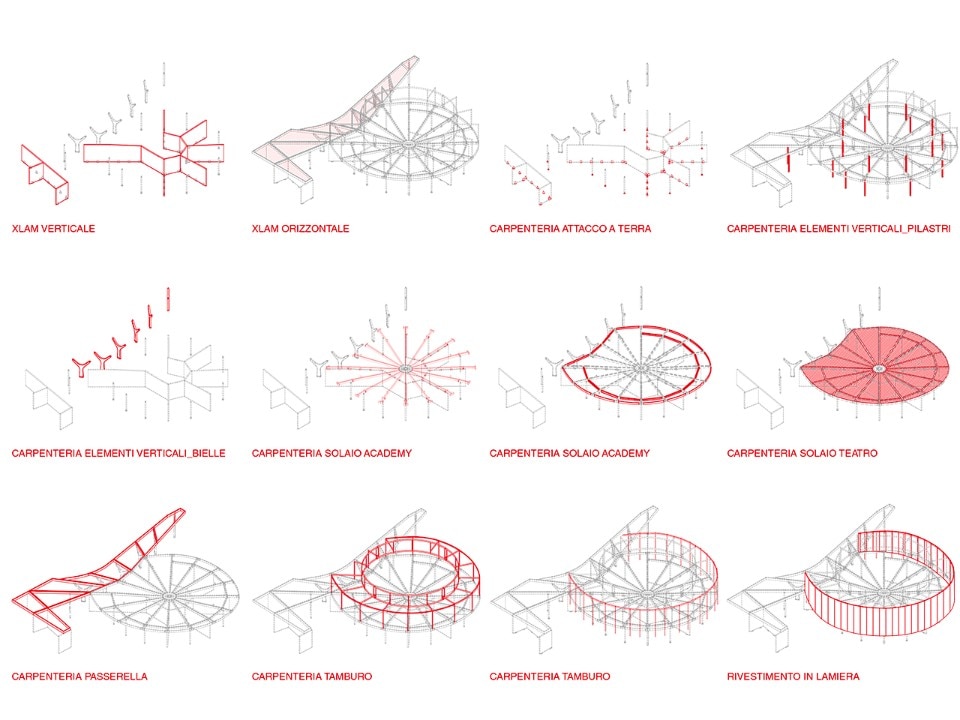 Traverso Vighy Architetti
Salvagnini Campus, carpentry drawings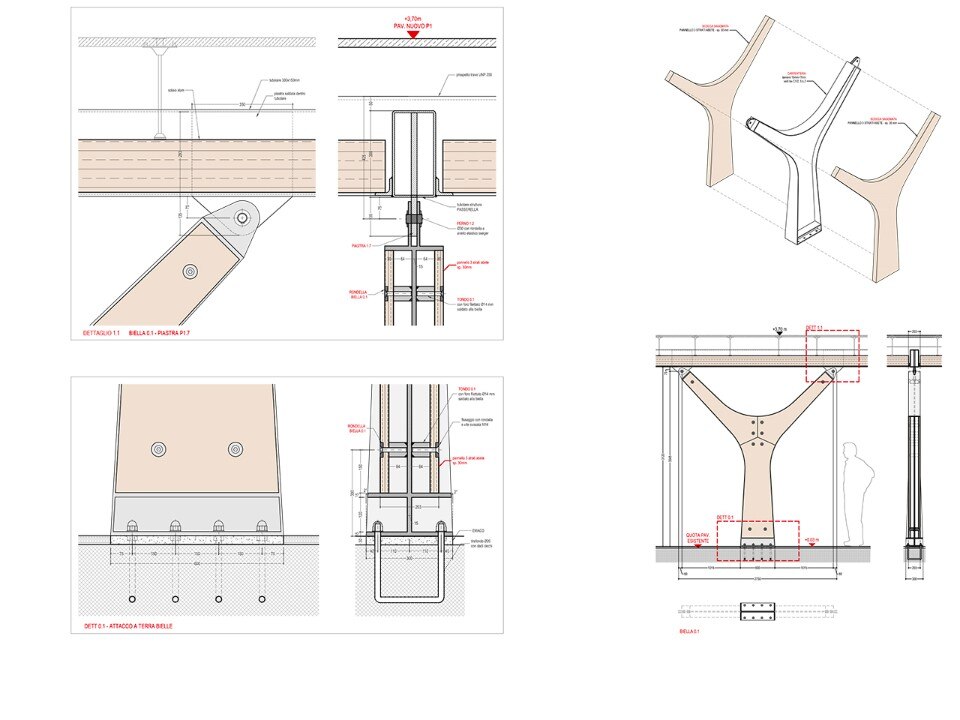 Traverso Vighy Architetti
Salvagnini Campus, construction details
Architect:

traverso-vighy architetti

Team:

Giovanni Traverso and Paola Vighy with Cristina Baggio, Stefania Dal Bianco, Elena Panza, Valeria Pesavento

Client:

Salvagnini Italia spa

Steel and wood structures:

Alberto Crosato

Concrete structures:

Massimo Nardi

Mechanical plants:

Paolo Lucatello

Electrical plants:

Cristiano Stellin

Construction management:

Massimo Nardi, Daniele Bertoldo

Safety and site management:

Luca Gonnella

Year:

2020

Site area:

12,256 sqm

Built area:

4,122 sqm