In the municipality of Kirkkonummi, just outside the metropolitan area of Helsinki, JKMM studio has realized an operation of strong characterization of the civic heart of the town where already, around the medieval church and the outdoor market, daily activities pulsate.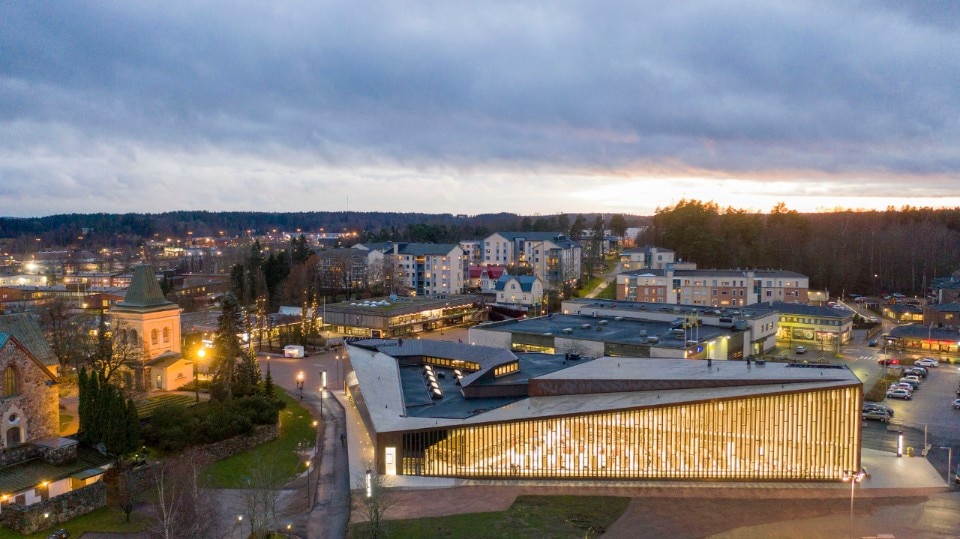 The project involves the renovation and expansion of the existing 80s library to accommodate, in addition to the reading rooms, several multifunctional spaces.
Fyyri, the new library, combines the structure of the existing building and doubles its volume, by configuring a single building with a shell covered in copper shingles: a timeless material that suggests a connection with the roof of the nearby church and evokes, in the image of a fishing net, the maritime character of the city.
The heart of the extension is the reading room with vertical slit windows, inspired by the Finnish modernist tradition that lives on in the warm and natural materials and in the suggestive play of light: the pillars and the exposed concrete beams let the natural light filter through as if through a forest of birch trees, by creating an effect of diffused lighting that reverberates on the light-colored surfaces and on the custom-made wooden furniture.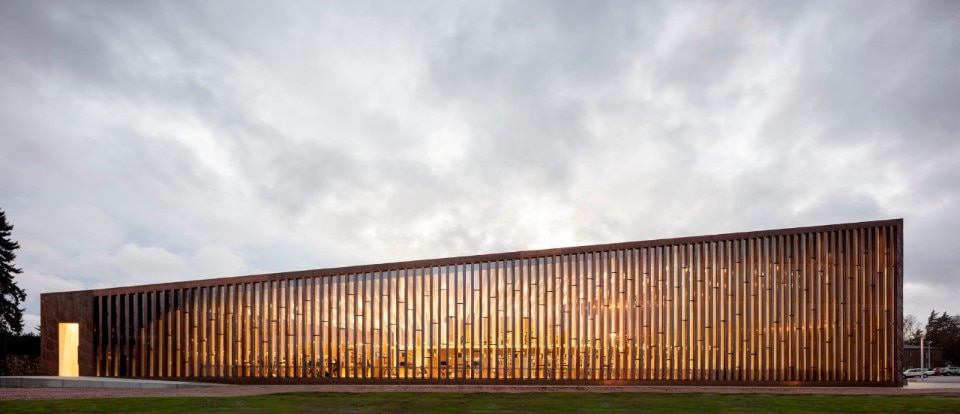 The complex houses a variety of community spaces including exhibition areas, event spaces, children's rooms and youth clubs, a cafeteria with a periodical reading room. The interiors are conceived according to a principle of comfort and practicality typical of Finnish design: the decoration of walls and ceilings with wooden slats, the wool and felt that cover furniture and upholstery, the brass accessories refer to a craftsmanship made of sober details inspired by the genius loci and create a pleasantly domestic environment.
A space that, more than a library, represents a cozy urban living room where you can not only learn but also rediscover a vibrant sense of social cohesion and ownership of the place. 
Project:

Kirkkonummi Library

Location:

Kirkkonummi, Finland

Completion:

2020

Existing building area:

2.084,5 mq

New building area:

2.615,5 mq

Total area:

4.700 mq

Client:

Kirkkonummi Municipality

Contractor:

EKT Infra Oy (maanrakennusurakka), Rakennus Omera Oy, SRV Rakennus Oy

Project leaders:

Teemu Kurkela, Jukka Mäkinen

Project team:

Asmo Jaaksi, Samuli Miettinen, Juha Mäki-Jyllilä, Alli Bur, Sini Coker, Christopher Delany, Aaro Martikainen, Marko Pulli, Pekka Tynkkynen

Interior design:

Tiina Rytkönen, Elina Törmänen

Project Manager:

WSP Finland Oy

Structural Engineers:

Ramboll Finland Oy

Services Engineers:

Ramboll Finland Oy, Insinööritoimisto Techniplan Oy

Acoustics:

Helimäki Akustikot Oy

Fire safety consultants:

L2 Paloturvallisuus Oy

AV consultants:

Ramboll Finland Oy