Hangzhou, capital of the Chinese province of Zhejiang, is also popularly known as "heaven on earth". In fact the metropolis, which has now surpassed the threshold of 10 million inhabitants, is home to three Unesco World Heritage Sites and is recognized as a historic center of information exchange and trade, as one of the places of origin of the Silk Road and the Grand Canal. In this magical place full of history, the international architectural firm BIG - Bjarke Ingels Group has just presented the project for the new headquarters of Oppo. The leading electronics company, founded in 2004, commissioned in early 2019 the design for a research and development headquarters and the masterplan of the surrounding area, located in the future Sci-Tech City of Hangzhou.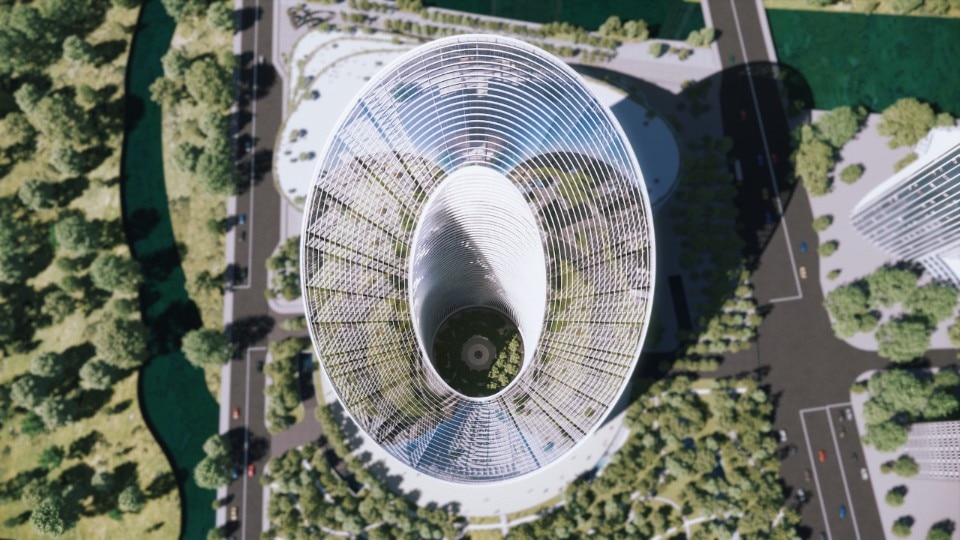 The proposed site is located along the main access road, between a natural lake, an urban centre and a 10,000 sqm park. "O-tower," which is the nickname given to the project, is a tower articulated by a ring shape and will house a mixed program connected to a large courtyard and lush waterfront landscape. Most of the skyscraper will be dedicated to the company's operations. At the same time, the first three floors are reserved for a public program, including exhibition spaces, conference centres, a cafeteria and an incubator for outdoor labs. The main feature is the green courtyard accessible to the public from the second floor, designed as an "urban living room for the city."
"The central oasis and the surrounding wet park expand the public space into the heart of the complex," Bjarke Ingels, BIG's founder and creative director, said about the project. "Each element is intrinsically interconnected and forms a perceptible loop at all scales - from urban landmark to human experience."
The monumental, yet very simple, massing has brought with it numerous criticisms and pop references, which have been bouncing around architectural meme accounts since the project's publication. The most immediate comparison made is the glaring resemblance to the eye of Sauron, the antagonist of The Lord of the Rings trilogy.
But allegories aside, even the architecture leaves doubts. The inclined ring of the deformed roof, which from the project description should serve as a 'social shortcu' for the company's employees, creates a series of empty spaces – which become greenhouses invaded by tropical vegetation – while the internal facade of the deformed cylinder should provide of a panoramic view and constant light, while it is evident that part of the building remains shaded due to the volumetry.

"We tried to imagine that Oppo's future workspace would be sustainable on a triple bottom line: economically, ecologically and socially," Ingels continues in the tower's presentation. "The compact form that folds in on itself provides large flexible surfaces with access to daylight and the fresh air of a slender tower. The adaptive louvred façade eliminates incoming solar glare and thermal heat gain, improving the passive performance of the building. The sloped ring of the warped roof creates a social shortcut for Oppo employees and their associates that connects the ground to the top."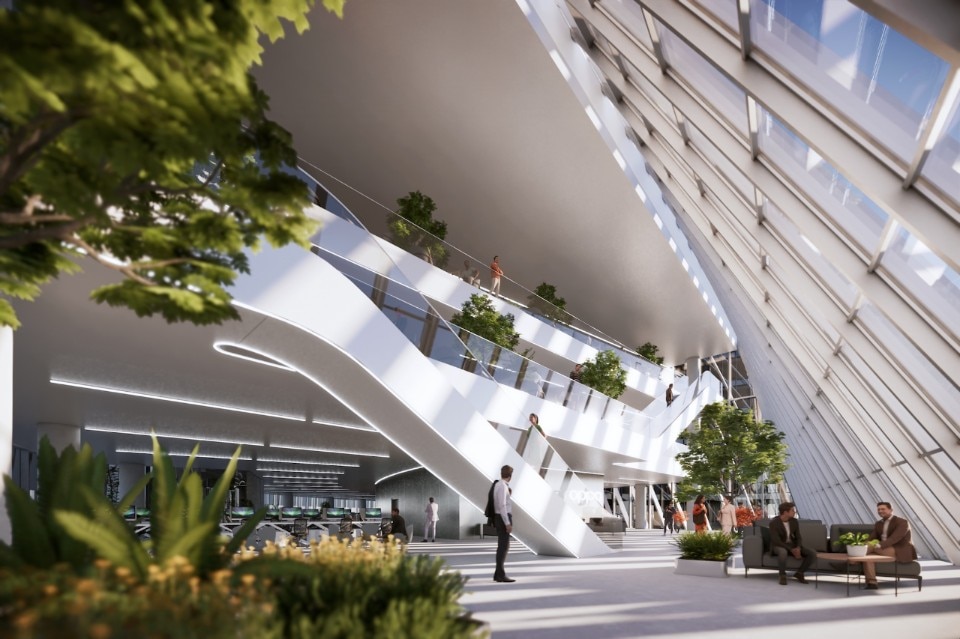 Project:

OPPO global mobile terminal R&D headquarters

Architecture studio:

BIG - Bjarke Ingels Group

Partners-in-charge:

Bjarke Ingels, Brian Yang

Project leader:

Hung Kai Liao

Project architect:

Kekoa Charlot

Design lead:

Ewa Bryzek

Facades lead:

Aimee Louise Desert

Design team:

Adam Busko, Agnieszka Magdalena Trzcińska, Alessandro Zanini, Alda Sol Hauksdóttir, Andra Beler, Buster Christensen, Cristina Giménez, Seongil Choo, Camille Breuil, Carlos Ramos Tendrio, Cris Liu, Daniel Ferrara Bilesky, Eddie Can, Eric Li, Filip Fot, Geetika Bhutani, Gül Ertekin, Jens Majdal Kaarsholm, Julia Gotovski, Karim Muallem, Liang Zhang, Laura Kovacevic, Malka Logo, Maria Capuozzo, Martyna Sylwia Kramarz, Mats Kolmas, Max Alexander Bonecker, Mengyuan Li, Mads Primdahl Rokkjær, Naphit Puangchan, Ombretta Colangelo, Rasam Aminzadeh, Roberto Fabbri, Stefan Plugaru, Steen Kortbæk Svendsen, Su Myat Nge Nge, Shuting Zhang, Weronika Siwak, Xiaochang Qiu, Xavier Thanki, Yusheng Huang, Zhonghan Huang

Collaborators:

ZIAD (LDI), WSP (Traffic, MEP, VT Consultant), RBS (Structure Consultant), RFR (Façade Consultant) CCGT (Client project manager), BPI (Lighting designer), Savills (Programming consultant), TFP (Foodservice planner), UAD (Traffic evaluation agency)

Client:

Oppo

Typology:

office, retail and masterplan

Location:

Hangzhou, China

Area site:

48,900 sqm

Area retail:

68,000 sqm

Area offices:

161,330 sqm