The single-family home designed by Atelier NgNg stands out in the hyperdensity of Ho Chi Minh City, only 4 metres wide and 12 metres deep. Conceived as a "nest", a protected shelter, the home reflects the personality and needs of its owner, passionate about plants and gardening.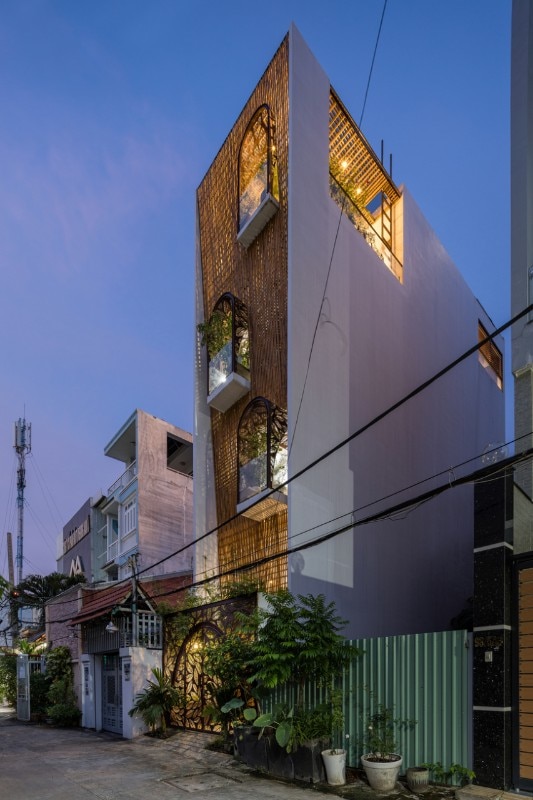 Thanks to a very careful and meticulous study of its interior spaces, Atelier NgNg completely eliminates the  internal partitions of the house in favour of natural lighting and cross-ventilation, working with green diaphragms, "voids" and small diffused gardens to separate the inside from the outside, as well as the spaces for movement from those for living.
Two hanging gardens branch out vertically on the floors to create a filter between the home and the city, one at the street façade and one at the rear stairwell, whereas a central light well pierces the roof to separate the home office from the rest area, the terrace from the place of worship.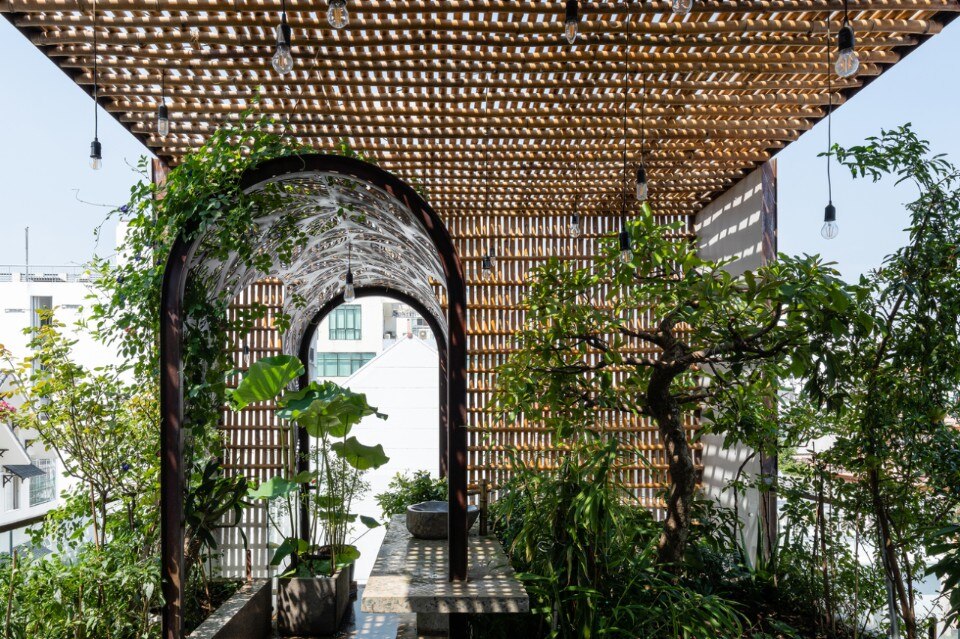 The architects use bamboo and wood with glass and iron in the interior and in the cladding of the outer shell, combining shapes and materials of late Vietnamese tradition. A screen of bamboo, reminiscent of the rattan walls of the Vietnamese countryside, runs along the entire street façade, protecting the house from the strong western sunlight and ensuring privacy and natural ventilation.
The iron walls with carved leaves, inspired by traditional bình phong screens, design the rooms and act as a light and air convection device, while the vertical bamboo ceiling covering the stairs acts as a sunshade and creates a play of sound, light and shadow.
These elements, together with the diffuse gardens and voids created within Floating Nest, make the house an airy object, which closes to the city and opens up internally in a single, fluid and interconnected system.

Project:

Floating Nest

Program:

Single family house

Location:

Ho Chi Minh City, Vietnam

Architect:

atelier NgNg

Project Leader:

Dung Ngo - Phi Nguyen

Project Team:

Ngo Viet Hung, Do Van Dung

Structural Engineer:

Viet Technical Co. Ltd

Completion:

2020