The brand new Yabuli Entrepreneurs' Congress Center by MAD Architects, commissioned by the Yabuli China Entrepreneurs' Forum for its annual meetings and inaugurated at the very end of 2020, is undeniably one of the most spectacular pieces of land architecture that we have seen in recent years.
The building is skillfully modeled in order to blend in with the hill where it stands, as its artificial top, separated from the rest by a deep, seemingly tectonic fracture. Furthermore, thanks to its white-silver metal cladding it succeeds in replicating the iridescent luminosity of the (often) snow-covered surrounding mountains, to a point that it almost blurs with the natural landscape.
In addition to the main auditorium, its interiors host a sequence of meeting halls, a television hall and an exhibition hall, the latter one open to the external public. All rooms are accessible from the full-height lobby, a monumental space, shaped organically, entirely clad in wood and filled with natural light.
Chinese entrepreneurs choose to represent themselves through resolutely global aesthetics. Therefore, the Yabuli Entrepreneurs' Congress Center is a formally convincing example of the parametric "international style", while not an original one per se. Rather than to the works of the greatest interpreter of the genre, Zaha Hadid, its surfaces, rich with countless veins and visible fibers, are reminiscent of the researches of other sculptors-architects with a weakness for osseous metaphors, such as Santiago Calatrava and Antoni Gaudí.
A final remark: the official images selected to introduce the building to the press show it as a pure-white mass surfacing from its snowy ground, as the storm rages, or they describe its interiors' warm light shining in the darkest night. These are really emphatic representations, that end up by somehow diffusing the technological marvel into an otherworldly Disney-like stage.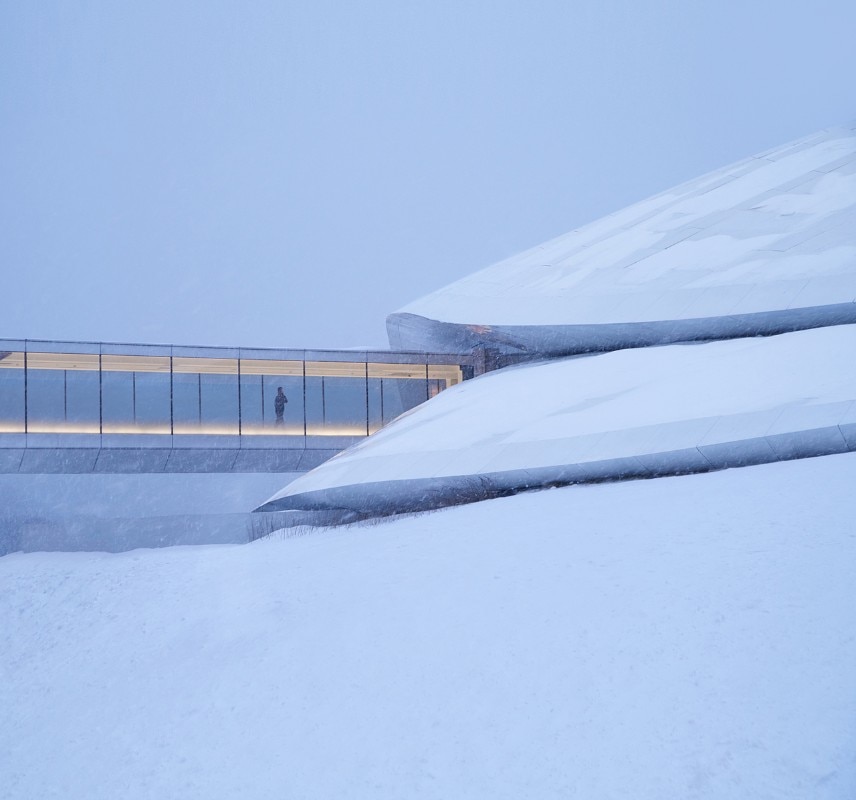 Project:

Yabuli Entrepreneurs' Congress Center

Program:

congress center

Location:

Yabuli, China

Architects:

MAD Architects

Principal Partners in Charge:

Ma Yansong, Dang Qun, Yosuke Hayano

Associate Partners in Charge:

Liu Huiying, Tiffany Dahlen

Design Team:

Li Guangchong, Sun Shouquan, Deng Wei, Song Chi, Zhang Xiaomei, Huai Wei, Zhao Meng, Wang Shuobin, Zhang Yanru, Yuki Ishigami, Xiao Ying, Tian Jin

Executive Architects:

China Architecture Design & Research Group

Façade Consultant:

RFR Shanghai, Kighton Façade Consultant

Landscape Architects:

BJF International Design

Interior Design Consultant:

Shanghai Xian Dai Architectural Decoration & Landscape Design Research Institute Co., Ltd.

Lighting Consultant:

Brandston Partnership Inc.

Signage Consultant:

Dongdao Creative Branding Group

Acoustics Consultant:

Beijing Tsinghua Tongheng Urban Planning & Design Institute

LEED Consultant:

AECOM Beijing

Client:

China Entrepreneur Forum

Site area:

22,000 mq

Building area:

16,198 mq

Completion:

2020