Located in the Cultural Center of Perth, the WA Museum Boola Bardip opens its doors after the renovation and extension of the buildings involved, based on a collaborative project between the architectural firm Hassell and OMA. The institution offers spaces for exhibitions and events, and new retail and catering opportunities for the former museum, showcasing West Australia's natural and cultural collections.

"The Museum is unique in the Australian and international cultural landscape," says Paul Jones, regional head of OMA. "It invites visitors not only to watch the exhibitions passively, but also to become active creators of their own museum experiences. Visitors can choose their own museum paths and dialogue with each other."

In the Museum, contemporary heritage and structures complement each other. Among the buildings preserved and revitalized on site are the Old Gaol, dating back to the mid-19th century, the Jubilee Building built in 1899, the Original Art Gallery built in 1908 and the Hackett Hall, the reading room of the State Library built in 1913. The new volumes, on the other hand, envelop the pre-existing building to create two intersecting circulation systems offering multiple visitor routes connecting the exhibition galleries, event and program spaces, and commercial rentals.

The construction of the new buildings includes the City Room, designed for public events, and accessible to all for daily meetings. Visually connected to the two circulation circuits within the Museum, the City Room is the focal point of the project, which once invited the public to explore the exhibitions and encouraged visitors to gather and dialogue.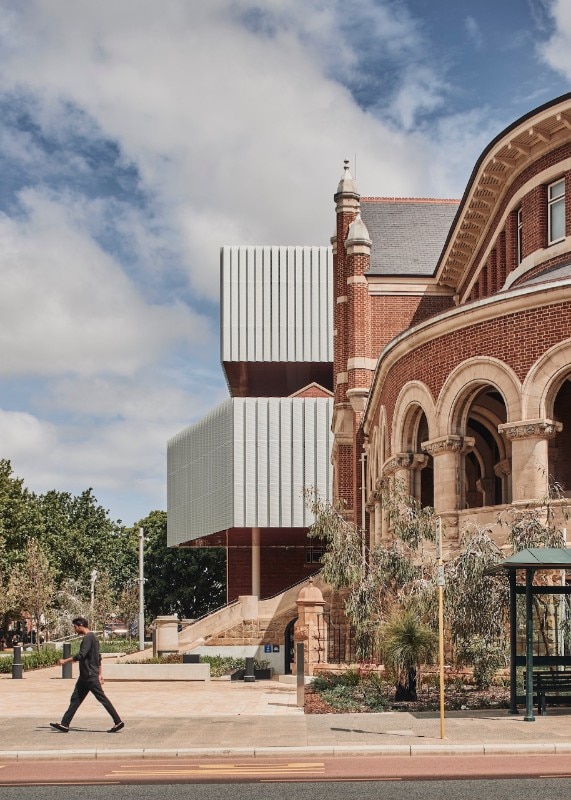 Another element chosen to develop the narrative of the building is the language of the elevations: the preserved historical buildings evoke the social and cultural history of the site, while the new rigid volumes are clad with perforated metal facades.
"This collaboration and consultation with the local community helped the WA Museum Boola Bardip evolve into another legacy project for the future of Perth as an international cultural destination," says Peter Dean, head of the Hassell studio.

Project:

WA Museum Boola Bardip

Architects:

Hassell + OMA

Partner OMA:

David Gianotten

Project director OMA:

Paul Jones

Project director competition phase OMA:

Fred Awty

Project director schematic design OMA:

Mirai Morita

Project director design development to construction OMA:

Christopher Hing Fay

Design team OMA:

Christopher Hing Fay, Thorben Bazlen, Marina Cogliani, Jack Davies, Haram Hong, Eunjin Kang, Alan Lau, Fedor Medek, Marcus Parviainen, Paola Provinciali, Yash Ravi, Takehiko Suzuki, Shinji Takagi, John Thurtle, Elizabeth White, Polina Zhalniarovich

Design team Hassell:

Mark Loughnan, Peter Dean, Brenden Kelly, Anthony Brookfield, David Gulland, Belinda Gilby, Benjamin Rees, Reuben Bourke, Hannah Galloway, David Hunt, Katherine Arrigan, Callum Chute, Philip Davies, Ricky Frazer, Sarah Gaikhorst, Wayne Greensill, Aysen Jenkins, Kaine Jenkins, Mark McKenna, Patrick O'Neil, Irene Payne, April Pine, Douglas William Pott, Thomas Proctor, Simon Rich, Michael Ruehr, Patrick Sims, Samuel Travers, Jill Turpin, Annika White, Lucy Elizabeth Wilson

Client:

Multiplex / State Government of Western Australia

Typology:

museo

Total surface:

19,000 smq

Location:

Perth, Australia

Completion:

2020