Four years after work began, the new building designed by OMA for the German publishing group Axel-Springer in Zimmerstrasse, Berlin, will be inaugurated next to the historic headquarters of the publishing house, completed in 1965.
The project,  result of a competition won by the Dutch studio in 2013, offers 52,000 square metres of workspace for over 3,000 employees.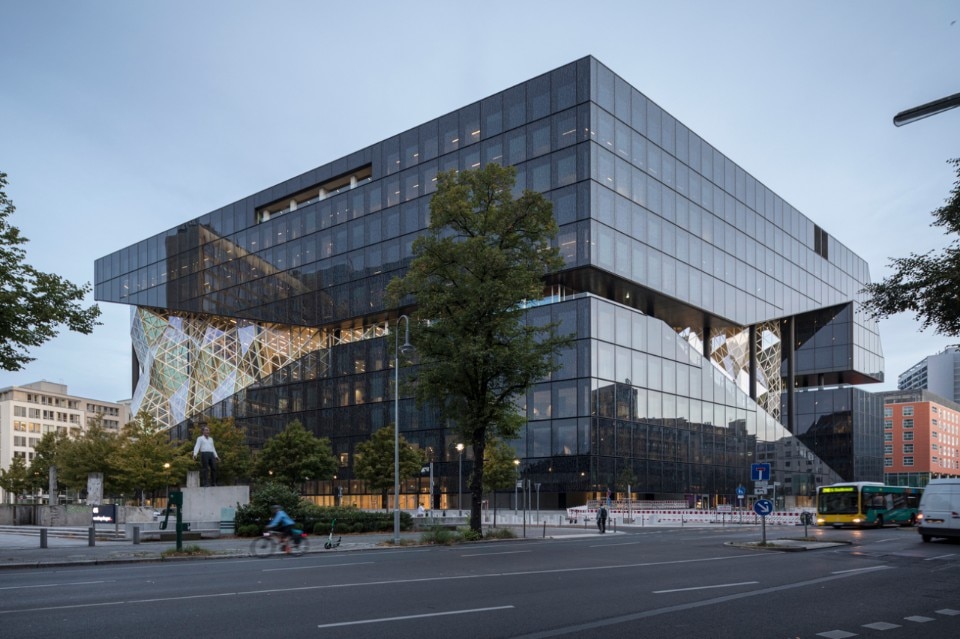 The building has a trapezoidal plan punctuated by powerful circular pillars and is configured as a single compact volume of imposing scale, crossed by a large central void: a sort of theatrical cavea opening onto the city through a fragmented glass casket.
Inside this large void, 45 metres high, 10 ground floors and 13 bridges overlap and create connections, allowing for an unprecedented expansion of the vocabulary of work spaces: traditional, informal, meeting and collaboration places.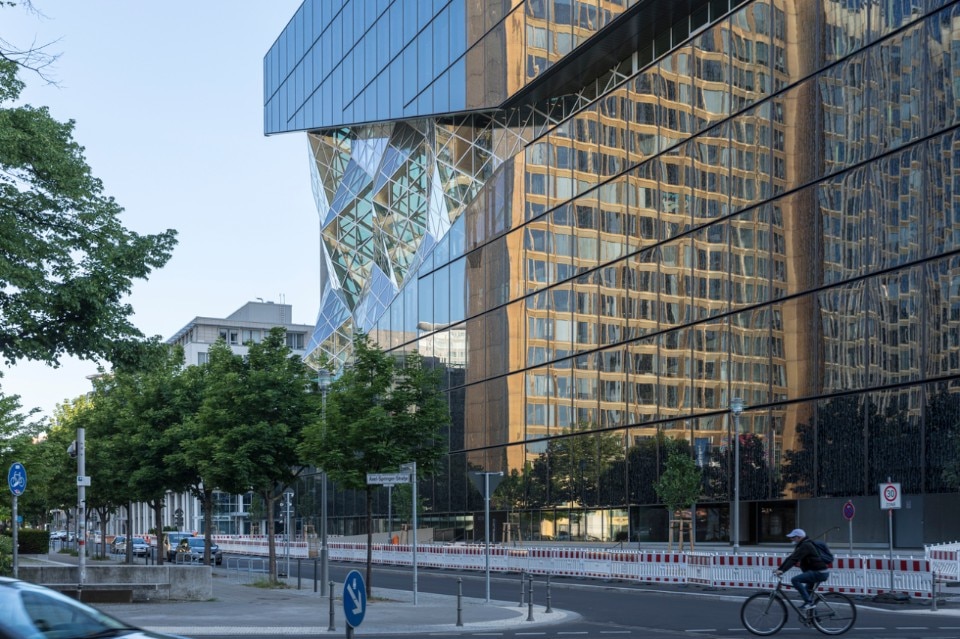 In the face of a global pandemic crisis that has challenged the idea of large workspaces, Rem Koolhaas, architect and founder of the Office for Metropolitan Architecture (OMA) responds as follows:
"Paradoxically, the current pandemic and concurrent digital acceleration, demonstrate the need for spaces conceived for human beings to interact. In the typical office building, a visitor enters, and then disappears.. It is far from clear what happens inside. In the new Axel Springer building, people and their interaction, are the essence. The Springer building is a tool for the further development of a company in perpetual motion. It offers its users a physical base – a wide variety of spatial conditions, intimate to monumental – in contrast to the flatness of working in virtual space."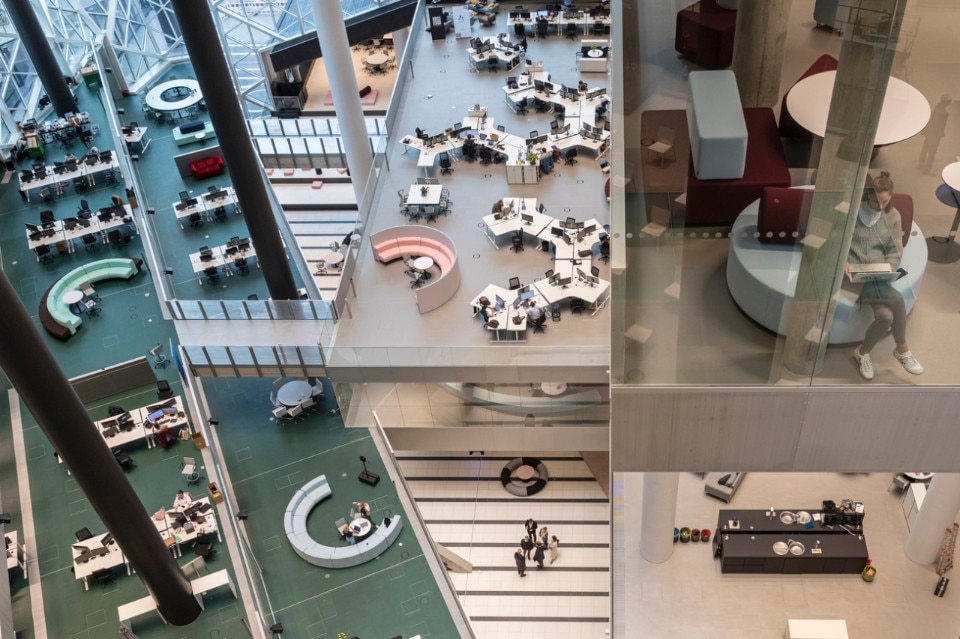 The public can experience the building on three levels: on the ground floor you can stroll through the studios, the spaces for events and exhibitions, the canteens and restaurants; from the meeting bridge you can watch the daily running of the company and its evolution, while on the roof you can enjoy the view of the city while sipping a coffee.
Project:

Axel Springer Campus

Location:

Zimmerstrasse, Berlin, Germany

Architects:

OMA

OMA partner:

Rem Koolhaas, Chris van Duijn

OMA Associate in Charge::

Katrin Betschinger

Project Team:

Philippe Braun, Antonio Barone, Paolo Caracini,Alain Fouraux, Gary Owen, Maria Aller Rey, Wael Sleiman Valentin Bansac, Matthieu Boustany, Saida Bruckner, Felix Buttner, Emile Estourgie, Michalis Hadjistyllis Phelan Heinsohn, Cindy Hwang, Mattia Inselvini, Athanasios Ikonomou, Hanna Jankowska, Minkoo Kang Alexander Klufers, Tijmen Klone, Marina Kouvani, Maximilian Kurten, Hans Larsson, Wai Yiu Man, Cristina Martin de Juan, Julian Meisen, Martin Murrenhoff, Betty Ng, Edward Nicholson, Vitor Manuel Dos Santos Oliveira, Ebrahim Olia Jerome Picard, Danny Rigter, Joanna Rozbroj, Stefanos Roimpas, Jad Semaan, Lukasz Skalec, Sandra Sinka Thomas Shadbolt, Magdalena Stanescu, Mike Yin, Marcus Parviainen, Slavis Poczebutas, Alexandru Vilcu, Frederike Werner, Mateusz Wojcieszek

Client:

Axel Springer SE

Project Management:

SMV Bauprojektsteuerung Ingenieurgesellschaft mbH

Cost Management:

Emproc GmbH

MEP:

ZWP Ingenieur-AG

Façade:

Emmer Pfenninger Partner AG

Landscape:

Inside Outside

Structure:

Arup London

Elevators:

Lerch & Bates

Energy/Comfort:

Transsolar Energietechnik GmbH

Building Physics:

knp.Bauphysik GmbH

Acoustics:

Kahle Acoustics

Geotechnical:

GuD Geotechnik und Dynamik Consult GmbH

Lighting:

les éclaireurs

Orientation System:

Büro Uebele

Curtain design:

Inside Outside