The new housing of Studio Thonik in Amsterdam is certainly not a sober, understated architecture, one that would easily go unnoticed. On the contrary, the building is literally and blatantly a striped one. Its designers – Thomas Widdershoven, co-founder of Thonik, and Arjan van Ruyven from MMX Architecten – know it well, and they even go as far as to claim that "its pattern makes this architecture a self-referential act of underscoring itself".
In plan as well as in section, the spatial organization is quite ordinary, with slabs piled at equal distance, each one conceived as an open space platform. The program is interesting but not revolutionary: a bar on the ground floor, a restaurant on the first level, the offices of Studio Thonik on the intermediate floors and an event space on the last floor, covered by the accessible roof terrace. The project's main element of originality are indeed its elevations.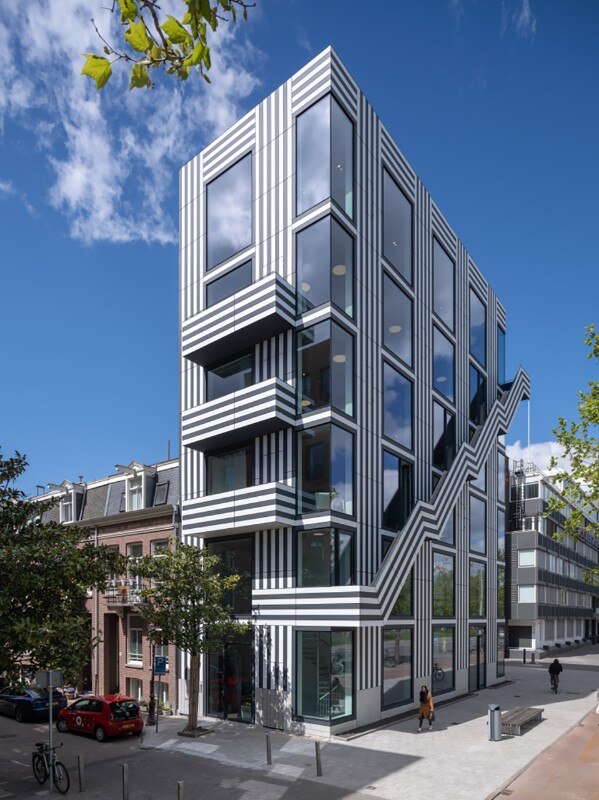 The building aligns on the Wibaustraat, a former urban highway, recently re-designed as a pedestrian and bike friendly city boulevard. Widdershoven and van Ruyven describe it as "a unique collection of individual, and individualistic buildings". In this context, where each construction is striving to be a protagonist, the new housing of Studio Thonik raises the stakes: its façades are glazed for the 50% of their surface, the rest of it entirely clad in high-pressure laminate slats, manufactured by Dutch producer Trespa.
Technological experimentation goes hand in hand with graphic culture – the pattern is inspired by the Mexcellent typeface, originally drawn for the Mexico City Olympics of 1968 – as well as with architectural culture. The boards layout varies to comply with and highlight the different architectural elements: vertical and horizontal structures, balconies, and the exception of the diagonal open air staircase. The final result is hypnotic from all viewpoints. Like it or not, it is undoubtedly the outcome of a virtuous exchange between the skills of neighboring disciplines.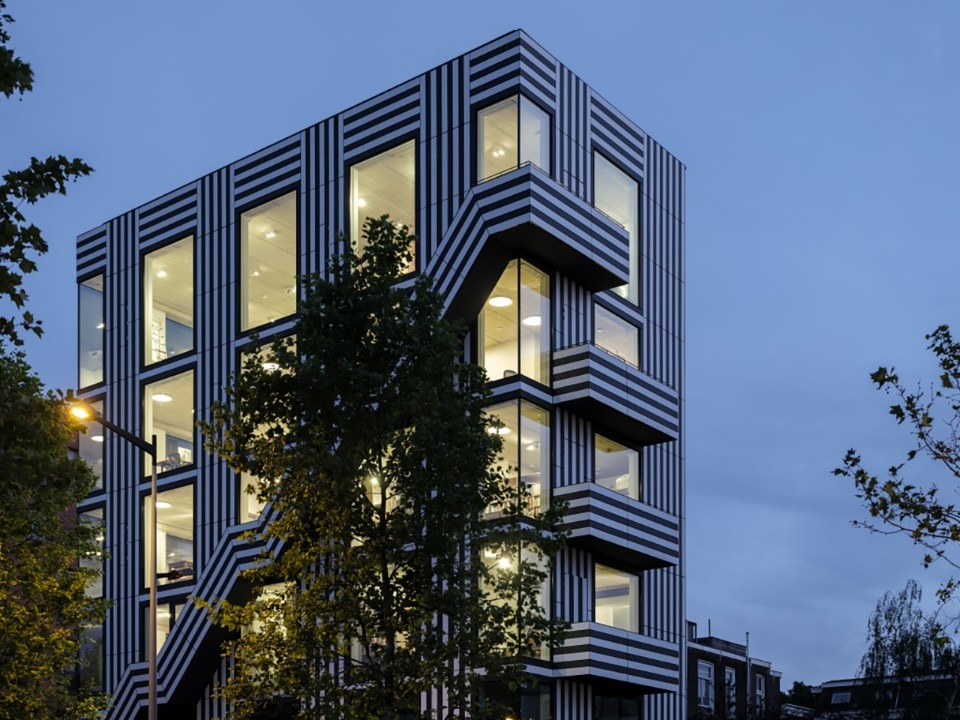 Project:

new housing for Studio Thonik

Program:

office building

Location:

Amsterdam, The Netherlands

Architects:

Thomas Widdershoven (Thonik) in collaboration with Arjan van Ruyven (MMX Architecten)

Interior design:

Thomas Widdershoven, Nikki Gonnissen

Completion:

2020