Lookout House is a vaction home designed by Faulkner Architects in Truckee, a Californian town in Nevada County, which can be reached both in summer and winter when the area becomes a ski location. The building stands on a 20-degree slope at 1,920 meters above sea level, in a lot close to a three-million-year-old volcano. It is a concrete block with a central body raised by pillars and completed with a steel plate roof.
The project has been strongly influenced by the geology of the place and adapted to the side of the mountain occupying a total area of 860 square meters: the nearby ski slope is integrated into the property along the east side, allowing to reach the house by skiing. Inside, concrete walls – insulating and 50 cm thick – extend outside following the slope of the ground and providing access to the ski run.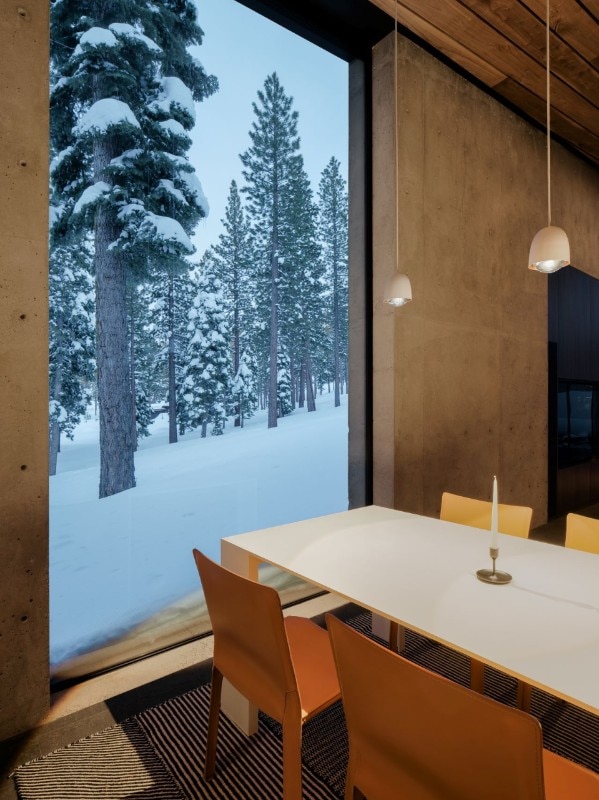 The project seeks a continuous point of contact with the landscape, from the use of neutral tones to underline the exterior, to the choice of materials – the concrete is made from local sand, the basalt floor recalls the volcanic rocks scattered around; the bedrooms, with a view to the north, are located behind a walnut screen from the orchards of the nearby Sierra hills.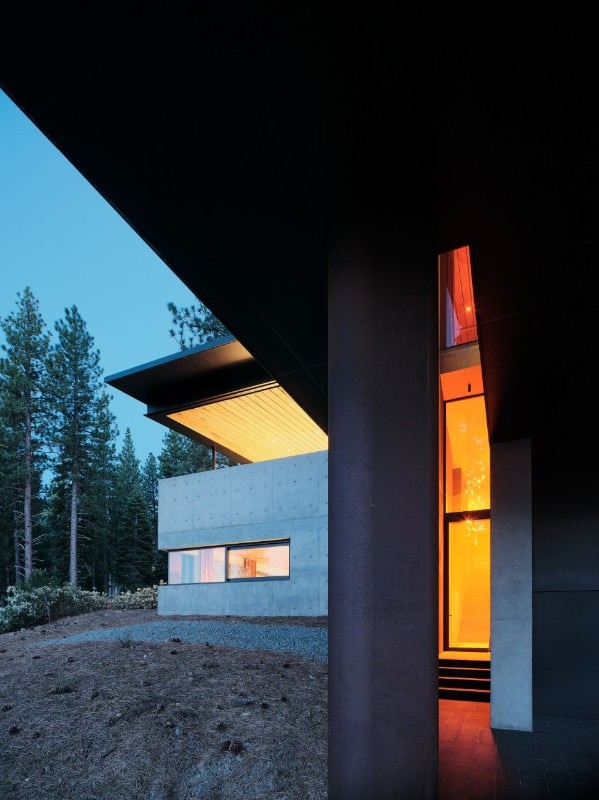 Red-orange windows immerse the rooms in a light reminiscent of cooling magma and full-height openings and terraces with sliding doors embrace the landscape of Jeffrey pines and white firs.
Project:

Lookout House

Location:

Truckee, California, USA

Program:

Residential building

Architects:

Faulkner Architects

Design team:

Gregory Faulkner, Christian Carpenter, Jenna Shropshire, Gordon Magnin, Breanne Penrod, Darrell Linscott

Interior and Lighting Design:

Concept Lighting Lab, LLC

Civil engineering:

Shaw Engineering

Structural engineering:

CFBR Structural Group

Mechanical, Plumbing and Electrical Engineering:

MSA Engineering Consultants

Energy modeling:

MSA Engineering Consultants

Contractor:

Rickenbach Development and Construction, Inc.

3D modeling:

Garrett Faulkner

Area:

860 sqm

Completion:

2018