Porto Cervo, as the whole Costa Smeralda real estate development, is a crucial episode in the history of 20th century seaside architecture. In the early 1960s, on the coasts of a land which had no touristic tradition, Luigi Vietti and others were able in the first place to define a style, an aesthetics inherent in the Sardinian holiday, tailored on the taste of Aga Kahn's wealthy clients. The island's wild landscapes certainly did resonate in the shapes, materials and colours of these pioneering projects, which at the same time indulged in the most light-hearted, and anything but philological, eclecticism. The Costa Smeralda was a land of architectural inventions, more or less contextualized, and more or less successful.
A large-scale private house designed by Stera Architectures, Stefania Stera's firm based in Paris, has recently integrated this site. Pivoting around a shaded courtyard, screened from strong prevailing winds, this complex architecture unfolds through a multiplication of volumes, terraces, patios, pathways.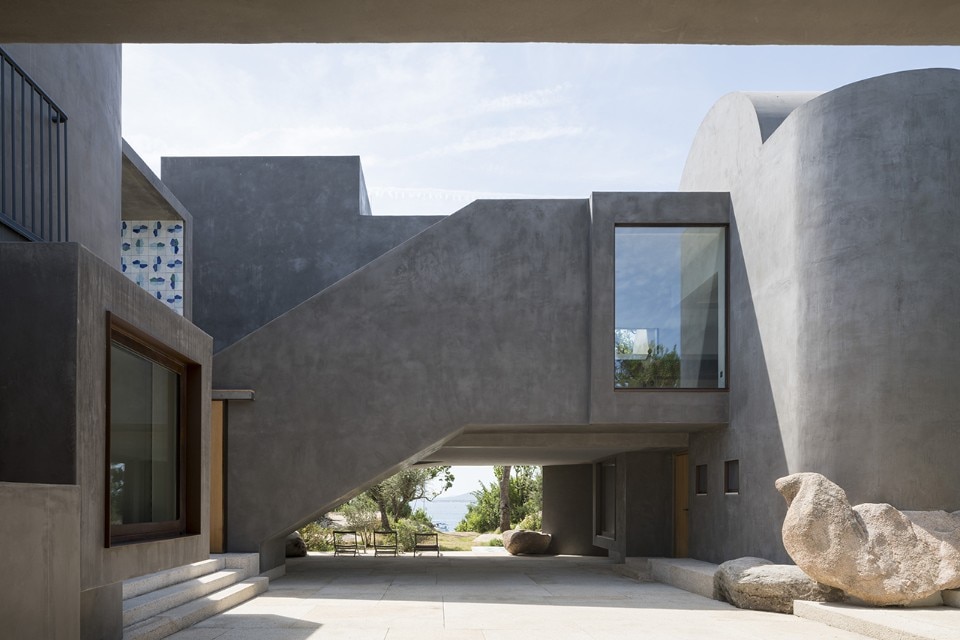 It is a luxury house for objective reasons of position, of square footage and of choice of materials – worthy of note is at least the living area's "marble carpet", seamlessly continuing on the outside and almost reaching out to the Mediterranean vegetation. Its exclusiveness, thoughs, stems even more from the quantity and the diverseness of its spaces, which make it a perfect location for the countless hedonisms of a jet-set holiday.
Its anthracite coating, as well as the camouflaged appearance of certain volumes, hint to the legendary Bunker House, completed by Cini Boeri at La Maddalena in 1967. Yet, besides this facile similarity, the two buildings are actually poles apart. Boeri's bunker is a rigorous example of architecture's "reduction" to its bare minimum, pushing its inhabitants to give up their urban garments and habits, and to blend themselves into nature.
Stera's house, on the contrary, is a multi-stage theatre filled with amenities, available to host the social rituals of several summer seasons. It's a worldly, flamboyant architecture, made of additions and citations: an invention à la Porto Cervo in its own right.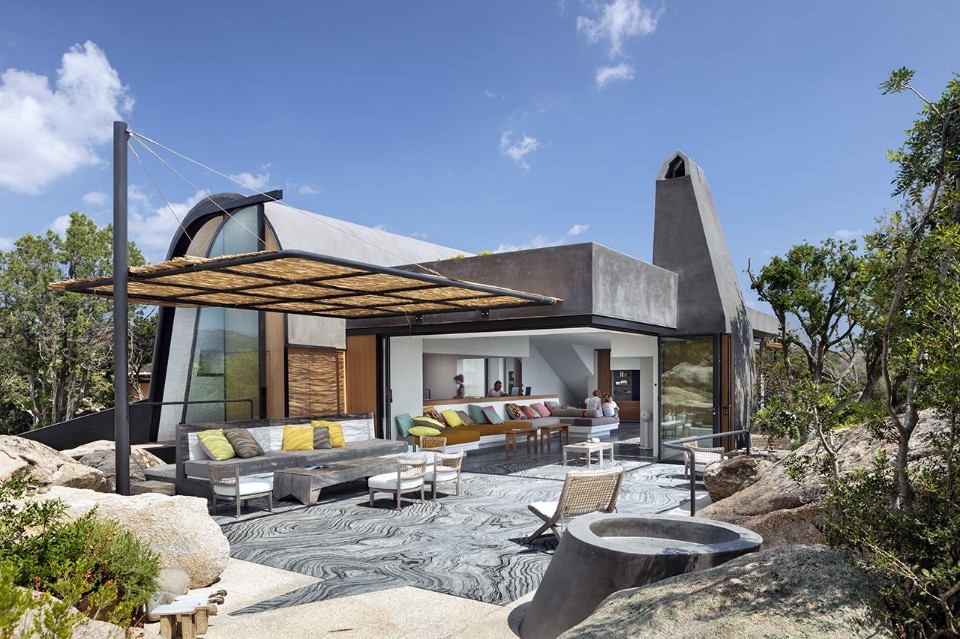 Project:

house in Sardinia

Program:

private house

Location:

Porto Cervo, Sardinia

Architect:

Stera Architectures

Founder Stera Architectures:

Stefania Stera

Area:

350 sqm (house); 750 sqm (terraces)

Completion:

2019