In Klein Koeris, a lakeside village near Berlin, studio Zeller & Moye has designed a single-family house built entirely out of wood. The floor plan of the house has been deconstructed, making each room an independent volume. These parallelepipeds of three different heights – 2.4 m, 2.7 m and 3.1 m – are then connected to each other through narrow passages.

The generous central space, the collective heart of the house with the kitchen and living room area, is connected to four other rooms, one for services, and the remaining three designed as interchangeable function spaces, which can serve as a bedroom, study, workshop or guest room as required. Each of these four main rooms also has its own independent access to the surrounding greenery.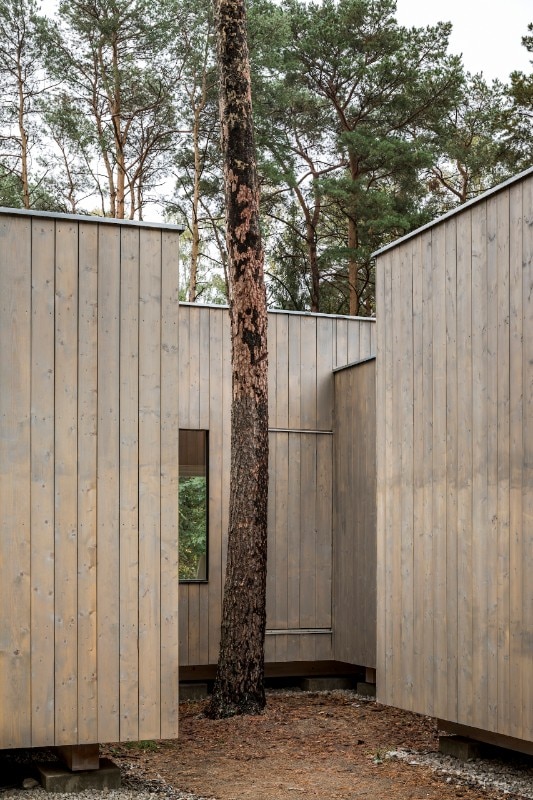 All the interior spaces are characterized by wooden walls, ceilings and floors, with large windows that interrupt the vertical partitions, offering pleasing views on the landscape.

The planimetric composition and the relative juxtaposition of the various volumes was also chosen to avoid the elimination of trees on the construction site. The rooms have been placed in such a way as to perimetralize externally this vegetation and, to have the minimum possible impact on the ground, the whole building is lifted.

Project:

Haus Koeris

Location:

Klein Koeris, Germany

Architects:

Zeller & Moye

Design team:

Christoph Zeller, Ingrid Moye, Alex Pineda, Florence Bassa, Omar Muñoz

Consultant wood construction:

Georg Glaubitz

Environmental engineer:

Bonnstatik

Structural engineer wood structure:

Werner Pramann

Structural engineer foundation:

Tauchmann

Area:

130 smq

Completion:

2020