A nursery school is an ambiguous architectural type on many regards: in fact, while it certainly is a building, often a small-scale one, it represents the first non-domestic, complex "urban" space that its users come to experiment; moreover, it is by definition a public architecture, but it cannot entirely open towards the city because of the "sensitive" population that it hosts.
These issues are also addressed by Crossboundaries' project for a kindergarten in the Chinese village of Beisha. In direct opposition to the current courtyard block typology, classrooms and common areas are here treated as independent volumes and arranged in a cluster configuration. Each block adapts to the scale of ordinary local architecture, drawing from it both its shape (for instance the pitched roof) and its materials (such as the locally-sourced recycled bricks). The school transforms into a miniature city.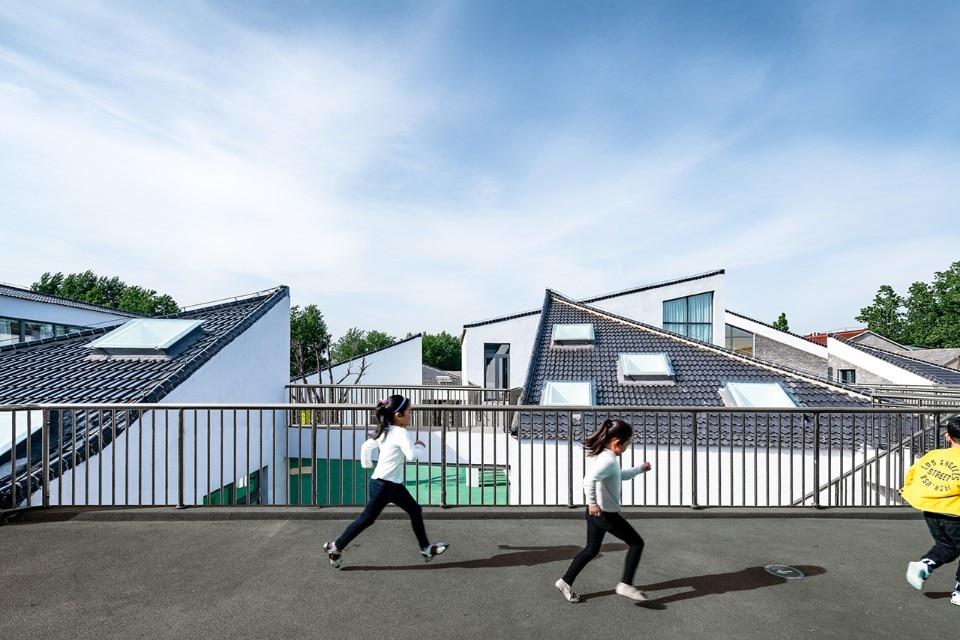 Ground floor rooms are designed in continuity with their adjacent open air spaces, equipped as playgrounds for group activities. On the upper level, a network of suspended walkways and platforms doubles the opportunities for exploration and discovery within the school enclosure, and shifts them to an unusual altitude.
Within the univocally horizontal landscape of the immense Chinese countryside (which in the Jiangsu province is even more pronounced that elsewhere), this raised viewpoint is an actual privilege. In Crossboundaries' words, it is "a little shift of perspective, that enables children to see their surroundings in a different frame, and to expand their everyday spatial experience".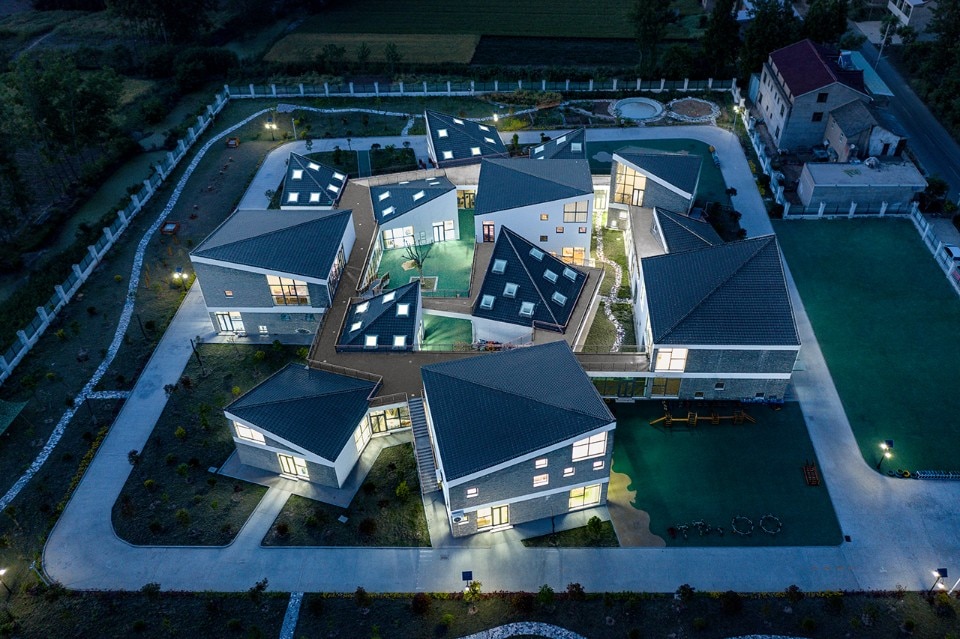 Project:

kindergarten

Location:

Beisha, Jiangsu, China

Architects:

Crossboundaries

Partners in charge:

Binke Lenhardt, Dong Hao

Design team:

Tracey Loontjens, Alan Chou, Andra Ciocoiu, Hao Hongyi

Client:

Education bureau of Fu'ning county, Jiangsu

Area:

2,815 sqm

Completion:

2018