The Bressanella Agricultural Pavilion is composed of two longitudinal volumes, slightly rotated to follow the ground, and resting on a concrete base defining the external spaces and acting as an edge towards the slope below.
The building by a25architetti is developed horizontally, to facilitate public use. It consists of a segment with open spaces for events plus some market stalls, and a second volume containing service spaces and offices for the farm. Both are marked by a traditional pitched roof, which is internally clad in wood.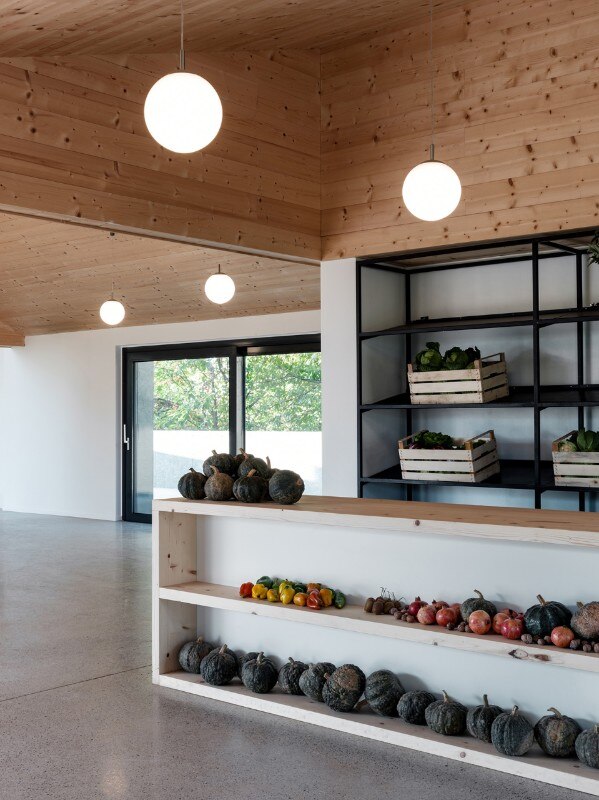 The south facade is slightly retracted to form porticoed spaces designed to cool down the interiors during the summer season and to create continuity between the interior and exterior spaces. The concrete porticoes preserve the pattern of wooden formwork, which gives the pavilion a rustic appearance, as if it were an old rural building. Finally, the pavilion is equipped with a photovoltaic system, a heat pump and a rainwater collection device.
It is therefore an architecture designed to combine technical, compositional and social issues, resulting from a broad and holistic reflection on the meaning of sustainability.
Project:

Bressanella Agricultural Pavilion

Location:

Besana, Italy

Architect:

a25architetti – Francesco Manzoni, Paolo Manzoni

Consultant:

Marco Milani

Contractor:

F.C. costruzioni s.r.l.

Completion:

2018