Yuyao Treewow Tribe is the name of a little bamboo cabanon in the mountains, designed by Monoarchi within a woods of the same tree species. The site is located at the foot of the Siming Mountain, not too far from the city of Yuyao, and it features all the most "typical" qualities of a lovely mountain glade: at the threshold between the village and nature, two gentle slopes define a valley where a creek peacefully flows through the forest.
Therefore, the house is a light object lifted up on a metal structure stilt, it replicates respectfully the average height of the surrounding trees (approximately 8 meters), and it slightly cantilevers above the water.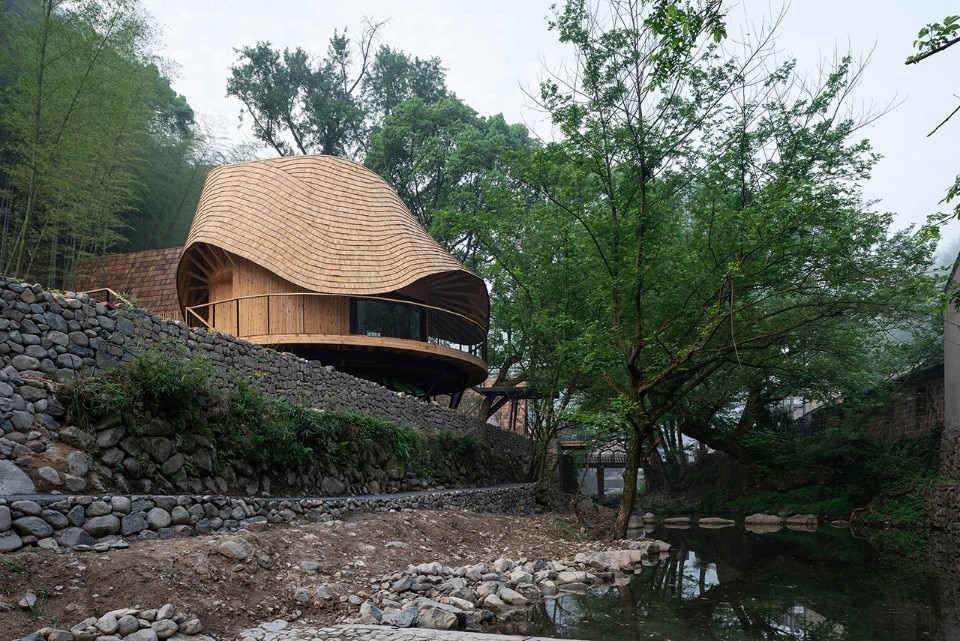 The relationship between the architectural space (an ascending spiral where the different rooms are laid out in a sequence from the least to the most private, and which eventually gives access to the roof-terrace) and the natural landscape is mediated through the modeling of the roof. The latter is not merely the most flashy element of the composition, but rather it's an actual tool which extends, bends and retracts to strategically expose or shield the interiors.
It is a valuable piece of bamboo craftsmanship, built with local experts, which optimizes the constraints of a traditional technique (such as the need for a high tolerance rate in the assembling of the components) in order to create a new and complex shape. A virtuous stance, for sure, and yet one that is able to show how nowadays the best Chinese architects can reinterpret their tradition well beyond and more interestingly than the default picturesque copy.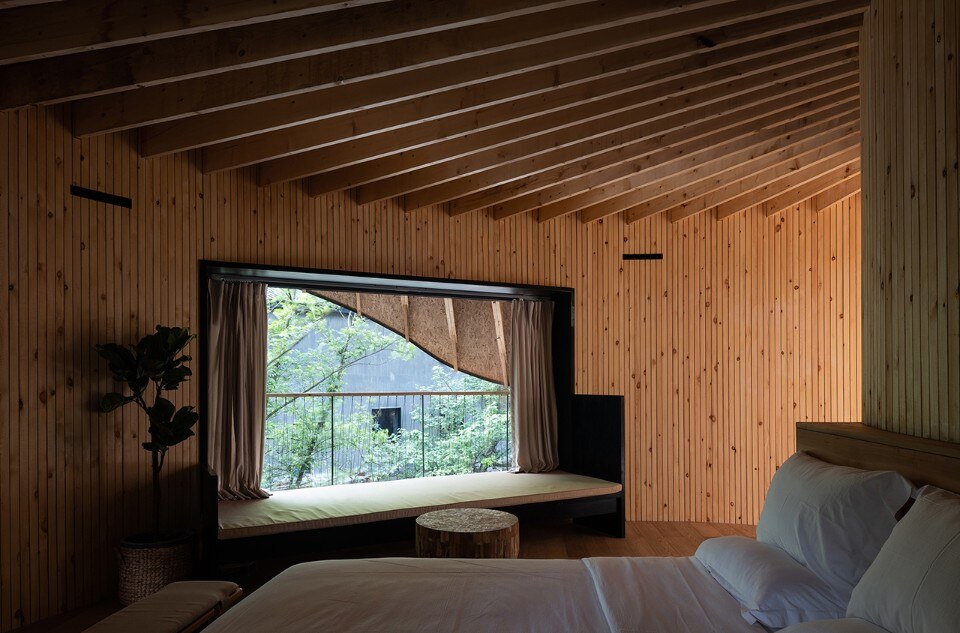 Project:

Yuyao Treewow Tribe

Program:

house

Location:

Zhongcun, Zhejiang Province

Architects:

Monoarchi

Project leaders:

Xiaochao Song, Keming Wang

Project team:

Congwei Fu, Chao Yang, Weina Guan, Linxian Luo, Xingyu Gao, Fan Sun, Jing Ya, Lingling Zhang

Structures:

XIE Technologies

Surface:

80 sqm

Completion:

2018