The residence by Palinda Kannangara Architects was built in Pittugala – a suburb of Colombo – and was commissioned by a young couple of artists. The clients closely collaborated with the architects to design their house and working space on a sloping site, close to the paddies.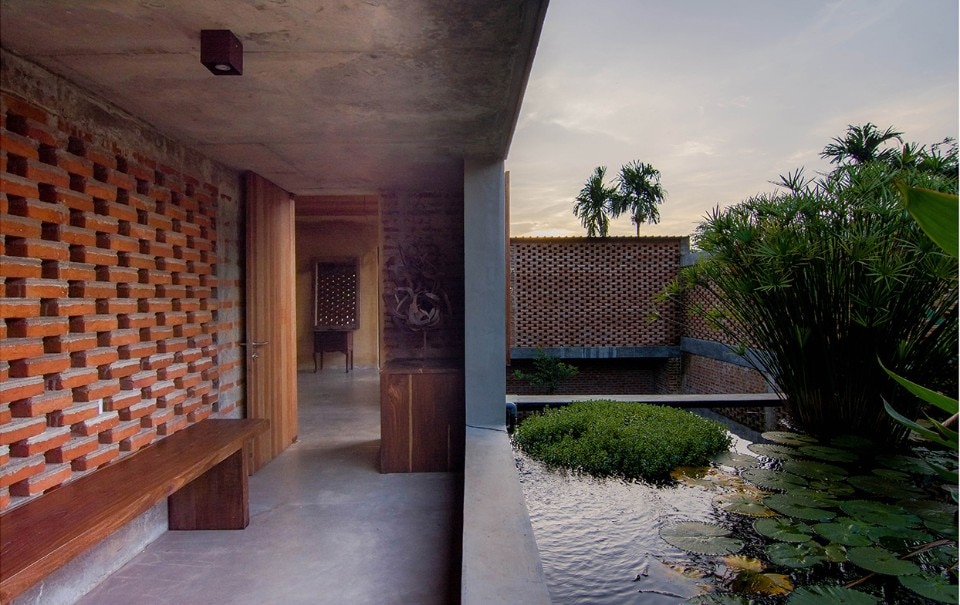 The house is developed in two floors adapting to the topography of the terrain. The ground floor is designed as a series of rooms conceived as garden pavilions resulting in a fluid space connected to the garden and the surrounding landscape; the living space, the kitchen, the garage, with the artist's studio and dining area are located on this floor. The studio is volumetrically prominent to allow the client to work on large scale paining and sculptures; this is the only room plastered in white to allow a better quality of the light to accompaign the artist's work. The upper floor contains three bedrooms, therefore the most private areas.
The building is wrapped in walls made of bricks alternated with voids working as breathing surfaces to create a passive ventilation system for the entire house. The materials chosen are recycled wood, mainly unplastered brick masonry with a minimal use of glass. Only the studio is painted white, to allow for better light quality required for paintings. The flooring is of polished cut cement while the steps at the groun floor are built with local recycled materials.
Project:

artist's retreat

Program:

single-family house

Location:

Pittugala, Colombo, Sri Lanka

Architect:

Palinda Kannangara Architects

Landscape:

Varna Shashidhar

Area:

335 sqm

Completion:

2017