This residential building by Maio has been designed as a system of 110 rooms which can be used as desired. Each apartment could be potentially expanded or reduced, adding or subtracting rooms, in order to answer to future needs of its inhabitants. With that flexibility in mind, rooms are similar in size eliminating any type of spatial hierarchy and program predetermination.

Each floor contains 20 rooms, and initially, each floor is divided as a set of 4 apartments of 5 rooms each where rooms are connected among them, so no corridor is needed. A kitchenette is placed in the middle acting as the centre, while the other rooms can be used as bedrooms, living rooms, etc. This flexibility is able due to the position of bathrooms, where all installations are placed as points for supply.
For the ground floor, the Spanish studio recovers the popular language of old Eixample's halls, where, through furniture and large habitable objects, the space was arranged to house different uses. Here, these furniture pieces are transformed into marble volumes in the middle of a large open space, where it literally rains allowing to understand the hall as an extension of the street.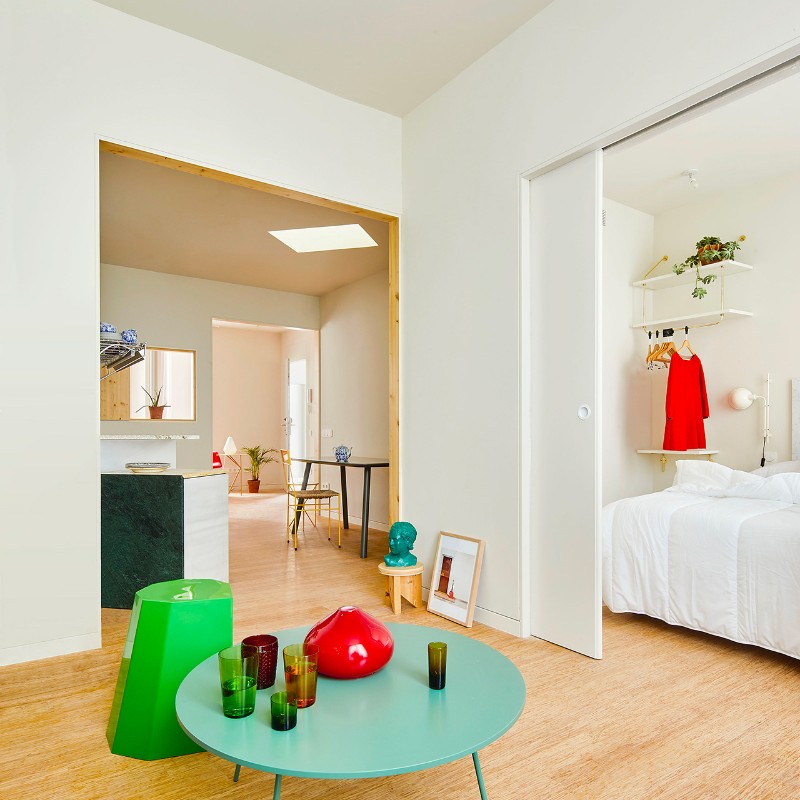 Project:

110 Rooms. Collective Housing at Provença Street

Location:

Barcelona

Program:

housing

Architect:

Maio – María Charneco Llanos, Anna Puigjaner Barberá, Alfredo Lérida Horta, Guillermo López Ibáñez

Collaborators:

Miguel Bernat, Núria Ortigosa

Landscape:

Gaspar Alloza Ginés, Vanesa Solano Martín

Exterior spaces:

Beatriz Borque + Maio

Installations:

Gaspar Alloza Ginés, Vanesa Solano Martín

Engineering consultant:

Font i Armengol 

Structural engineering:

Masala Consultors

Area:

2,795 sqm

Completion:

2016