The People's Station is a cultural center designed to reinvigorate the sleepy Kwan-Yen district of Yantai, China. The building is situated just beyond the edge of the business district. With large open entryways, semi-outdoor areas and sections lifted above the ground, the building acts as a nexus that invites visitors to explore the historic core of the city.
The interior of the People's Station features a large events hall that is flooded with natural light from pyramidal clearstory windows floating above. The exhibition space expands upwards and diagonally towards the staggered second and third floors where visitors will find a Lounge, a Bookstore, and a Cinema. Outdoor terraces on each level offer elevated views of surrounding historic buildings and the ocean that lies just beyond.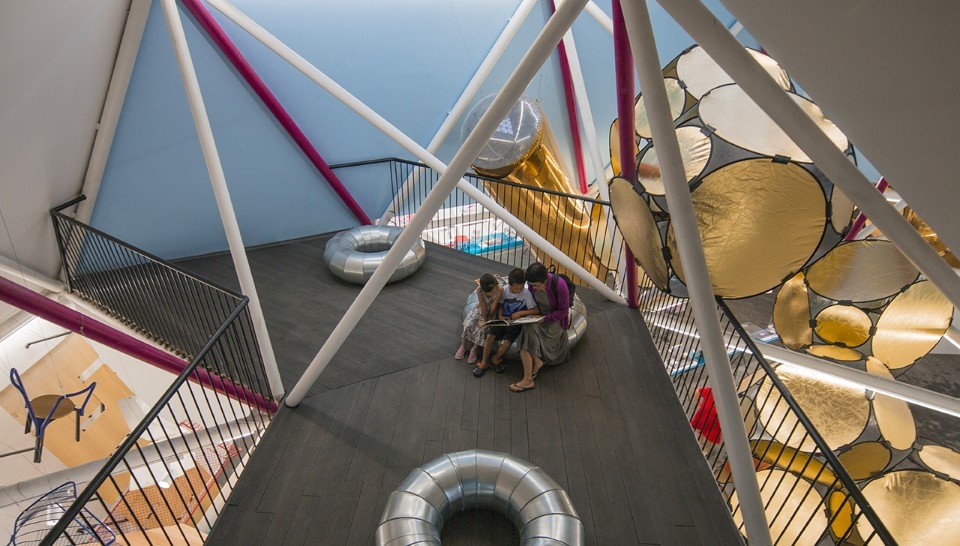 On the ground floor are portable appendages that, when attached, increase the building's footprint in an accordion-like manner, extending the building's range of uses. These vehicles, a People's Canopy and several Tricycle Houses, can also easily collapse and detach from the People's Station. They can be cycled to other locations as cultural satellites to host activities in hard-to-reach areas in larger Yantai.
Project:

The People's Station

Venue:

Yantai, China

Program:

cultural centre

Design team:

He Zhe, James Shen, Zang Feng (principals), Li Zhenghua, Feng Ziqing, Lin Mingkai, Xu Xi, Cui Gangjian, Xiang Weixing, Liu Sixuan, Hai Xiao, Chen Ziwei

Structural engineer:

Yu Fengbo

Completion:

2017