In occasione del settantesimo anniversario di Magnum Photos, CAMERA – Centro Italiano per la Fotografia ospita la mostra fotografica "L'Italia di Magnum. Da Henri Cartier-Bresson a Paolo Pellegrin", con oltre duecento immagini che raccontano la cronaca, la storia e il costume del nostro paese negli ultimi 70 anni. Curata dal neo-direttore Walter Guadagnini con la collaborazione di Arianna Visani, la mostra accoglie le opere di venti autori chiamati a raccontare eventi grandi e piccoli, personaggi e luoghi dell'Italia dal dopoguerra a oggi.
In apertura: Martin Parr, Venice, Italy, 1989. Courtesy Magnum Photos. Qui sopra: Erich Lessing, Cesenatico, 1960. Courtesy Magnum Photos
Leonard Freed, Divorce Law, Roma, maggio 1974. Courtesy Magnum Photos
Paolo Pellegrin, migranti eritrei salvati da una nave gestita da Medici Senza Frontiere, in viaggio per la Calabria, 27 luglio 2015. Courtesy Magnum Photos
Ferdinando Scianna, Silvio Berlusconi, Milano. Courtesy Magnum Photos
Mark Power, Museo del Cinema, Torino, 2011. Courtesy Magnum Photos
Patrick Zachmann, Naples, 1982. Courtesy Magnum Photos
Martin Parr, Pisa. The Leaning Tower of Pisa. From "Small World", 1990. Courtesy Magnum Photos
Thomas Dworzak, protesta contro la visita di George Bush, 5 giugno 2004. Courtesy Magnum Photos
Paolo Pellegrin, Roberto Cavalli, Milano, 2007. Courtesy Magnum Photos
Thomas Hoepker, Muhammad ALI, Olympic Games, Roma, 1960. Courtesy Magnum Photos
A sinistra: Elliott Erwitt, Rome, 1955. A destra: Henri Cartier-Bresson, Livorno, 1933. Courtesy Magnum Photos
A sinistra: Robert Capa Italy, W.W.II, 1943. Courtesy International Center of Photography/Magnum Photos. A destra: Chris Steele-Perkins, Vatican, Roma, febbraio 2009. Courtesy Magnum Photos
Introdotta da un omaggio ad Henri Cartier-Bresson e al suo viaggio in Italia negli anni Trenta, la mostra prende avvio con una serie di Robert Capa, dedicata alla fine della Seconda Guerra Mondiale, e una di David Seymour, che nel 1947 riprende invece i turisti che tornano a visitare la Cappella Sistina. Seguono Elliott Erwitt, René Burri, Herbert List, Thomas Hoepker, che presenta tre immagini del trionfo di Cassius Clay alle Olimpiadi di Roma del 1960, Bruno Barbey, che documenta i funerali di Togliatti e Erich Lessing sul "boom" economico.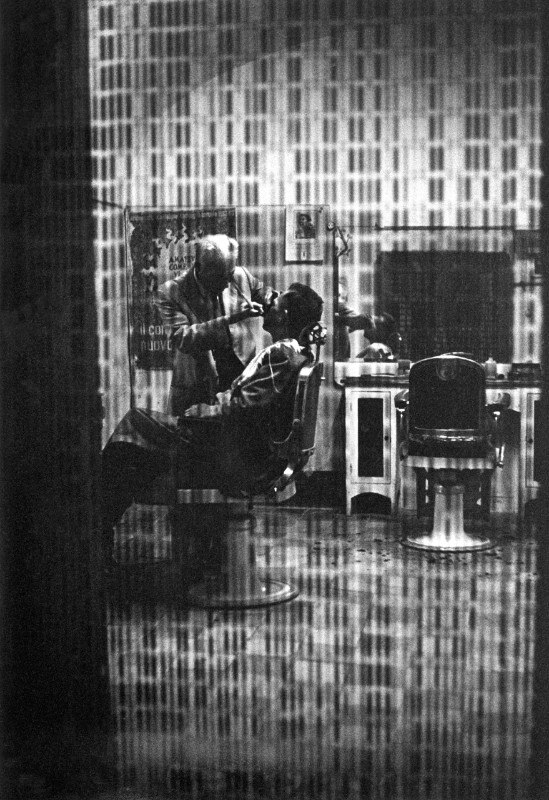 Cambia il clima negli anni Settanta e Ferdinando Scianna racconta il passaggio tra i due decenni attraverso le immagini di una Sicilia sempre uguale e sempre mutevole, mentre Raymond Depardon presenta la serie drammatica sui manicomi. Si passa poi alle grandi fotografie di Martin Parr, che colgono il contrasto tra la bellezza dei luoghi e il cattivo gusto dei nuovi visitatori, mentre Patrick Zachmann racconta la Napoli della camorra, prima di "Gomorra" ma con la stessa intensità.
Nell'ultima sala si arriva alla contemporaneità con gli anni Novanta e Duemila: Alex Majoli racconta le discoteche romagnole di allora e di oggi, Thomas Dworzak ci riporta alle drammatiche giornate del G8 di Genova, Peter Marlow all'ancor più tragica vicenda della guerra nella ex Jugoslavia. Chris Steele-Perkins torna invece in Vaticano, Paolo Pellegrin chiude la sala e il decennio, con le immagini della folla assiepata in Piazza San Pietro nella veglia per la morte di Papa Giovanni Paolo II e con quelle di un'altra folla, quella dei migranti su un barcone. Concludono il percorso le immagini di Mark Power dedicate ai luoghi simbolo della cultura italiana.