Designed by Bridge Structures, a new pedestrian bridge spans the Vltava River in Prague. Offering a direct connection between the city and the river island of Štvanice, the infrastructure features a minimalist design and curvilinear plan, ready to blend into its natural surroundings.

The bridge emerges as an organic extension of its context, enhancing the urban landscape while providing an essential solution to the growing need for efficient pedestrian connectivity.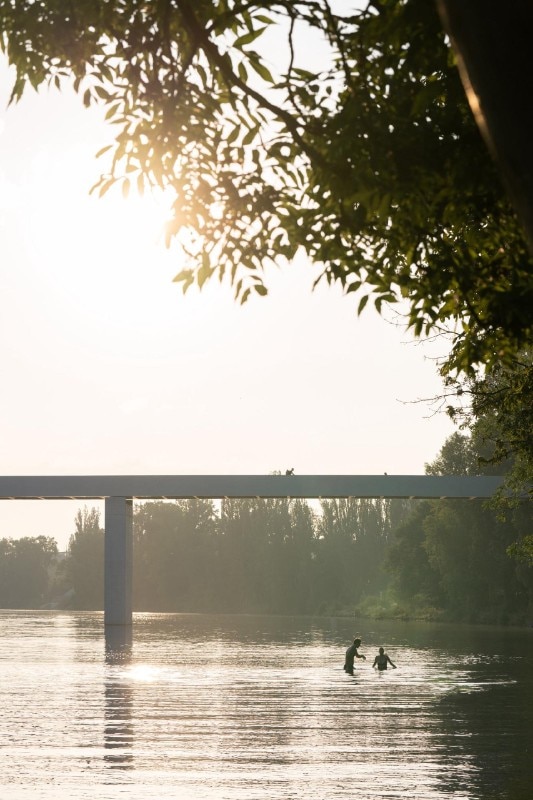 The architecture is structurally supported by two embankment abutments, complemented by piers positioned at the edge of Štvanice Island and within the non-navigable arm of the Vltava River. Here the bridge features a ramp leading to the island, mirroring its edge. The final span of the footbridge on the Holešovice side descends to connect to the sidewalk level in a smooth, barrier-free manner on the embankment.
The composition of the bridge is defined with a high-quality fiber-reinforced ultra-high-performance concrete that resembles polished white marble, which adorns its surface. In terms of manufacturing and assembly, the construction follows a segmented bridge approach, with a total of 57 prefabricated components, describing a harmonious composition. Bronze handles are ornamental finally with figured animal motifs at the ends of the structure were made by sculptor Aleš Hvízdal, adding an artistic touch, while integrated lighting outlines the handrail.