International architectural firm SOM recently completed the terminal building at Kansas City International Airport.
The new project replaces a three-terminal structure that had served as the city's main airport since 1972. It is a two-story structure with airline, gate and concourse facilities.
The terminal was designed to meet the airport's growing traffic, increasing its capacity from 3.8 to 11 million passengers a year. According to the study, the project allows for further expansion from the current 39 gates to 50.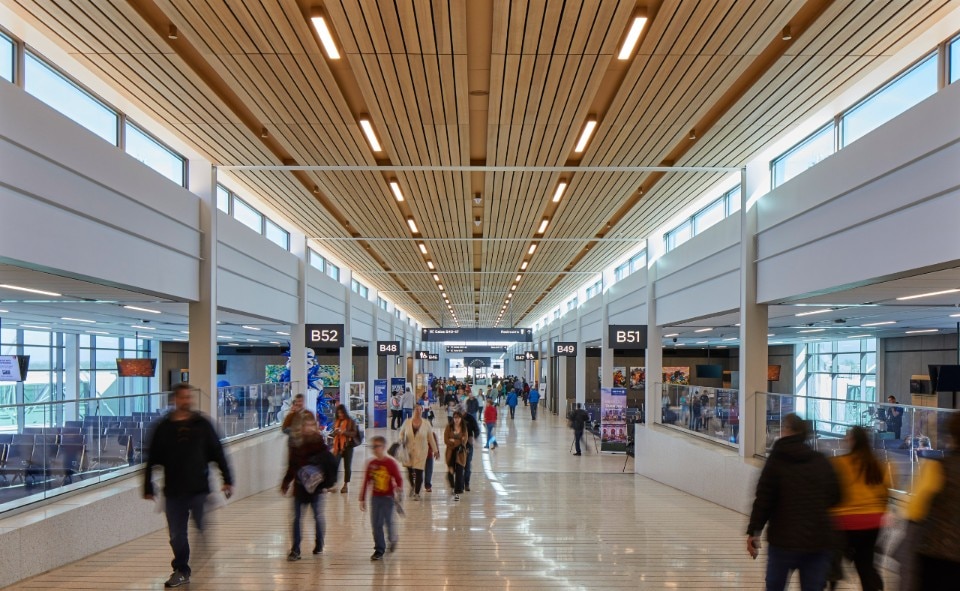 The architecture, detailed in elevation by large windows, is then defined by a large wooden pergola, supported by a series of Y-beams, capable us make structurally expressive the element necessito.
This element, then, extends into the interior to create, along with the terrazzo flooring, a "warm" experience for people in transit. To meet accessibility goals set by the local government, SOM placed all aspects of the departure area on one level, from check-in to gate, to avoid the need for stairs and escalators.

SOM stated how the airport "set a goal to run on renewable energy in the future" by installing a solar power plant on the site. This is the first LEED terminal project in the U.S. Midwest and only the second in the entire United States.
The building also has goals to run on renewable energy in the future. It runs entirely on electricity, and a solar farm will be built in the next few years to convert all airport operations to green energy.
The airport worked along with SOM to realize what it calls "The Kansas City Air Travel Experience." The simulator includes a life-size model of an airplane cabin that will be installed in the terminal.