In response to Vietnam's rapid urbanization, Vo Trong Nghia architects have created a lush Urban Farming Office designed to reconnect with the natural roots of the site, a newly developed area of Ho Chi Minh City. In this way, the architecture reintroduces green space into the city while promoting safe food production with a facade covered in plants.

The façade thus takes shape as a set of hanging planters that house various native plants and face the sun. Separated by a layer of glazing, the facade of plants acts as a shading device while filtering direct sunlight and purifying the air.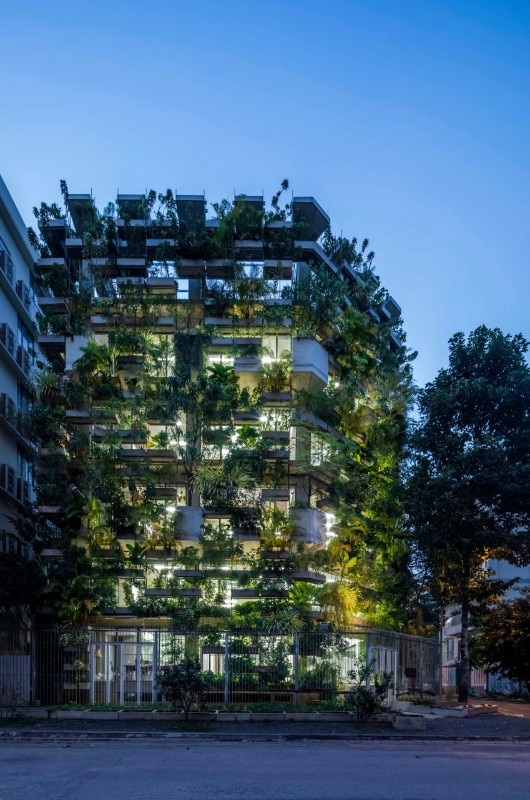 The core of the office building is actually built with an exposed concrete structure, while the planters themselves are supported by an external thin steel shelf structure, allowing them to be flexibly rearranged according to plant growth or replaced completely. Completely covering the glazed south side of the building, the wall of plants filters sunlight and air, preventing overheating and creating a shaded microclimate for the office interiors. A rainwater harvesting system works to irrigate the hanging vegetation, naturally cooling the air through evaporation. Opposite the green façade, on the other hand, the north-facing walls are solid, with small openings introduced to provide cross ventilation, another strategy for passive cooling.

nside, work spaces are organized around a central atrium, and full-height sliding glass doors provide access to balcony areas for moving or harvesting plants, while a rooftop garden provides additional space for growing plants. The concrete structure has been left completely exposed inside, complemented by dark wood furniture and minimalist lighting fixtures to contrast with the bright green of the planted facade.