Houston's Memorial Park, with a design by Nelson Byrd Woltz Landscape, is nearing completion to become the largest urban wilderness and recreational park in the US metropolis. The extensive masterplan's main goals are to restore the park's ecological systems and create greater resilience by reconnecting the available land with waterways, trails and the community of residents. The project was based on an extensive public engagement process as well as extensive ecological research, catalysing an unprecedented level of support across Houston for the creative reimagining of the park.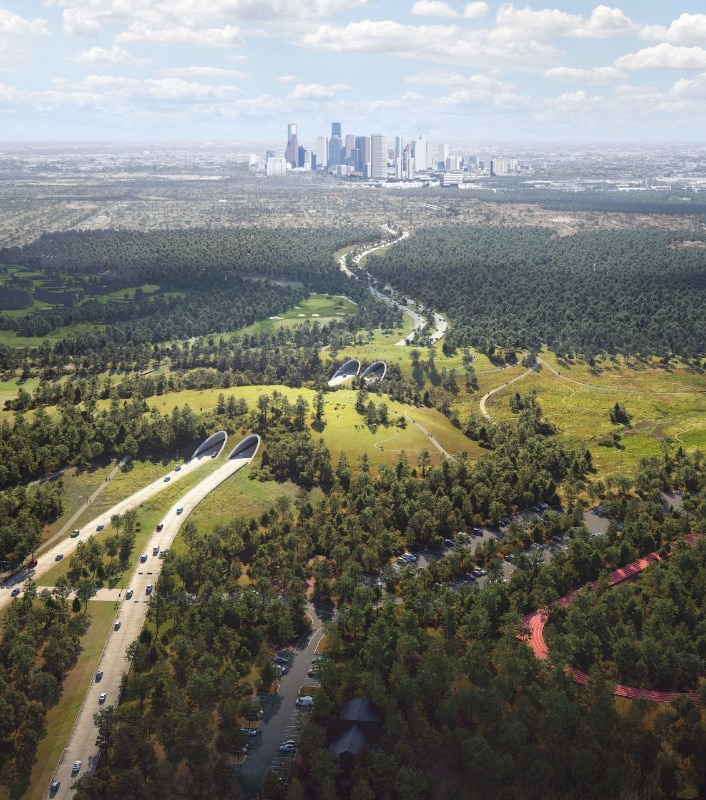 Part of this extensive plan, the Land Bridge is an ecological bridge that will reunite the north and south sides of the park, providing a safe crossing for people and wildlife. The infrastructure will thus cover a six-lane highway – which had divided the park since the 1950s – by covering new tunnels with layers of earth, plants and pavement to create a new park that rises above the noisy roadway, reconnecting the north and south halves of the park. Here, a restored network of native grasslands and savannas will act as a green sponge, helping to absorb stormwater, mitigate flooding and defeat the effects of concrete in the heart of a densely populated urban environment.
Houston's new Land Bridge comprises four large tunnels – two in each direction of travel, 300 and 460 feet long respectively – which together allow more than 55,000 cars per day to pass under the massive Land Bridge. The four tunnels were built with precast concrete panels, which are closed at each end with geometrically pure, cast-in-place elliptical headwalls. The new prairie will open next December, bringing together the Gulf Coast's endangered native prairie, as well as savannas, wetlands and reforested areas to promote regional biodiversity and strengthen surrounding ecologies.