British engineering firm Buro Happold and American architectural firm Cookfox Architects have developed a prototype terracotta facade system that can house small wildlife, insects, birds and plants. The modular system aims to provide wildlife, including bees, birds and plants, with a space to thrive on building facades in urban environments.
The facade system was created by Parnther, Spring Wu, facade engineer at Buro Happold, and Spencer Lapp, senior associate at Cookfox Architects, for the Architectural Ceramic Assemblies Workshop, an annual research occasion for architects and facade engineers to explore the use of terracotta in facade design. 
Parnther, Lapp and Wu developed the tessellation system of slip cast pods within sculptural terracotta facade panels. Here, each individual module has a sculptural, arrow-like form composed of three points and circular openings that can be fitted with nested pods to provide wildlife with a living space beneath the surface of the facade. The ceramic modules have been glazed in shades of blue and white and covered with decorative ribbed surfaces to create rippled, textural patterns on the building facades when fastened together in their tessellated formation.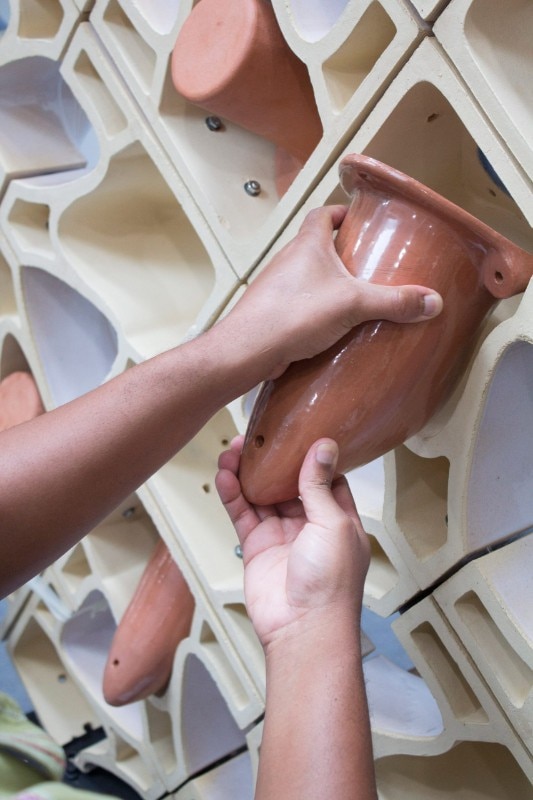 Three different pod attachments were constructed to accommodate plants, bees and birds, which can be screwed to the underside of the terracotta systems. The bird pods have openings approximately two centimetres wide, with a rounded interior and a large depth to provide birds with a comfortable nesting space. The four-millimetre-wide nesting holes, on the other hand, provide space for aphid-hunting wasps, six millimetres for summer leaf-cutters and smaller resinous bees, and eight millimetres for other insects such as resinous bees and wasps carrying mud and grass.