On the outskirts of Barcelona, the Collserola Natural Park is the setting for a cultivation module created by a team of students on the Master's course in Advanced Ecological Buildings and Biocities at the Institute for Advanced Architecture of Catalonia (IAAC) at Valldaura Labs, a learning-by-doing campus created to experiment and test new self-sufficient habitats.
Solar Greenhouse is therefore the result of research conducted on possible new ways of living as a process of adaptation to future food and energy crises. The project proposes a space for self-sufficient cultivation as a prototype for food and energy production in cities. The result is a small architecture characterized by a wooden frame, photovoltaic panels to meet energy demands, and advanced cultivation technology that can be implemented in the countryside or on urban rooftops. The program is organized on two floors: the germination zone was established on the ground floor, while the cultivation was set up on the upper floor.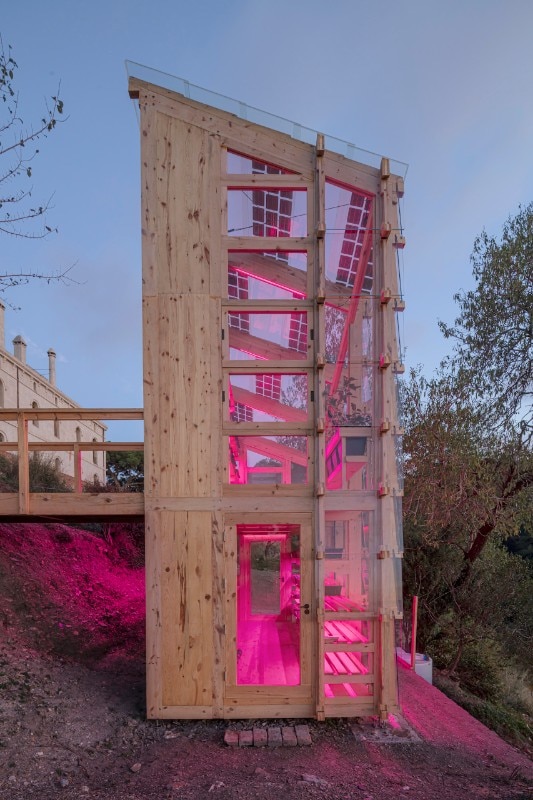 Respecting the "zero kilometer" cycle process, water, substrate, and building materials are taken directly from the surrounding environment, allowing the cultivated food to jump straight from production to consumption without a supply chain. The greenhouse also features a nutrient supply system. In addition, a matrix of LED strip lights facilitates the growth cycles.
Progetto:

Solar Greenhouse

Atelier:

Institute for Advanced Architecture of Catalonia, IAAC

Direttori:

Vicente Guallart, Daniel Ibañez

Team di progetto:

Bartłomiej Najman, Dafni Vakalopoulou, Rebecca Baierwick, Ignacio Reyes Solis, Paulina Sevilla, Yangchuan Tian, Fatemeh Nejatii, Marilia Sofia Fernández Lockwood, Amrithavarshini Prabhuram, Kevin Xi Lim, Akshay Sunil Mhamunkar, Mona El batrik, Engjëll Rodiqi, Philipp Wienkämper, Christa Hörburger

Responsabile del progetto:

Ignacio Reyes Solis

Consulenti :

Miguel Urrestarazu, Oscar Rodriguez, Daniel Podmirseg, Oscar Aceves, Javier García-German, Miquel Rodriguez, Jochen Scheerer, Elena Orte, Guillermo Sevillano, Ignasi Caus Assistito da: Bruno Ganem, Marc Garcia, Gustavo Escudero

Volontario:

Diego Díaz

Cliente:

Valldaura Labs dell'Institute for Advanced Architecture of Catalonia

Sponsor:

Cricursa, Luz Negra, Tallfusta

Luogo:

Valldaura Labs, Barcellona, Spagna

Completamento:

2021