Recently, Paris Mayor Anne Hidalgo announced a new plan to transform Boulevard Périphérique, a ring road long known for its congestion and pollution. Designed to be implemented after the 2024 Olympic Games, the plan will transform the motorway "from a grey belt to a green belt", said Hidalgo, reserving one lane in each direction for taxis and buses car-pooling and emergency access. The motorway would thus be reduced to three fully accessible lanes in each direction from the current four.
"The ring road is an essential infrastructure," said Hidalgo during the press conference. "500,000 people live around it and are exposed to significant noise and air pollution. 130,000 inhabitants breathe bad air, and 144,000 suffer from road noise beyond the limits set by the environmental code for the center of Paris." This move would allow the conversion of around ten hectares of the existing Parisian ring road to tree-lined land. These new proposals will be in addition to the renovations already underway at nine major intersections connecting the ring road to central Paris, to create an overall greener, cleaner, and easier to navigate the road.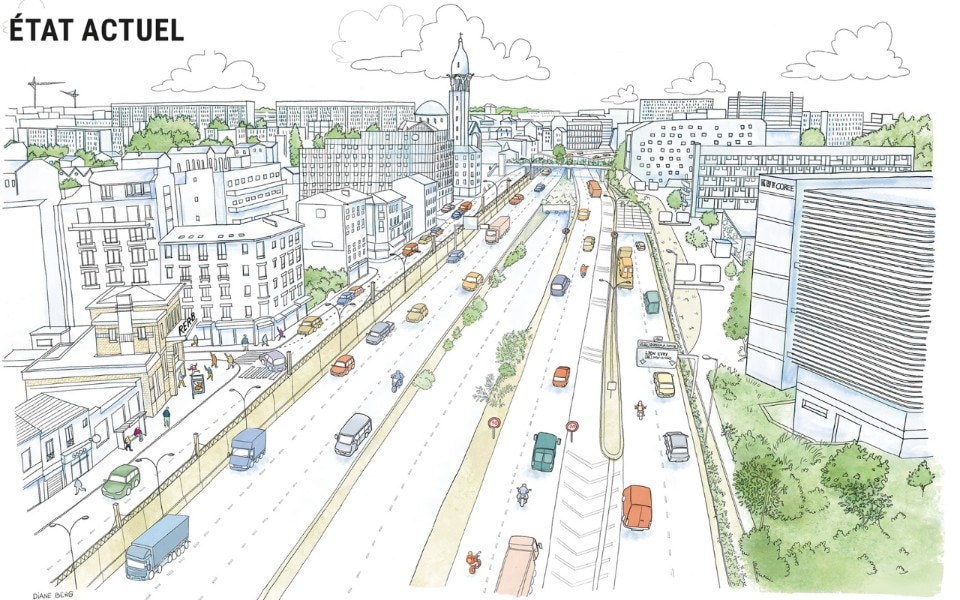 Although the proposal has been appreciated by residents of the metropolis-and considered not radical enough by environmental groups-of dissonant opinion would seem to be the more peripheral municipalities instead, which are home to a larger number of car commuters and risk being affected by the bypass's traffic shift to other roads. Indeed, the president of the Île-de-France region, Valérie Pécresse, has reportedly called for a "national debate" on the road remodeling process, to assess the consequences for the daily lives and not only of residents of the metropolis.
Opening image: Paris, Boulevard Périphérique. Project stage. Courtesy Diane Burg/APUR