This article was originally published on Domus 1058, june 2021.
Ubaldo Occhinegro:

Taranto City councilor for Urban planning and innovation

Paola Viganò:

urban planner and professor

Lina Ghotmeh:

architect

Nicolas Swetchine:

head of Infrastructure Markets at LafargeHolcim
Paola Viganò: Cities have radically changed over the last decades and, in this sense, have become hybrid landscapes. They are cities-territories and, accordingly, their infrastructures have taken on a territorial scale: from water management systems to mobility, they no longer resemble the cities of the 19th century. It is this complexity that makes it more and more difficult to understand their layers and recognise the implied reasons. This determines new conditions for architectural and urban design, because it means working with something that is partially obsolete and contradictory, which can never be totally known and which has created new ecologies. 
Lina Ghotmeh: It is true, architecture primarily dialogues with the ground and with the infrastructures it hides. These express the way in which we, as human beings, are interconnected and how we use spaces. The same is true for energy use and production. How do we relate to our environment? It has become clear that humanity is consuming the environment through an extractive relationship rather than interacting with it in a symbiotic way. While working on the overhaul project for the Maine-Montparnasse quarter in Paris with RSHP and the landscape architect Michel Desvigne, we realised, for example, that our idea to create an urban forest was a challenge, precisely because the city does not have any more ground to allow for the growth of trees with tall trunks. The space was already occupied by hidden infrastructures, thus greatly limiting what we could do, and this often happens in architecture. I think that today we need to render these infrastructures visible to reconsider them and produce ones that would be more ecosystemic and sustainable.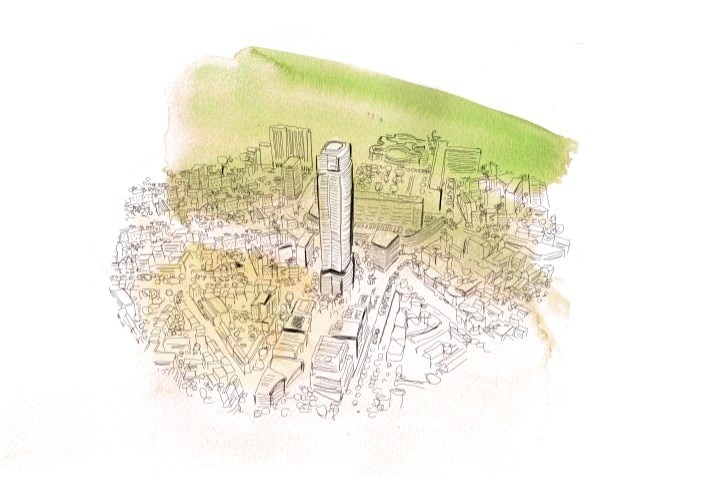 Nicolas Swetchine: The recovery programs put in place around the world mean that we have a once-ina- generation opportunity to invest in green infrastructure. People want to improve their cities, to create jobs and build sustainably. Urban infrastructure is complex, as it has to meet multifunctional needs, like efficient transportation systems, energy infrastructure, using spaces well, while also appealing to people who live in these areas. Today, about one-quarter of all construction materials is used for infrastructure projects; it is therefore crucial to develop these projects in a sustainable way.
Paola Viganò: There are lots of ways to be sustainable but the debate on different visions is not happening, despite the urgency. If ours were a perspective, for example, of degrowth, the infrastructures to be designed would be different from those inspired by cradle-to-cradle principles. We urgently need an ethicalpolitical debate to steer these decisions: it's simply not enough to say we want to be sustainable. 
We urgently need an ethicalpolitical debate to steer these decisions: it's simply not enough to say we want to be sustainable.
Ubaldo Occhinegro: With the Ecosistema Taranto strategic plan, we considered cities as a place for experimenting resilience, following the 2030 Urban Agenda goals established by the UN. This is the perspective to transform Taranto from a post-industrial city to a sustainable one. Despite being an average city for Italy, it has precise and unique features: it's an archipelago of islands and peninsulas, it was once the capital of Magna Graecia and has a history of being a culture crossroads. But it's also home to the largest steelworks in Europe, and one of Italy's most polluting enterprises. The plan strives to make it the economic and cultural epicentre of the Mediterranean, focusing on major goals, like the XX Mediterranean Games in 2026, and through important investments in infrastructure and urban regeneration.
Nicolas Swetchine: We should also consider what happens on the shores since the preservation of marine habitats is a pressing global issue. It is possible to use modern materials to protect marine biodiversity. We worked on artificial reefs to support the marine ecosystem by developing an advanced bioactive concrete on which algae grow four times quicker than on standard concrete. Marseille is currently experimenting with this material for its coastal infrastructure. This is just an example offering an insight into our sustainable solutions to build better. The choice of materials and approaches used in the design phase can make a huge contribution to rendering infrastructure more sustainable. 
Lina Ghotmeh: The role of infrastructures is to allow life to unfold, but oftentimes they also create geographic-social divisions. We should reconsider building single largescale infrastructures. Instead, we must consider tactical spaces and offer new services to people without "consuming" the ground even more, preserving through new ways of "planning" life and the biomass, by all means.
Instead, we must consider tactical spaces and offer new services to people without consuming the ground even more, preserving through new ways of planning life and the biomass, by all means.
Ubaldo Occhinegro: As an administration, we're working on the different parts of the city simultaneously, in an ecosystemic way starting with the infrastructures, in a close dialogue with nature. From a mobility point of view, PUMS – Piano Urbano della Mobilita Sostenibile (Urban Plan of Sustainable Mobility) – aims to reduce vehicle traffic by 50% in ten years. The Piano Isola Madre is focused on the Old City, which was practically abandoned up to recently. Here, with the CASA + project, the Kcity multidisciplinary group has worked on social housing as a means of transformation. Instead, in the suburbs, we're implementing the Reclamation and Decontamination Plan of the Tamburi quarter, bordering on the former Ilva steel plant. Major players are involved: the new Palazzo della Cultura is by Mario Cucinella Architects; Land is in charge of the Foresta Urbana Tamburi; and StudioSilva is working on public spaces. Reforestation concerns the entire city: with Green Belt Taranto we expect to plant 1 million trees. Along the main waterfronts we have studio MAS with Peluffo & Partners Architecture and Guendalina Salimei. What will unfold over the next few years will change the history of Taranto and rehabilitate it as regards its infrastructures, economy, environment and inhabitants. 
Paola Viganò: In fact, I'm convinced that in order to trigger an ecological shift we need to adapt, even profoundly, our economic, social and production systems. That's why we should work on the systemic injustice of space, as Bernardo Secchi noted in La citta dei ricchi e la citta dei poveri. In view of the Greater Geneva agglomeration, a reflection on the "transition project" rests upon weak territorial structures, thus generating a multifunctional infrastructure made of water and forests, but also ecological and social services. Its space is the testing ground for a social and just economy.
Opening image: illustration by Francesca Bazzurro