David Chipperfield is the new Guest Editor of Domus for the year 2020. The British architect, born in 1953, succeeds Winy Maas and Michele de Lucchi in the 10x10x10 project with which Domus approaches the celebration of its centenary in 2028. He will sign ten issues of the magazine in 2020. Waiting for the first issue signed by Chipperfield next January, the new Guest Editor has anticipated the guidelines of his collaboration with Domus today, December 4th, in the rooms of the Pirelli Skyscraper designed by Gio Ponti, with the presentation of the manifesto "What is our role?".
A programmatic text where Chipperfield takes as its starting point current events, such as climate crisis and economic and social inequalities, to question the role of responsibility that architects and designers must assume. He also stresses out the importance of a shared vision for an industry that has profound repercussions on the planet, without forgetting that "architecture and design are the physical representation of our desire for beauty and ideals, with the ability to inspire - in silence - ourselves and others". And with these conclusions his Domus run will start in 2020.
"As a young architect in England in the 1970s and especially in the 1980s, Domus was an open window on a very vast world", David Chipperfield recalls in his interview with Walter Mariotti, Editorial Director of Domus, published in the special issue that is now on newsstands. The relationship between Chipperfield and the magazine has always been very close, and he remembers that "we read it to know what was going on in architecture". In London, he tells Domus, in those years there was a feeling of great isolation. "Which we could try again after Brexit," Chipperfield says. Social inequality, environmental sustainability and the problem of the community are for him the great challenges of our time and that he intends to explore through Domus. "Today it is impossible to talk about architecture without touching on these issues," he points out. The first issue of Domus, 1042, which will see him as Guest Editor, will be on newsstands in January 2020.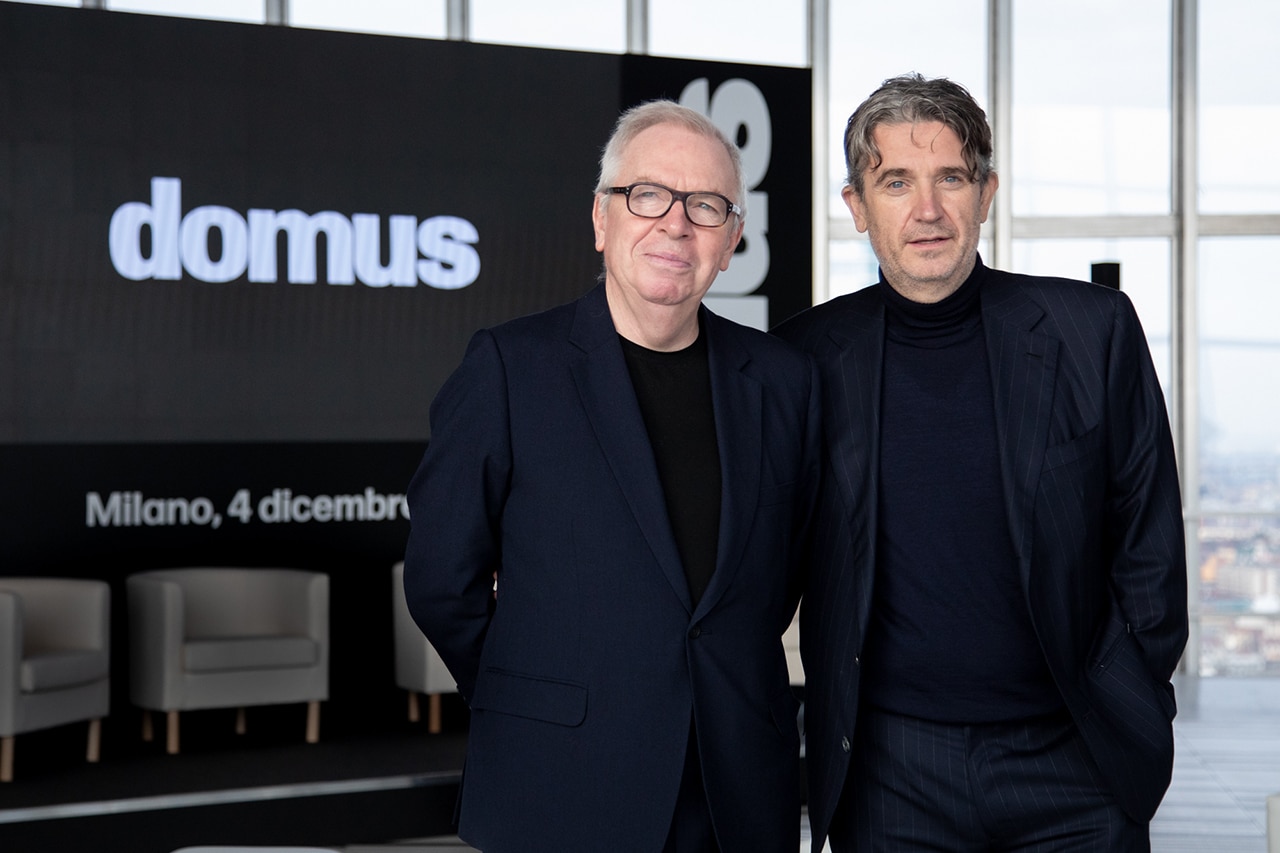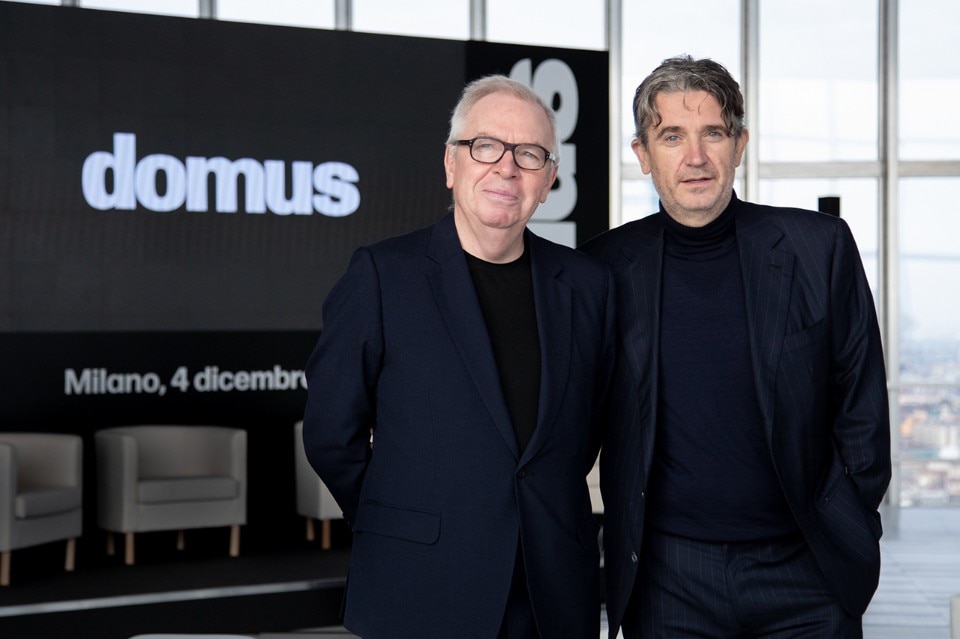 David Chipperfield, Guest Editor 2020
David Chipperfield with Domus' editorial director Walter Mariotti.

David Chipperfield, Guest Editor 2020
David Chipperfield, Guest Editor 2020
From the left, the CEO of Editoriale Domus Sofia Bordone, the Guest Editor of Domus 2020 David Chipperfield, the president of Editoriale Domus Giovanna Mazzocchi, the editorial director of Domus Walter Mariotti.

David Chipperfield, Guest Editor 2020
Presentation od David Chipperfield.

David Chipperfield, Guest Editor 2020
David Chipperfield, Guest Editor 2020
"We live in an age of change," says Giovanna Mazzocchi, President of Editoriale Domus, during David Chipperfield's presentation on the top floor of the Pirelli skyscraper designed by Gio Ponti. And she remembers the history that links Domus and Chipperfield, from the publications on the magazine in the seventies to the first meeting in person in Valencia. "David is a very modern architect but very sensitive to the genius loci," he points out. For Walter Mariotti, editorial director of Domus, Chipperfield has the extraordinary quality of bringing together various personalities, and a special sensitivity for an architecture seen not as a vertical knowledge, but that dialogues with reality and aspects of social life.
David Chipperfield tells us that Domus is an excellent opportunity, as was the Venice Biennale, to "take a step outside the office", and explains how he intends to take Domus from the last issue of Gio Ponti, in a sort of ideal passing of the witness and refundation of the magazine. The structure of the new Domus will be divided into 4 large sections: an agenda, architecture, in collaboration with the photographer Iwan Baan, design and art, where there will always be a reflection by Jasper Morrison, and finally reflections. The themes for 2020 will be planning, social housing, protection/identity, design, shelter, olympics, commons, nature, urbanity, technology.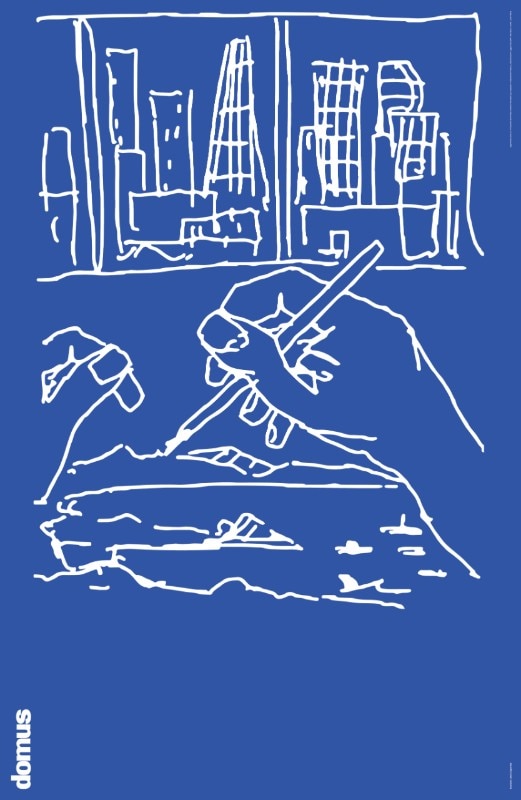 What is our role?
«How should we react professionally as architects, designers and planners to the challenges of climate crisis and growing financial and social inequality? We often claim that responsibility is in the hands of those who control the transactional, commercial and political framework within which we must operate, but for too long we have accepted the paradox of our resistance and complicity, developing narratives that explain away our discomfort.

Beyond devising energy-consumption targets, ever-smarter technologies and sustainable materials, we must also question the fundamentals on which our professional positions have become dependent. We are not environmental scientists or sociologists, yet we know that our professions have social and environmental consequences, and that they could contribute to solutions.
It is only by acting collectively that we will find our voice in those critical conversations.
The brutal energy of investment and growth can only be countered with vision, so we need to offer a vision. We need to offer worlds in which the considerations of community are better represented, and high-quality living conditions are regarded as a right. The solutions cannot be found in a single project. Meaningful paths are set further upstream in the process long before we take on our individual tasks. It is only by acting collectively that we will find our voice in those critical conversations.

We must be open to learn from a younger generation that is nimble and free to question. We must also grasp our chance to act as public attention shifts towards the provision of social housing, the importance of public space, the impact of traffic, and the need to protect the intangible qualities of place.

I am certain that we must not leave our territory to do this, but rather regain it. Architecture and design have formal and poetic perspectives and contributions that remain valid. As long as we make things we must consider how to improve our physical and spiritual environment. At the centre of all this we must remind ourselves of the importance of architecture and design as a physical embodiment of our desire for ideas and beauty, and their potential to silently inspire».