Last year's Samsung Galaxy S10 was a gorgeous phone. Well, it was a series of phones, more precisely: "basic" S10, the bigger S10+, a smaller "lite" one called S10e and one 5G-ready model.
To have 5G on every model is the biggest novelty of the 2020 Galaxy S smartphone series, which are called S20 and not S11 and many would expect. As expected you'll find a 6,2" AMOLED display device, Galaxy S20, and the larger S20+ with a 6,7" display. What's missing in the lineup is a "lite" model, that maybe Samsung will launch later this year. On the other hand, Samsung this year adds a new model to its lineup which is even bigger (6,9" display) than the Samsung S20+ and more powerful than any other of its siblings: it's the Ultra 5G version, which comes with a 108 megapixel, 100x zoom quadruple camera system including superwide angle, normal, tele, ToF lenses, and the biggest sensors ever mounted on a Samsung phone.
All the new Galaxy S20s shoot 8K videos and share various new AI camera  options, sport an infinity display with a minimal punch hole notch, fast wired ad wireless charge and more.. The "basic" Samsung S20 has a 6,2 AMOLED display and no ToF camera.

Samsung also introduced with this series some brand new functionalities and partnerships aimed to improve the smartphone's user experience, which follows up the brand recent efforts in focusing more on smarter software and provide a smoother interface to its specs-gorgeous smart devices, starting with the new One UI, launched last year and now updated with a second version. Spotify and Bixby Routines integration will provide new personalized playlists, while 5G boosts up Google Duo videochats and YouTube 8K videos. There's also a special partnership with Netflix for exclusive contents and more and one with Microsoft Xbox, with a special smartphone edition of the racing game Forza and a partnership for cloud gaming.
Along with the new smarpthone, Samsung also introduced the new Galaxy Buds+ true wireless eadphones, with two speakers for each and direct access to Spotify.
Galaxy S20 will be available in various colours, including Cosmic Grey and Black for all of the models, plus Cloud Pink, Blue and White. Prices start from 929 euros to euros 1,379 for the Galaxy S20 Ultra 5G.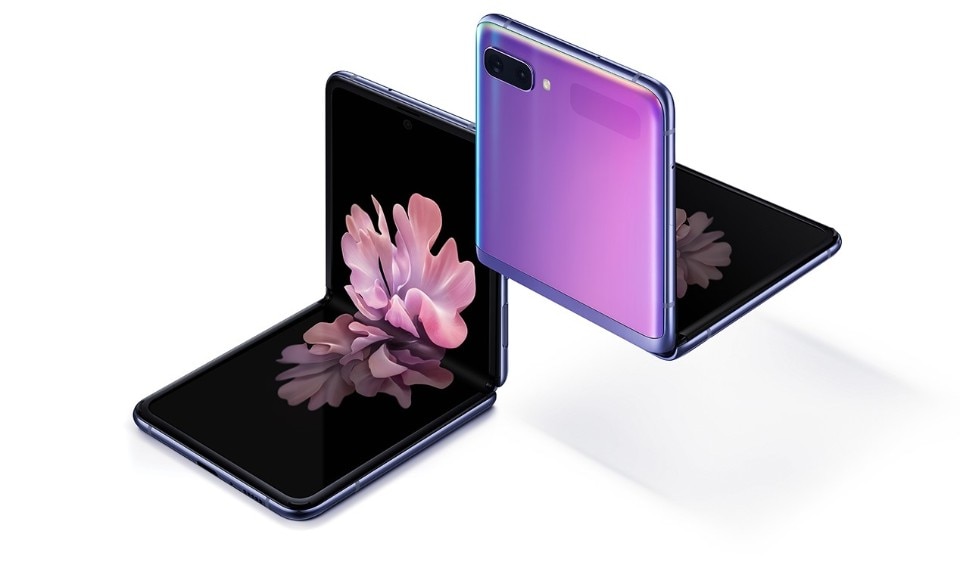 Samsung also revealed a new foldable phone, following many rumors... and an official commercial which was aired during the Oscars, the week before its official launch. It follows the brand's first foldable phone, simply called "Galaxy Fold". Called Galaxy Z Flip, the new foldable device looks like a square-shaped, pocketable glossy box when closed, with a minimal display that just shows time and notifications, and pops up to show its large 6,7" display with punch-hole notch when unfolded. It can also be used in "flex mode", folding it in different positions, just like a laptop. It's the first foldable device that feaures a foldable glass screen, employing a special material developed by Samsung that bends but is far more resistant than plastics. Starting price is around 1,500 euros. A limited version by fashion designer Thom Browne was also showcased.