Kengo Kuma and Associates reconstruct a bridge destroyed by the Western Japan Flood in 2018. Located in the Osogoe area of Shuto Town, in Iwakuni, Kusugibashi is a wooden bridge that mixes traditional carpenters and computational design. This type of structure, so designed, aims to be a symbol of renewal for the local community.

The design team decided to build the structure on a reinforced concrete frame, enriched with balustrades composed of 105 cypress pillars, in order to reduce the possibility of it being destroyed again. The balustrades are arranged to replicate the contour of the mountains nearby. For the construction the most common sized components used in local carpentry were chosen, giving the new bridge a familiar and nostalgic aspect, as well as a human scale.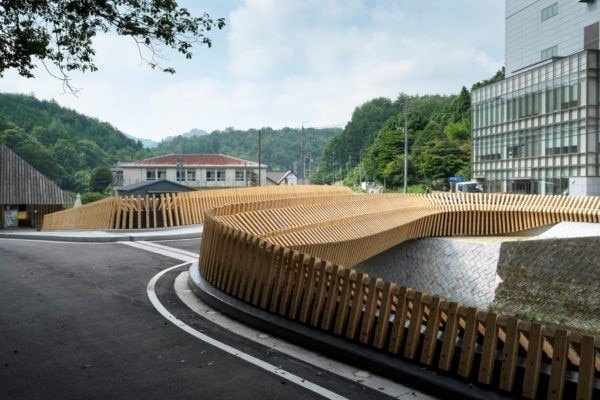 Asahi-Shuzo brewery, known for its Dassai sake production, donated the wood for the bridge's construction. For this reason, on both sides of the structure, there is a Dassai brewery and store.