The Mastaba was conceived by Christo and Jeanne-Claude in 1977 for Abu Dhabi, in the United Arab Emirates, and in addition to being the largest permanent work of art in the world, it will be their only permanent large-scale public artwork as well as their final project.
The proposed location for the artwork is inland, circa 100 miles south of Abu Dhabi, in the desert of Liwa. The Mastaba will be made from 410,000 multi-colored 55-gallon steel barrels to form a colorful mosaic, echoing Islamic architecture. Their colors and positioning were selected by Christo and Jeanne-Claude in 1979, the year in which they visited the United Arab Emirates for the first time.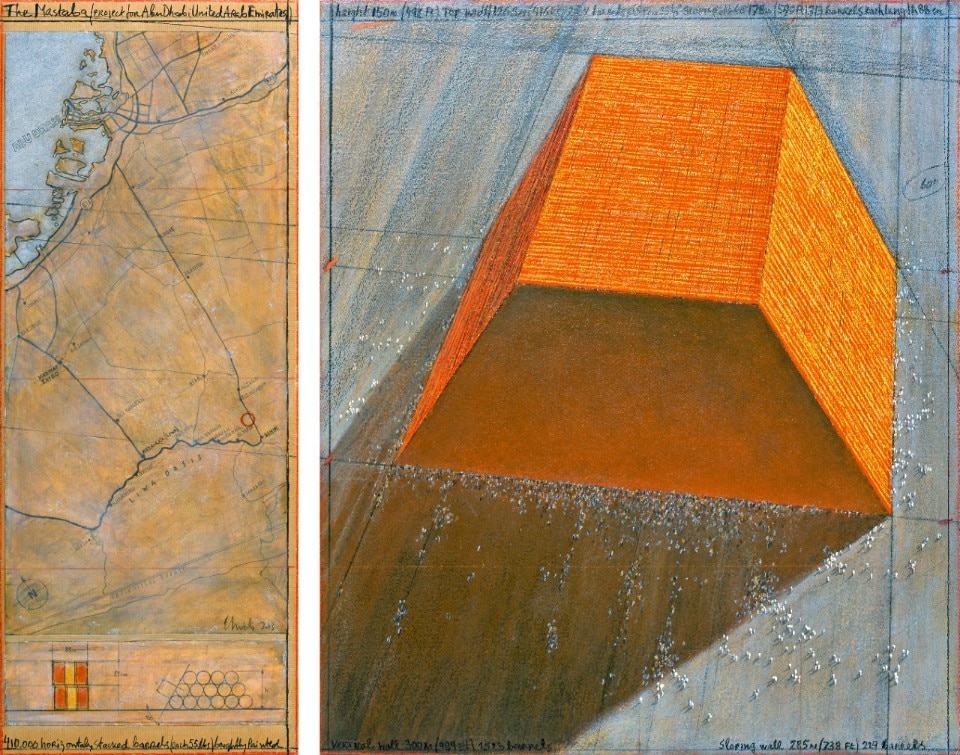 Like all of the two artist's projects, also The Mastaba –  thanks to analyses on the social and economic benefits of the project – will be self-financed and will not require government funding.
After a careful analysis of proposals by four different engineering faculty, the concept by Hosei University, in Tokyo, was found to be the most technically sound and innovative. Once government approval is granted, the construction period will take at least three years, but the elevation towers will make it possible to raise the entire structure in about two weeks.
For Christo's wishes, The Mastaba will be carried out by his nephew Vladimir Yavachev, who has worked with the artists for over thirty years and has recently directed L'Arc de Triomphe, Wrapped.