When even a car manufacturer like GM is dedicating its entire presence at CES to show off electric vehicles and futuristic concepts, you really can get a sense of how the fully-electric mobility era is inching closer every day. 
The company has introduced a few sci-fi looking ideas for an eVTOL (a fancy name for an air taxi) and a couple of pod-like cars, all under Cadillac's luxury brand. The eVTOL vehicle is electric and looks like it's coming straight out of a Michael Bay movie. That's what the villain would use, while baffled civilians would flee the robot fight scene on their Cadillac Halo pod cars, which is the other concept shown by GM at CES. The Halo is fully autonomous, has a spacious and luxurious interior for multiple passengers and, like the eVTOL is just a very well done CGI rendering. Precisely like a Michael Bay movie, except for the "well done" part.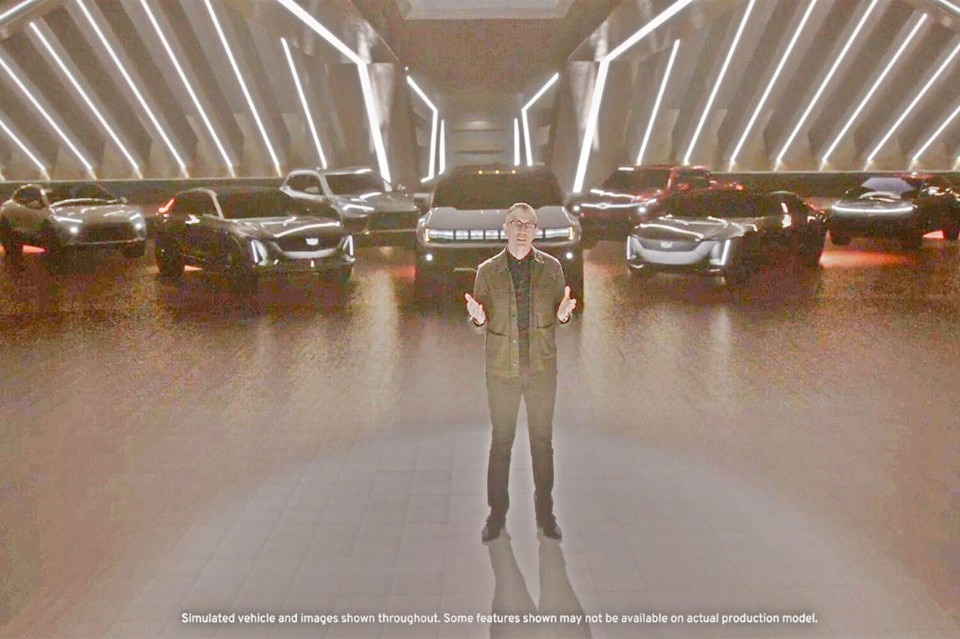 Renderings were not the only thing that GM showed at CES. The company also teased a few upcoming electric vehicles spanning the whole gamut of the company's brands. First, there's an update about the already-announced Cadillac Celestiq electric sedan. GM showed the front design elements, its impressive all-glass roof, and confirmed the car will have an all-wheel-drive transmission powered by GM's Ultium battery system. 
The company also teased the upcoming Chevy Bolt electric crossover, to be unveiled in full in February, before teasing several other electric updates for other vehicles, all lurking in the shadow behind the keynote presenters. Front and centre were the new electric Hummer, and Cadillac's Lyriq and Celestiq. In a second row, in the distance, viewers could spot more vehicles. A brightened image shows a pick-up that looks a bit like a Chevrolet Colorado, and an SUV with Corvette-style headlights, plus two other mid-size cars that look like nothing we've seen so far from GM. Whatever the case, 2021 is going to be an exciting year for the U.S. electric car market.