Zhijun Wang kept his word. In mid-March, the Chinese artist – who uses sneakers to make antismog masks, part of the MoMA collection in New York – told Domus about his latest project: a mask made from a Esselunga supermarket shopping bag to draw attention to the need to protect himself from the Coronavirus. He also told us that he was working on "a tutorial to allow anyone to make a mask for themselves when they are not in the shop or pharmacy."
"But I want to think about it carefully so that people don't get hurt," he added. After a month of work, with the collaboration of his wife Yutong Duan, he sent us the model (to be downloaded and printed in A3) and the tutorial video that explains how to sew a mask, with an internal filter pocket, using splash resistant and breathable materials, such as non-woven fabric.
In addition to wearing the mask, you have to "maintain social distance, wash your hands and support the front line," he concludes. "I hope with this tutorial I can help people through this difficult time." The masks are not intended as medical devices, but simply personal protective equipment.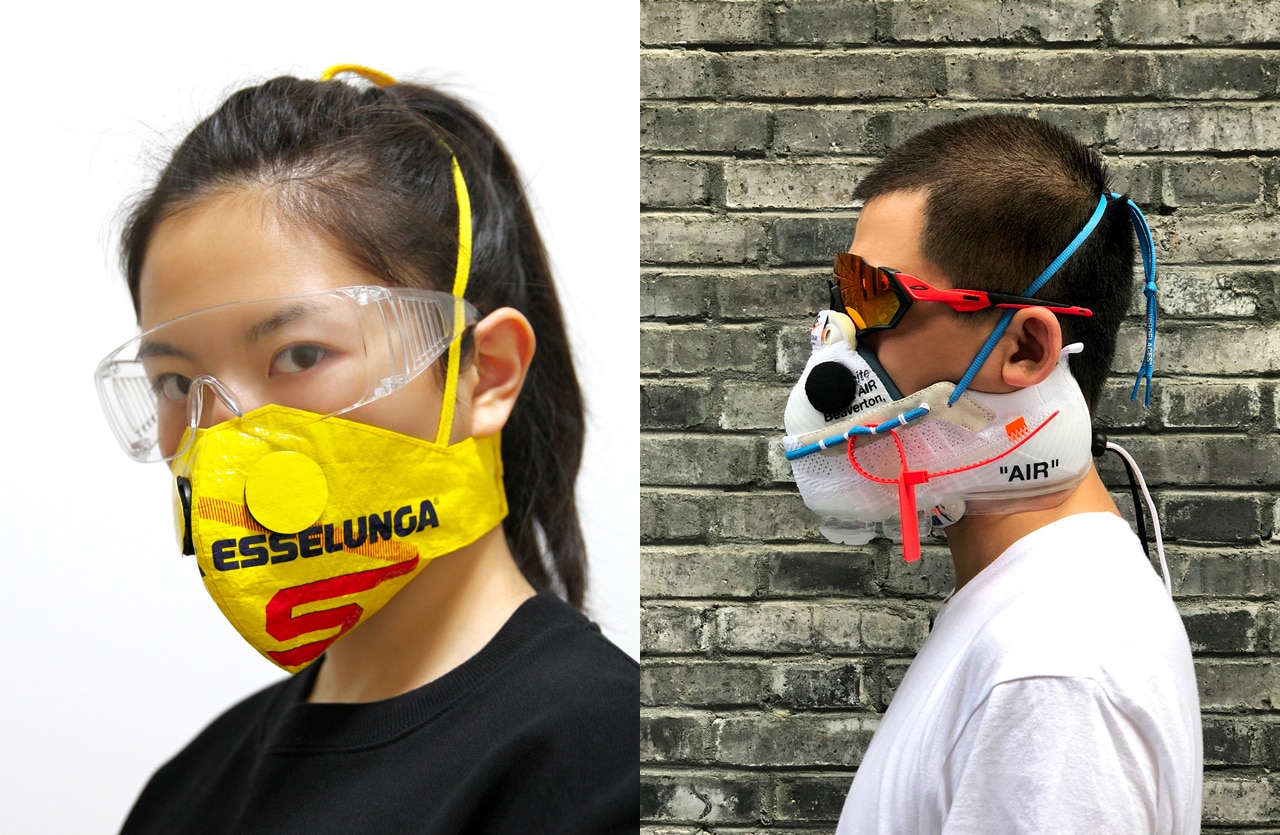 Zhijun Wang, Esselunga Mask
Photo: Zhijun Wang / Instagram: @zhijunwang
Model: Aria Duan / Instagram: @aria.duan
Zhijun Wang, Yeezy 700 mask
Photo: Zhijun Wang / Instagram: @zhijunwang
Model: Aria Duan / Instagram: @aria.duan
Zhijun Wang, Yeezy 700 mask
Photo: Zhijun Wang / Instagram: @zhijunwang
Model: Aria Duan / Instagram: @aria.duan
Zhijun Wang, Yeezy 350 V2 Beluga mask
Photo: Zhijun Wang / Instagram: @zhijunwang
Model: Aria Duan / Instagram: @aria.duan
Zhijun Wang, Off White Vapormask
Zhijun Wang, IKEA Frakta Mask
Photo: Zhijun Wang / Instagram: @zhijunwang
Model: Aria Duan / Instagram: @aria.duan
Zhijun Wang, Clot Silk Air Force 1 Mask
Photo: Zhijun Wang / Instagram: @zhijunwang
Model: Aria Duan / Instagram: @aria.duan
Zhijun Wang, Acronym Presto Mask V2
Zhijun Wang, Adidas COPA Mask for Paulo Dybala
Zhijun Wang, Af1 PeaceMinusOne Mask
Zhijun Wang, AF1 Split Mask
Zhijun Wang, Colette AJ1 Goyard Mask
Zhijun Wang, Fila FR2 Rabbit Mask
Zhijun Wang, Harden V2 Mask
Zhijun Wang, Kobe XI Mas
Zhijun Wang, Kyrie 4 BHM Mask
Zhijun Wang, Off-White AJ1 Goyard Mask
Zhijun Wang, Off-White AJ1 LV Mask for Takashi Murakami
Zhijun Wang, Off-White Presto Mask
Zhijun Wang, Off-White Vapormax Mask
Zhijun Wang, Panda Pigeon Dunk Mask
Zhijun Wang, Supreme Air Uptempo Mask
Zhijun Wang, Terra Cotta Mask
Zhijun Wang, Esselunga Mask
Photo: Zhijun Wang / Instagram: @zhijunwang
Model: Aria Duan / Instagram: @aria.duan
Zhijun Wang, Yeezy 700 mask
Photo: Zhijun Wang / Instagram: @zhijunwang
Model: Aria Duan / Instagram: @aria.duan
Zhijun Wang, Yeezy 700 mask
Photo: Zhijun Wang / Instagram: @zhijunwang
Model: Aria Duan / Instagram: @aria.duan
Zhijun Wang, Yeezy 350 V2 Beluga mask
Photo: Zhijun Wang / Instagram: @zhijunwang
Model: Aria Duan / Instagram: @aria.duan
Zhijun Wang, Off White Vapormask
Zhijun Wang, IKEA Frakta Mask
Photo: Zhijun Wang / Instagram: @zhijunwang
Model: Aria Duan / Instagram: @aria.duan
Zhijun Wang, Clot Silk Air Force 1 Mask
Photo: Zhijun Wang / Instagram: @zhijunwang
Model: Aria Duan / Instagram: @aria.duan
Zhijun Wang, Acronym Presto Mask V2
Zhijun Wang, Adidas COPA Mask for Paulo Dybala
Zhijun Wang, Af1 PeaceMinusOne Mask
Zhijun Wang, AF1 Split Mask
Zhijun Wang, Colette AJ1 Goyard Mask
Zhijun Wang, Fila FR2 Rabbit Mask
Zhijun Wang, Harden V2 Mask
Zhijun Wang, Kobe XI Mas
Zhijun Wang, Kyrie 4 BHM Mask
Zhijun Wang, Off-White AJ1 Goyard Mask
Zhijun Wang, Off-White AJ1 LV Mask for Takashi Murakami
Zhijun Wang, Off-White Presto Mask
Zhijun Wang, Off-White Vapormax Mask
Zhijun Wang, Panda Pigeon Dunk Mask
Zhijun Wang, Supreme Air Uptempo Mask
Zhijun Wang, Terra Cotta Mask