"The real problem is our way of being: without smog or viruses, most of us don't face reality and are not willing to change their behaviour". Runner and passionate sneaker collector, Chinese artist and designer Zhijun Wang is convinced of this. Seven years ago he started dismantling his favourite shoes to create unusual masks. His aim was to draw attention to the pollution that has plagued Beijing, the metropolis where Zhijun lives, for years. Symbol of an increasingly "sick" society, his works have been exhibited in Tokyo at Takashi Murakami's Hidari Zingaro gallery at Jerusalem Design Week and, since 2017, are in the permanent collection of the MoMA in New York. In the days when the Covid-19 pandemic has quickly and radically changed our lives, we asked him if masks are destined to become an essential element of our daily lives.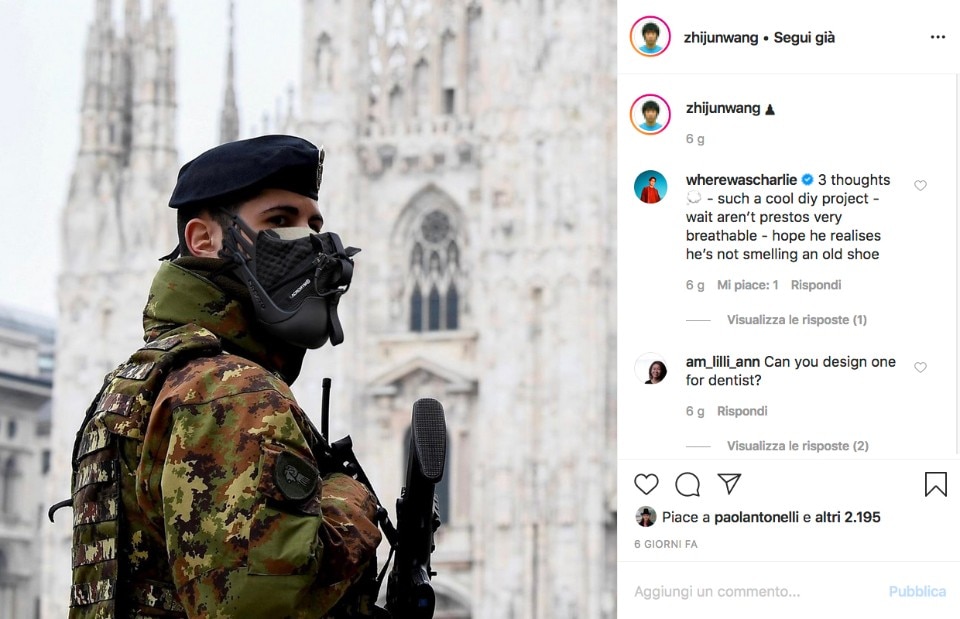 You started creating your masks seven years ago to raise awareness of the problem of smog and air pollution. As an artist, how did your approach change since the Coronavirus emergency broke out, considering also that the smog problem has considerably decreased?
Actually, I don't need to change my way, also I don't think the pollution issue had been solved and decreased by now. The real problem is our human-being, if there is no smog or virus happening in the real life, most of human-being won't face the reality and are not willing to change our behavior for protecting the fragile environment for us and the next generations.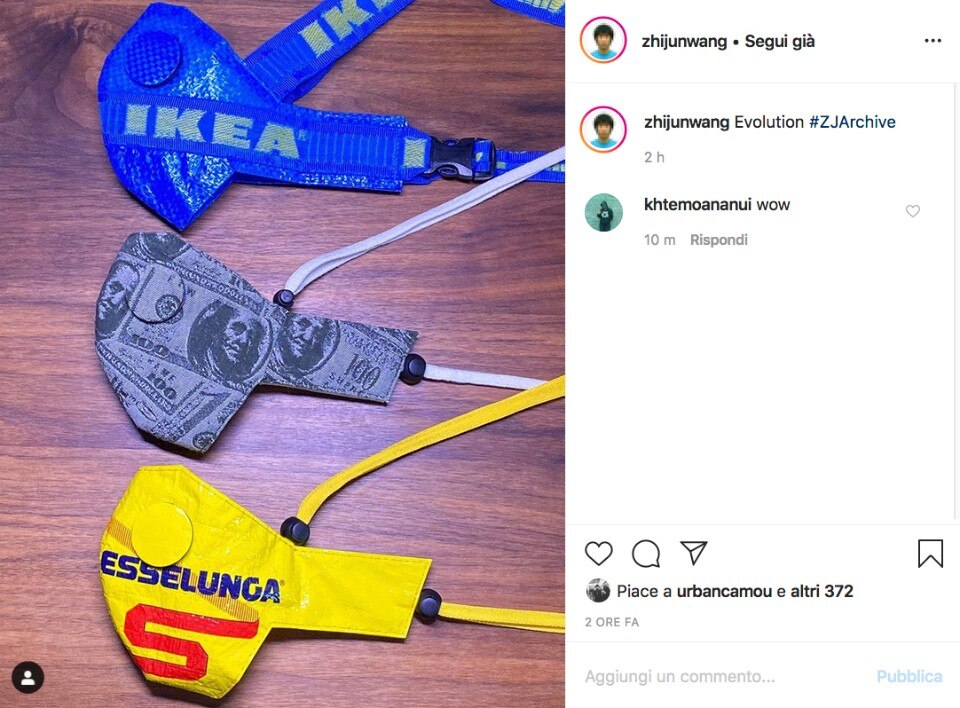 Your most recent mask, with the Esselunga shopping bag, is – I guess – dedicated to Italy: what message does it bring?
Yes, when I heard the news about outbreaking virus in Italy and Milan city, my memory flew back to the period in November 2018. I was invited by adidas to visit Milan for a mask project for Paulo Dybala. I can still remember the 1st day when I arrived in Milan and took a break to walk the neighborhood near hotel. There is a supermarket named Esselunga next to the subway station Lotto Fieramilanocity. I enjoyed to going to the local market when travel to a new city, it's the best way to experience the daily life from local people. In my mind, the yellow Esselunga shopping bag could be a special symbol of the daily life in Milan and Italy. It's a extreme tough time to all the people who have to face and struggle the virus since the beginning of this year. Lack of supply is the same issue in most countries all over the world, not only mask, food and medication. I wish to share my idea on mask, maybe I can make a tutorial in future for helping people to make mask by themselves when it's difficult to get from market and pharmacy. But I need to think about it carefully, hope it helps people not harms.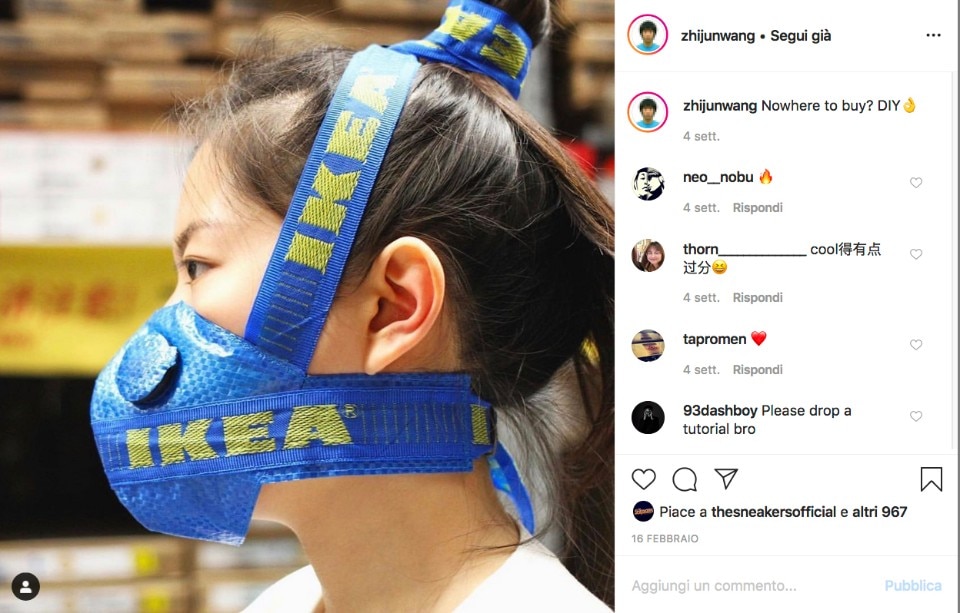 Are you planning to make other masks for other countries?
It depends on the material what I can get. I hope it could be a sub-collection in my future creation.
Why did you choose to work with sneakers?
I love to collect sneakers since teenage. when I got the idea to make a special mask and needed to choose a suitable material for my first mask at that time, I noticed my sneaker collection — most of the upper material of sneaker (especially running shoes) is light-weight, durable and breathable. I decided to use it as the key material continuously. Almost near 200 different pieces of mask I made in past 7 years.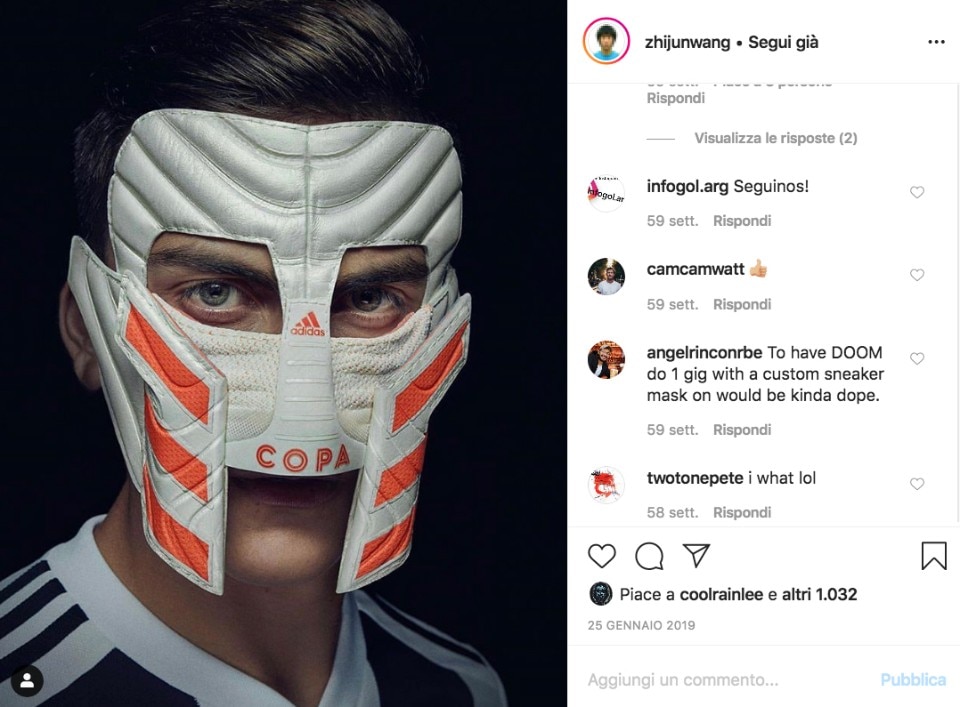 Who buy your masks and how do they use them?
Because of the high making cost and long making time of handcraft a mask, most of my clients are celebrities, artist and big brands, those who can afford the estimate easier. They ordered to me as a bespoke collection or a promotion method for new products. I am not sure whether they use the mask often.
Whether it's smog or viruses, it seems that masks have become the symbol of an increasingly "sick" society: do you think they will become – more and more – part of our daily lives?
Umm, if human-being still keep destroying this blue planet, wearing a mask just as a temporary solution, more and more punishments are waiting for us.
In these days, in Italy it's quite impossible to finding masks (even in the hospitals for doctors and nurses), as only few companies are producing them. It seems that we all underestimated their importance in our daily life…
It's a quite common problem in most countries which don't have pollution issue for a long time. In China, the mask price is getting higher than normal days and difficult to buy. I advise people to stock enough foods and necessary goods for daily sanitary, stay at home and manage time for a long-term battle with this extraordinary virus.