For this year's Milan Design Week, Domus launches Domus Breakfast, a series of events in which our editorial director Walter Mariotti will interview prominent figures in the design, architecture, and business field from the Italian and international scene.
During this initiative, Domus will partner up with Bocconi University. Breakfast will take place every day from April 17th to 21st from 8:30am to 10:30am at the new university campus designed by Sanaa. Domus Breakfast is meant to be a context to talk about crucial topics in a convivial setting, as well as an opportunity to kick off the busy days of Design Week in the best possible way. Registration for each breakfast session is mandatory.
For the occasion, Domus's digital editorial staff will move to the Campus to report about the Design Week as it takes place. Moreover, Domus will host a dedicated exhibition inside the campus and a guided tour of the new complex designed by the renowned Japanese studio Sanaa.
During each panel, a series of guests that represent various aspects of the design world will analyze the development of this filed by discussing, presenting, and explaining what design it is today and how it is applied to different contemporary dimensions.
This is the schedule with the themes of the various individual days and the guests that will join our editorial director Walter Mariotti: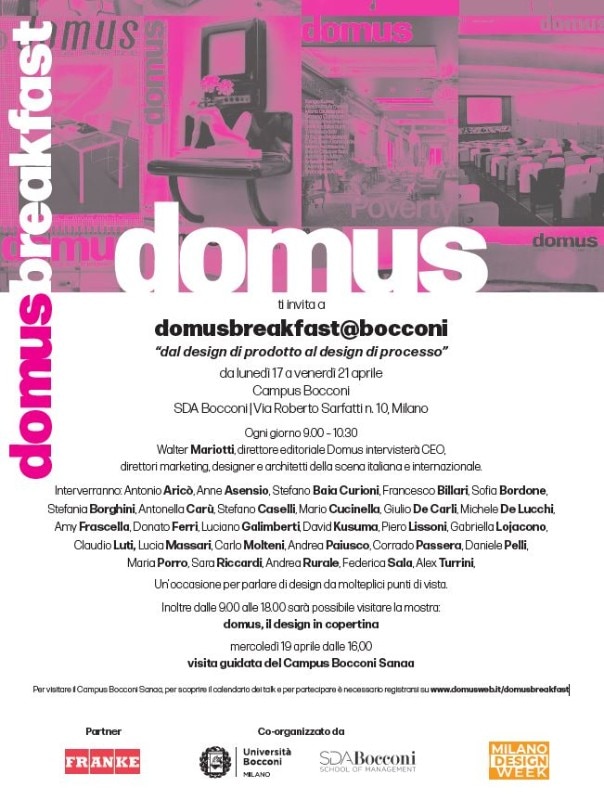 Sofia Bordone – CEO, Editoriale Domus
Francesco Billari – Rector, Bocconi University
Corrado Passera – Founder & CEO, Illimity
Maria Porro – President, Salone del Mobile
David Kusuma – CEO, World Design Organization
Stefano Caselli – Dean, SDA Bocconi
Antonella Carù – Dean for Development and Alumni Relations
Stefania Borghini – Director BA in Economics and Management for the Arts, Cuture, and Communication
Anne Asensio – Vice President Design Experience, Dassault Systèmes
Andrea Paiusco – VP R&D and Category Management for Franke Home Solutions
April 19th – INFRA-STRUCTURE

Paola Dubini - Director of the Degree Course in Management
Stefania Gerevini - Assistant Professor in Art History
Michele De Lucchi – founder, AMDL
Federica Sala, Sara Riccardi, Lucia Massari and Antonio Aricò for Gen D – Generazione Designer Dolce &Gabbana Casa
Donato Ferri – Managing partner Europe West  Consulting, EY 
Andrea Rurale – Director MAMA Bocconi
Giuseppe Cornetto Bourlot, presidente di Luxy
Giulio De Carli – Co-founder One works
Umberto Cabini – Chairman of Fondazione ADI Collezione Compasso d'Oro
Gabriella Lojacono – Director EMILUX
Claudio Luti – President Kartell
Mario Cucinella – Founder and creative director, Mario Cucinella Architects
Piero Lissoni – Founder and design principal, Lissoni & Partners
Alex Turrini – Director, MSc. In Economics and Management for the Arts, Culture, Media and Entertainment.
The guided tour of the campus will take place on April 19th at 4:00pm.