"Empathy relates design with life" these words coming from Studiolabo tells the Brera Design Week of 2018, held from 17 to 22 April during the Fuorisalone 2018. The theme of events, cultural initiatives and projects organized in that period is precisely "Be Human: designing with empathy". This is because the in-depth knowledge of users is the starting point in the design of a product. Empathy is the ability to identify and understand needs, basic in the work of a designer.

Among the ambassadors of this year designers who believe in the emotional aspect of design: Cristina Celestino with an emotional and evocative vision, Elena Salmistraro who focuses on the artist's appearance and Daniele Lago who intends design as a design for experiences and that has changed the patterns with the Lago Apartment, example of interaction between project, product and people. "Brera Design Apartment" (Via Palermo 1 entrance from 12:00 to 19:30) curated by Raffaella Guidobuono. Interior design of the rooms of this typical Milanese apartment develops a path that highlights design and high craftsmanship: Maddalena Selvini, Stories_of_Italy, Agustina Bottoni, Cynthia Vilchez Castiglioni, Sour design for Bottega Nove and Leftover for StudioF. In parallel, twelve designers were invited to create an unrealised piece for the launch of "Souvenir Milano", collection of iconic objects representing Milan. An exercise on the idea of ​​a place, radical and pop at the same time, which condenses Milan into useful products and limited series that can be purchased in the Brera Design Apartament or online on milanosouvenir.com. We know a pin evoking the Last Supper, porcelain magnets-paillettes and a saffron casket. New city icons designed by Stories_of_Italy, Maddalena Selvini, Cynthia Vilchez Castiglioni, Agustina Bottoni, Astrid July, Sara Ricciardi, Giulio Cepi, Giovanna Carboni, Sour for Bottega Nove, Leftover for StudioF, Giulio Giacchetti and Gio Tirotto.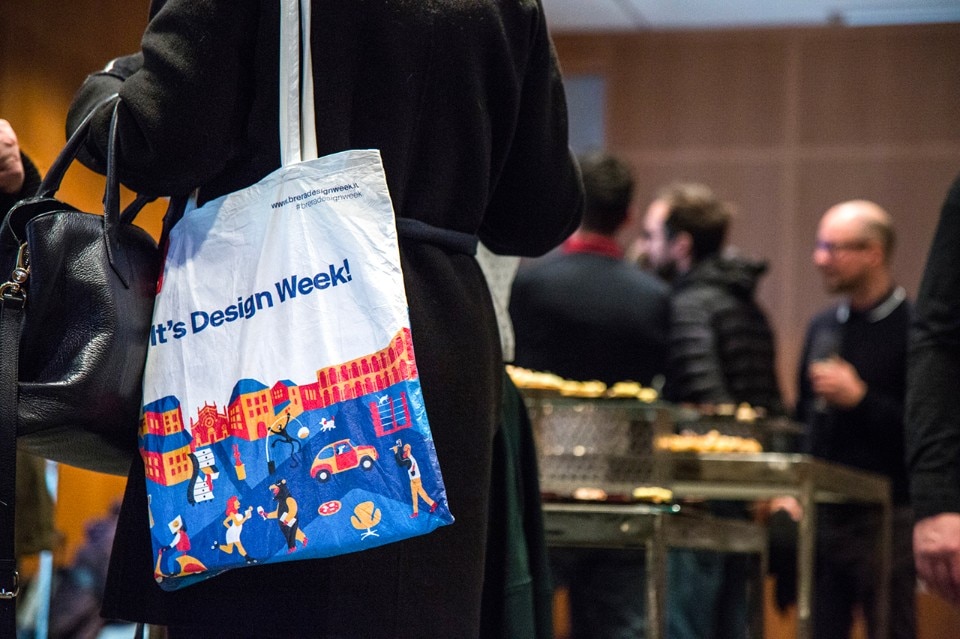 Among the special projects "Do not call me" by Timberland, "Dafne" by Elena Salmistraro: the designer has created a tree that demonstrates emotions, with the heart beating and that has the ambition to seduce and wrap and interact with the public. Cristina Celestino instead created for Tissot "Corallo", a reflection on the theme of time that takes place in the Milanese tram, furnished with artisan skills and a contemporary vision. An ideal Cinema Corallo on rails in which precious materials and references to the past coexist. In Via Maroncelli, on the other hand, Brazilian design is on stage: "Brazilian design, from modernism to today" is the main concept of Brzilian Pavillion during Milan Design Week. 65 designers and companies tell how Brazilian design is sophisticated and creative over time. Lago presents "Never stop looking Beyond" in the Appartamwento Lago in via Brera 30 the exhibition curated by Italianism is set up: 40 patterns created by young Italian talents dress up the space. At Eataly Milano Smeraldo there is Mi.Orto, an off-ground urban architecture project that aims to bring agriculture closer to the city.And finally Hidden Garden: a secret garden by Pierattelli Architetture that leads to Piazza Gae Aulenti.
Img.1, Brera Design District, Design Week 2018
Img.2, Brera Design District, Design Week 2018
Img.3, Brera Design District, Design Week 2018
Img.4, Brera Design District, Design Week 2018
Img.5, Brera Design District, Design Week 2018
Img.6, Brera Design District, Design Week 2018 Foto Elena Salmistraro
Img.7, Brera Design District, Design Week 2018 Foto Cristina Celestino