Hong Kong-based international carpet manufacturer Tai Ping released the first collection made in collaboration with interdisciplinary design firm Lim + Lu, who designed Reform, inspired by everyday surroundings and questioned the orthogonal shapes of carpets.
Vincent Lim and Elaine Lu wanted to create rugs that could be transformed according to different spaces. Reform means to make changes in order to improve something: the result is the creation of a modular rug consisting of three modules that allow users to piece together their perfect rug's shape. Lim + Lu looked to traditional colour wheels and overlapping circles to introduce colour into a room. "We started with overlapping circles and experimented with a range of colours, textures and patterns reminiscent of marble and precious stones", they explain.
Different materials were combined, with a colour palette of pastel pinks and blues that mimic stone against metals such as brass and silver. The mixture of materials include different yarn count and pile height wool, dull silk, spun silk, flax and shiny fine lurex. Techniques such as cut and loop in different pile heights, twisted yarn, overtuft loop and sculpting – a combination of hand carving, bevelling and embossing – were used to achieve a medley of textures. Reform II features colour blocking with vivid hues on 100 percent wool. Both rugs were entirely handcrafted in Tai Ping's Xiamen artisan workshop.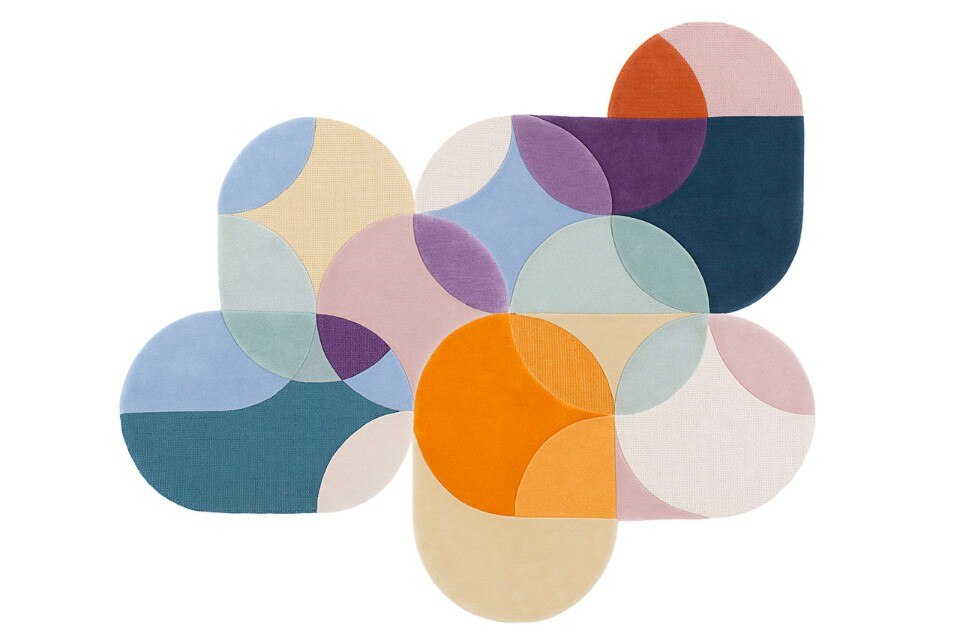 Reform carpets
Design: Lim + Lu
Team: Vincent Lim, Elaine Lu
Production: Tai Ping
Year: 2017