Located in a building in Raval, just a few metres from La Rambla, the Bookcase apartment designed by Nook Architects is an achievement of space for a client that, as a translator and writer, wanted to get away from the typical functionality of a conventional house and was looking for a flexible use of space.
The floor occupies the entire floor of the building, with a large terrace that looks over the Boqueria market. The previous floor plan featured small obsolete spaces with limited connection to the enormous, uneven terrace. This large, initially chaotic area needed to become a personal nest, a work space, as well as a place to host friends and family, without overly defining areas or assigning them exclusive functions.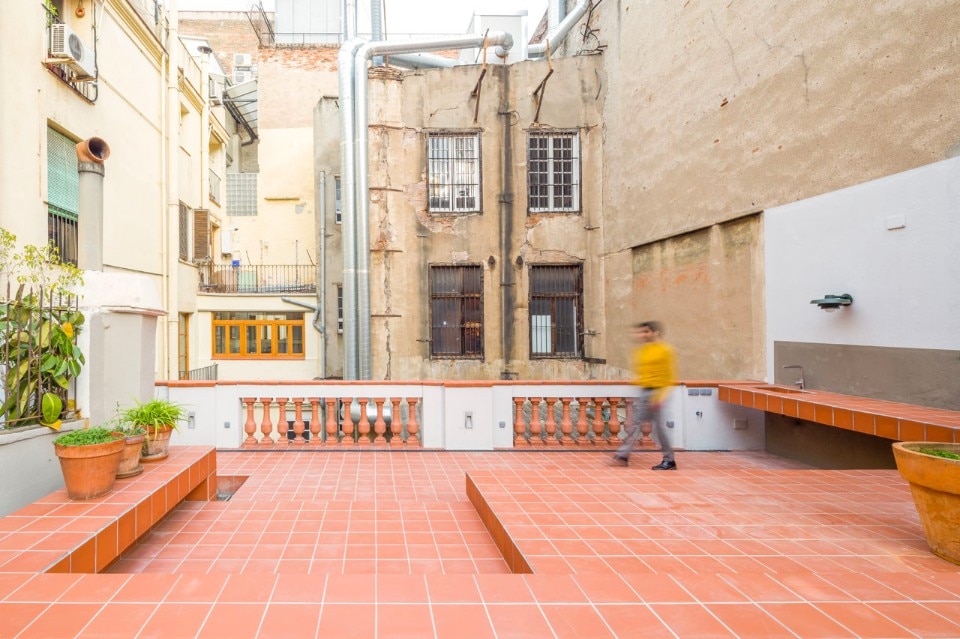 With this strong focus on versatility, the client wanted the use of different rooms to be interchangeable so as not to create any sort of spatial hierarchy. The kitchen would be central, as the hub of activity and a link to other areas in the apartment. Another important feature from the beginning of the project was the shelving, thanks to which the apartment would become a sizeable library – for the over 4,000 books owned by the client –, while retaining the feel of an urban refuge in the centre of Barcelona.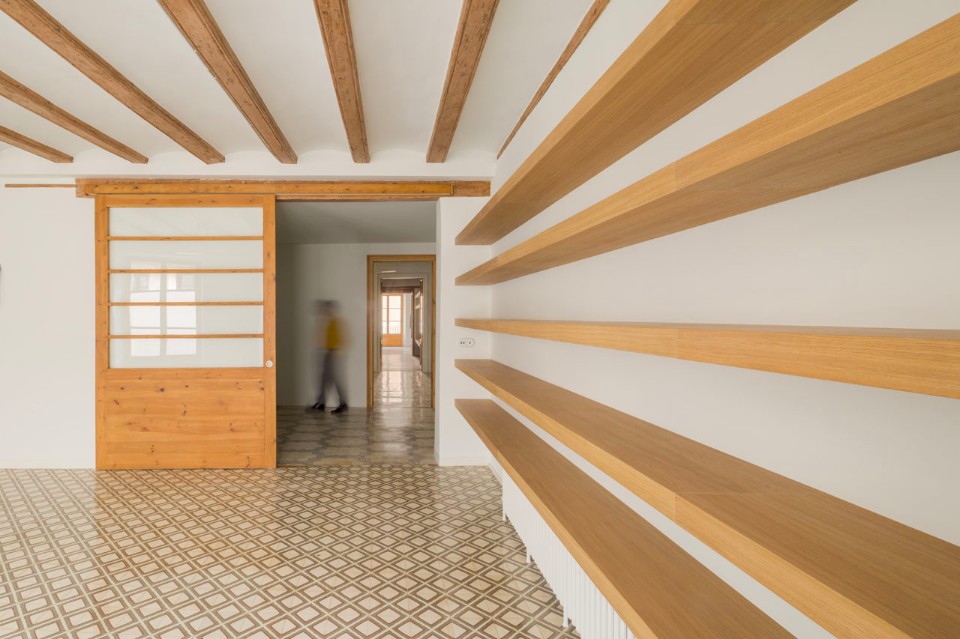 The small passageways were removed in order to prioritize the work spaces, located along the central and interior corridors. The kitchen, bathrooms, laundry and storage rooms – set in the perimetral area of the apartment – are interconnected via the central patio, which facilitates movement throughout the apartment. The most private area became a "flat within a flat", complete with a master bedroom, fully equipped bathroom, dressing room and office space. It is also possible to split the space into two bedrooms.

The wooden beams, flooring and tiles were fully recovered, while concrete was used for the worktops, the sinks and complement flooring. On the terrace the original elements and the balaustrades were restored, while the layout was redesigned with overlapping sections on different levels, in order to optimise the use of the space.

The Bookcase apartment, Barcelona, Spain
Program: apartment renovation
Architect: Nook Architects
Structures: Francesc Gorgas
Contractor: Metric Integra
Concrete work: Michael Roschach
Completion: 2017