ERA architects designed the extension to an old fisherman's house near the Besós river, near Barcelona. The owner, an Irish artist, musician and sailor who decided to settle down, needed extra space for his leisure activities. The old house, with a lemon tree in the inner courtyard, needed an important intervention to provide comfort, light and space. 
The extension designed by ERA envelops and protects the original house through a regenerative layout in the form of a vertical greenhouse composed of a metal structure, polycarbonate skin and a staircase sculpture that connects the three levels. This way, three connected garden spaces are created to capture light and heat while arranging the many creative activities of the multifaceted owner.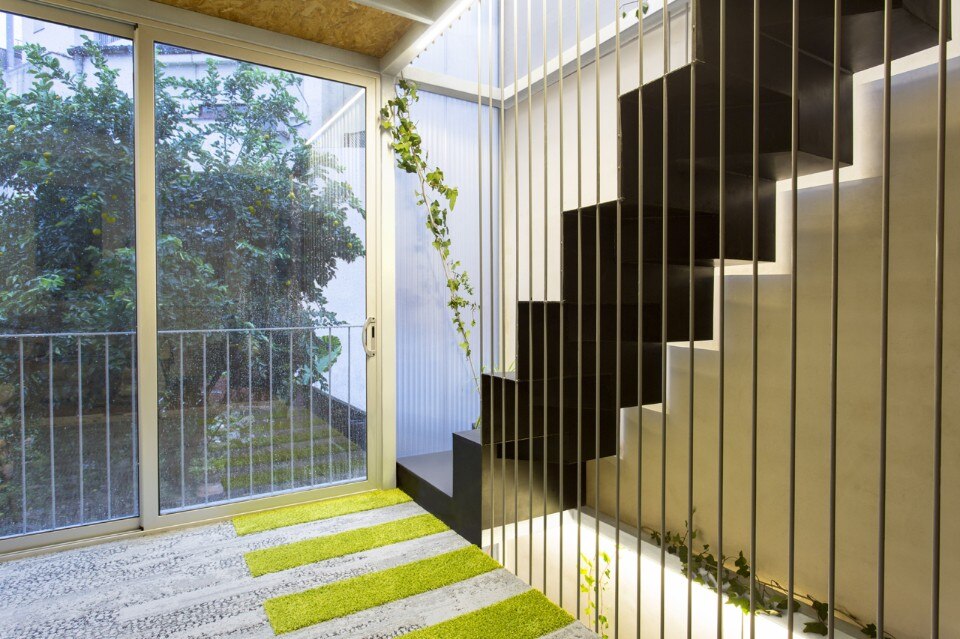 In the inner patio level there is the musical studio, an intimate space to meet with his band to play some Jazz. In this space, the decoration resembles a low forest with mosses in a relaxed atmosphere with a British cottage touch. At the ground floor the living room of the house is connected openly to the kitchen and to the entrance of the original building. A large balcony opens the room to the outside facing the fresh lemon-treetop. The idea was to revive a walk in a Mediterranean garden of fruit trees.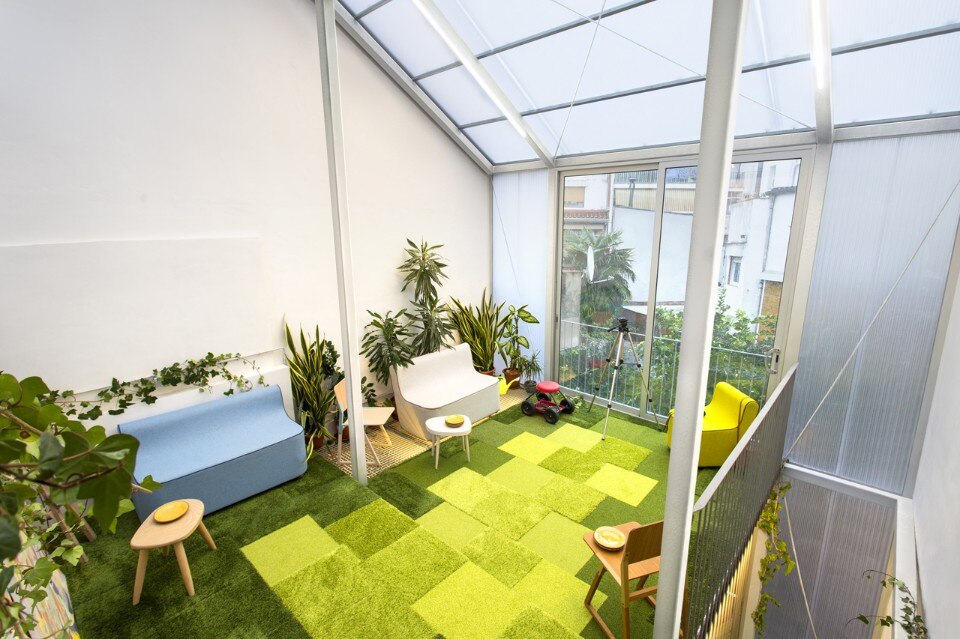 Finally, on the top floor, the Art Studio is a diaphanous space of slender heights and full of light. This space is conceived as a greenhouse ecosystem where the creations of the artist are mixed with a multitude of plants and insects such as bees, butterflies, and ants. This somewhat wild environment is completed with a fresh and casual pavement of different heights and green shades that evokes a wild prairie. Here a large balcony opens up on the stars with a suggestive view on the patio during summer nights.

Poly House, Barcelona, Spain
Program: private house extension
Architects: ERA architects
Team: Esther Rovira, Chris Irish
Quality surveyor: Albert Bonaventura Sans
Structural engineering: Jorge Martín
Contractor: Gil Obras
Facade: Ironlux & Sefram
Completion: 2016