Robot 3 Studio designed a metal hut in Beijing with the size of only 52 square meters, kitchen excluded. The original ramen shop is adapted to a BBQ bar. It features a narrow space, with limited budget, in a poor location.
Each ring road of Beijing is a rough division of social classes. The invisible wall made up of power and wealth divides Beijing into pieces of fixed territories, some of which are inaccessible for the majority of people in their whole life. Each territory has a stable hierarchical structure and complicated codes. With the Lucky Bar ramen restaurant, the designers tried to overcome the obstacles and crack the code.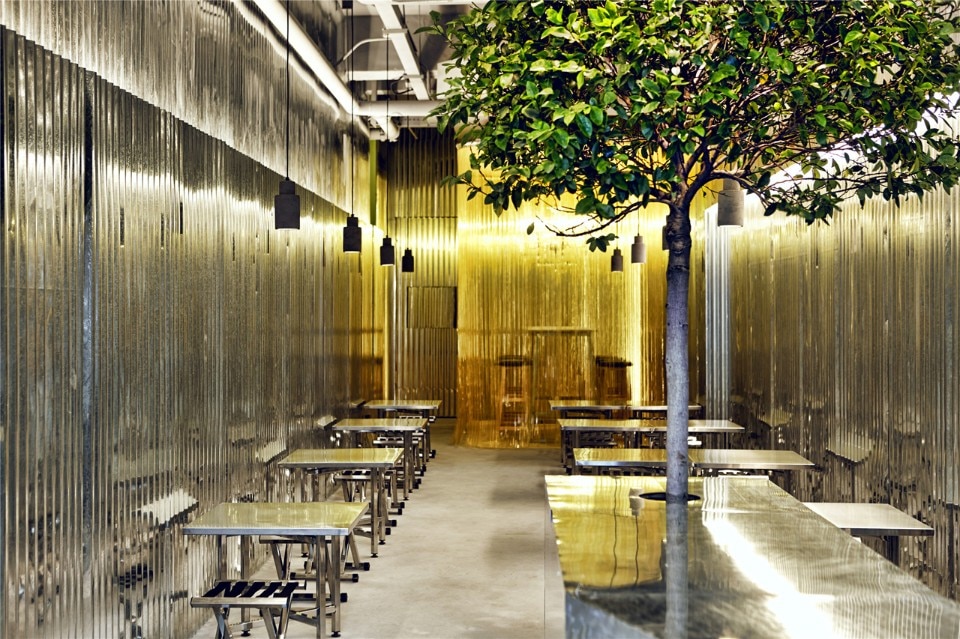 Located in the "margin" of Beijing, the small metal hut resembles a "wormhole", deriving from Einstein's Wormhole Theory, later perfected by Nathan Rosen, where a wormhole is a multi-dimensional space tunnel connecting two distant spaces. The space is made of low-cost materials such as galvanized iron plate, PVC curtain and paint, with an informal low-height dining posture that is relaxing and gets the diners more intimate. The view also permits the diners to see the usually neglected low dimension of the world.

Lucky Nar – Metal hut, Changping District, Beijing, China
Program: restaurant
Design: Robot 3 Studio
Team: Pan Fei, Wang Zhi
Area: 76 sqm
Contractor: Beijing Jingchuanjiamei Decoration Co. Ltd
Completion: 2016