Organised by Tate Modern and MoMA, the first retrospective of Robert Rauschenberg (1925–2008) since his death, celebrates his extraordinary six-decade career, telling the story of a remarkable artist whose influence is still felt today.
From his early engagement with pop to his works produced at the dawn of the twenty-first century, Robert Rauschenberg blazed a new trail for art. Moving between painting, sculpture, photography, print-making, technology, stage design and performance, he refused to accept conventional boundaries in art and in life.
Among works on show is a selection of his iconic Combines, hybrids between painting and sculpture, which include Monogram 1955-59, and Bed 1955. Tate Modern is also showing the signature silkscreen paintings that signalled Rauschenberg's attempt to bring politics, mass media imagery and street scenes into his work, including Retroactive II 1964, which portrays John F. Kennedy, who had recently been assassinated.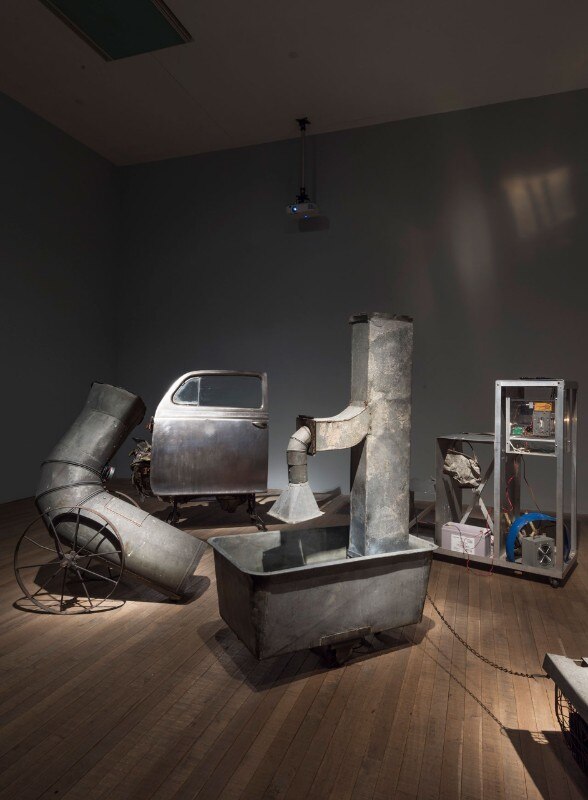 The exhibition begins by considering Rauschenberg's early experiments at Black Mountain College, where he embarked on his first collaborations with fellow artists and friends John Cage, Merce Cunningham, Jasper Johns, David Tudor, Cy Twombly and Susan Weil. The artist's work with Experiments in Art and Technology (E.A.T), an organisation of which he was a founder and which developed collaborations between artists and engineers in the 1960s, is also explored, showing how he helped to initiate new conversations between the visual arts, performance and science. In the early 1970s Rauschenberg moved his studio and primary residence to Captiva, Florida and began to travel extensively across Europe, the Americas and Asia. His Cardboards 1971–2 and his sumptuous fabric works such as the Jammers 1975–6 demonstrate his skilful play with unconventional materials.  
Performance and dance remained key drivers for Rauschenberg's approach to art making and form a central strand of the exhibition. Documentation of his collaborations with Merce Cunningham and Trisha Brown, as well as his own performance works will be included. On 27 and 28 January 2017, the Trisha Brown Dance Company will re-stage her influential work Set and Reset using the original set and costumes created by Robert Rauschenberg in the Tanks.

until 2 April 2017
Robert Rauschenberg
Tate Modern
Bankside, London
Curators: Achim Borchardt-Hume, Leah Dickerman; with Catherine Wood; Fiontán Moran and Juliette Rizzi
The exhibition will travel to The Museum of Modern Art in New York and the San Francisco Museum of Modern Art in 2017