Designed by Rolf Bruggink in collaboration with Niek Wagemans, House of Rolf is a transformation of a late Nineteenth century coach house into a private home and workspace in Utrecht. All the materials used to carry out the transformation originated from a demolished office building that was located next to the coach house.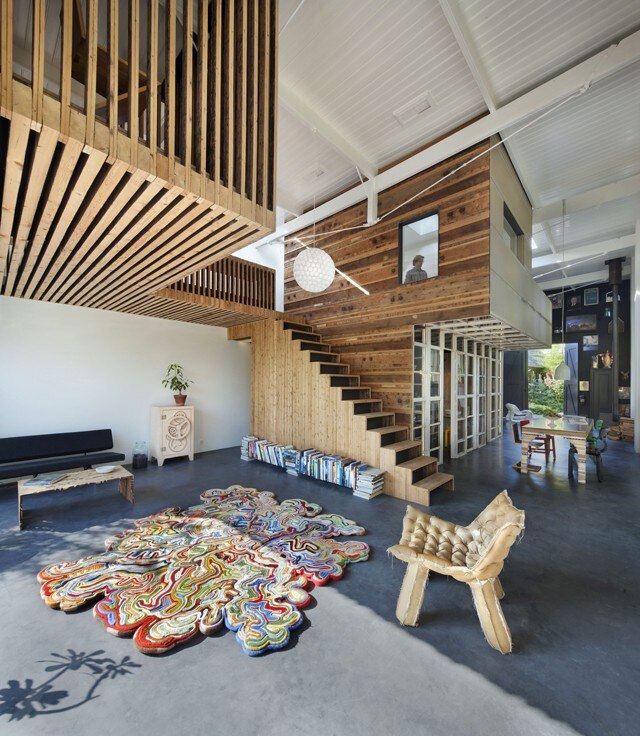 The coach house itself is a rectangular brick building of 15 by 7 meters and 5.5 meters tall. Five trusses carry the roof, which neatly divide the space into six equal bays. The design of the space is based on this simple structure with the house divided into three zones each consisting of two bays. The first zone is left completely empty so that the original coach house can be fully experienced. The middle zone contains a structure that stands completely free from the coach house shell so that you can easily look beyond it from the first zone. This second sections of the space houses the kitchen, bedroom, toilet, shower, bath and office.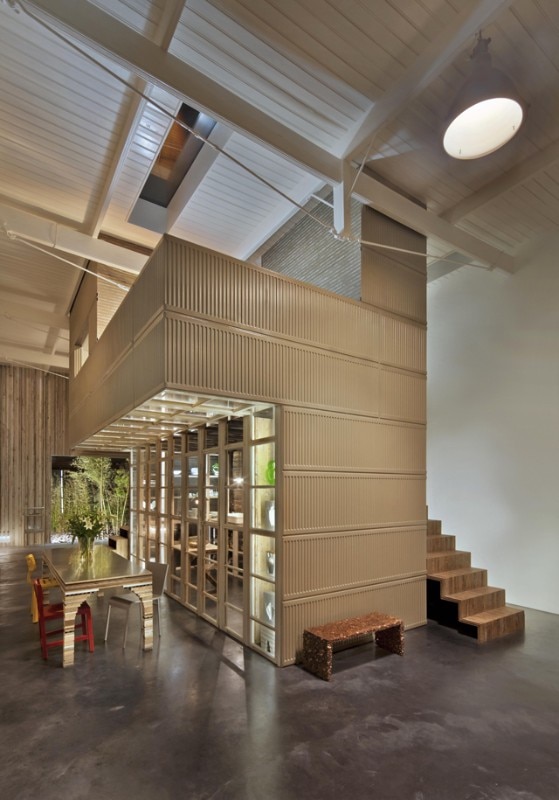 Positioning the sculptural structure in the middle of the house creates a front, middle and back division simultaneously connecting the space. In the third zone, a second structure is located to create a more intimate living space. The only intervention made into the original building is a new large format panoramic window on the back wall.
The main goal of the project was to use all the materials of the office building, leaving nothing to waste. To achieve this objective, Niek Wagemans' skills as a designer were particularly useful. He found new ways to re-use materials, starting from the numerous radiators salvaged from the office building. The solid wooden partition wall was constructed from trusses and purlins, just as the wooden floor.

House of Rolf, Utrecht, The Netherlands
Program: renovation
Architect: Rolf Bruggink
Team: Niek Wagemans, Yffi van den Berg
Completion: 2016