Video, animated gif and postcards, but also light installations, stamps and windows: for architects and designers Christmas is still a project opportunity, often funny, sometimes magical and surreal.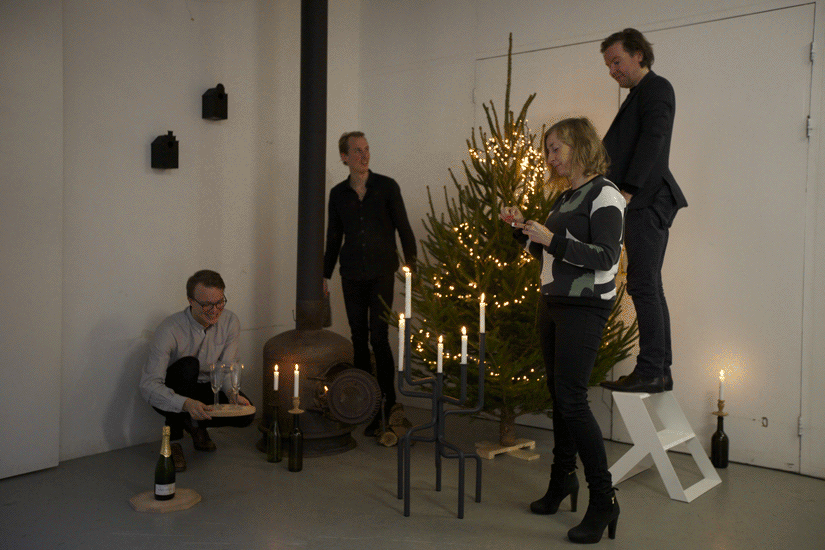 Someones wish you a year full of new projects, someothers took the opportunity to tell what is going to end.
The shop windows are turned into almost theatrical scenes: La Rinascente in Milan hosts a set up by John Armleder Let it shine, let it shine, let it shine. It's Xmas again!, a work of art that combine painting, installation and music, while Selfridges dress up for Christimas with Millions and Billions, a collection of windows designed by Isabel + Helen, exploring the incomprehensible concept of scale within our universe. Each window depicts a mind-blowing fact or inconceivable theory around the subject of outer space.

For the Church of San Paolo Converso in Milan (headquarters of CLS architects) Ingo Maurer creates a totem with a 6 meters high metal structure on which are backed four LED-lit panels. On each panel Maurer has drawn a red heart, iconic form of his poetry. Each of the hearts "pulses" and lights up with different intensity, suggesting the magic of pop Christmas tree.

More traditional, but still amazing, are the works commissioned by Swarovski to Dutch designer Tord Boontje for three locations of Swarovski Kristallwelten (Swarovski Crystal Worlds) – the Giant in Wattens and the Swarovski Kristallwelten Stores Innsbruck and Wien: inspired by various design projects drawn from the history of Swarovski, Light Touching comprises a twelve-meter-high Christmas tree from the forests of Tyrol decorated with a luminous gold ornament and varied forms of snowflakes that are now shown in the entrance area of the stores.