The many designers in the Alessi catalogue who have proposed their own personal interpretation of the cutlery set over the years have now been joined by French designer Inga Sempé.
Designer of the IS01 risotto serving spoon in 2012 – winner of the "Disegna un cucchiaio" competition promoted by Domus to celebrate the 50th anniversary of the Cucchiaio d'Argento – Sempé has adopted the same design typology with the Collo-alto, developing an entire cutlery set around that unique piece.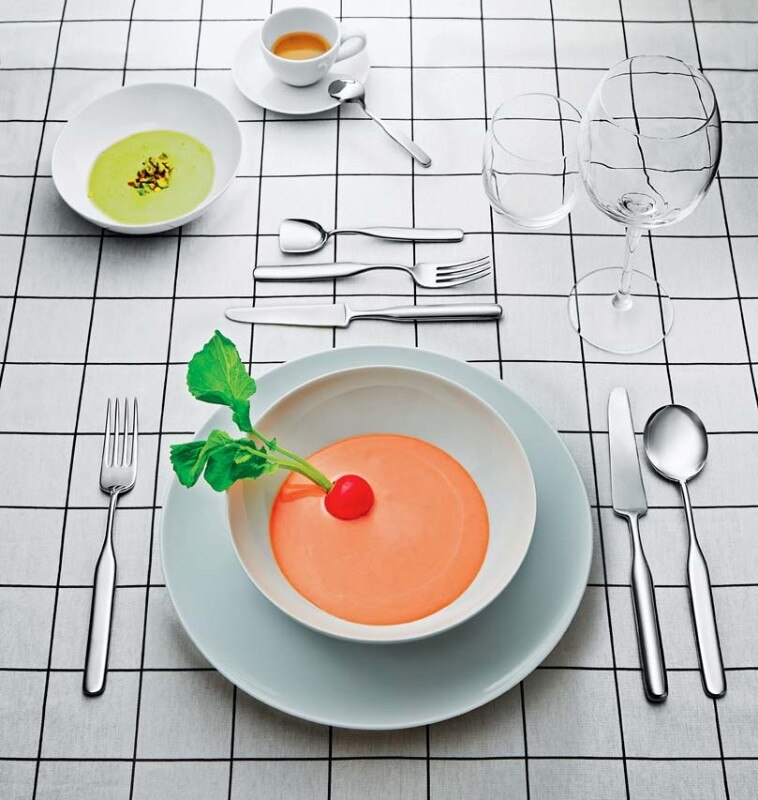 "Collo-alto – explains the designer – is the name chosen for this collection characterized by a long and narrow neck transitioning from the handle to the "heads" of the cutlery: the bowl, prongs, or blade. The thinness imparts a sense of lightness to cutlery, which are made by contrasting straight and curved lines as well as by combining wide and narrow volumes".
The large round shape of the risotto spoon bowl returns in the spoons and in some of the service cutlery, contrasting with the tapered handle. In one of the two pieces of salad cutlery, this round shape opens into an elegant series of prongs. The refined design of the piece of cutlery is perfected by a light border between the handle and the end piece, a slight change of volume that is particularly complex to implement during the production process.